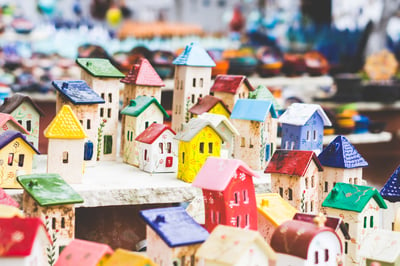 Real estate investment has long been regarded as a crown jewel in the world of wealth-building. When most people think of investing in real estate, their minds go to names of multi-millionaires, old money that owns apartment builds, resorts, and hotels…
On the flip side, we have the HGTV picture of investing, which almost exclusively highlights flippers — a model that demands not only a monetary commitment but experience and know-how by the droves.
For a long time, our idea of investing in real estate was relegated to certified investors, REITs, and hands-on flip-and-fix strategies. I think we all know by now that new emerging models of investing in real estate are on the scene, making it a more accessible venture than ever.
When we look at these new models and the emerging technology that makes them possible, we have to ask...are they worth it? Sure, more people have the opportunity to invest. But is that enough to make a solid investment strategy?
3 Reasons Micro-Investing Fails to Deliver
In the past several years, the topic of micro-investing has become more and more a part of the dialogue in our industry. This is generally considered real estate crowdfunding. The idea of getting a slice of the proverbial pie without a large financial commitment is attractive — but there are a few reasons we advise against it, particularly as your only investment strategy.
Even beyond investing in real estate, apps like Acorns, Robinhood, and Stash allow users to round up purchases or make other small investments in low-cost ETFs.
For beginners, this can be a helpful tool. But for the investors aiming to build real wealth, their sights need to be set a bit higher.
Investors Have Little Control
One of the more significant drawbacks in real estate micro-investing and crowdfunding is that you have little (if any) impact on the success or failure of the investment. In fact, in many cases, you don't even choose which properties or projects you are backing. You buy shares in property or full real estate portfolios, but unlike REITs (which suffer many of the same drawbacks), the investor doesn't choose the investment.
Be sure to check out: Knowing Turnkey Real Estate Investment is the Perfect Fit
This is only a small reflection of how little impact the investor has in their financial future under this model. REITs are beholden to stock market performance while micro-investing and crowdfunding success is based on property performance. Performance that you, as an investor, don't have an impact on. A contractor can pull out, deals can fall through, and any number of risks can sabotage your investment. While you might not be pumping as much money into these investments, don't be fooled — a loss is still a loss and a risk is still a risk.
Too Little Too Late
Perhaps the most glaring limitation of micro-investing is in the name: micro. While the lower barrier to entry allows people to get their feet wet, there are serious limitations on one's returns when you make only small contributions to an investment. Low capital involvement means that your returns are minimized, too.
For most of us, investing in real estate is a means to build long-term wealth and a dream retirement. Micro-investing simply does not offer enough time to turn these incremental investments into the real wealth we're talking about.
No Liquidity
Some might see a positive in investing in real estate without owning real estate. While we're sure there are some, a glaring problem is the lack of liquidity. One of the greatest advantages to investing in real estate is the physical asset. You can sell it off and profit, not to mention they hedge against inflation. However, when you only buy shares, you don't have that liquid asset to do with as you please.
The Solution: Aim for the Right Metrics
Micro-investing appeals because it demands little of us upfront. Let's be honest: most of us want to make money without spending money. We know, however, that this doesn't work. Even in more traditional real estate strategies, targeting the lowest prices in properties, maintenance, and labor does not work.
Instead of looking for these deals, we should turn our attention to the right metrics.
What matters most in successful real estate investing is not the cost...it's the quality. When looking for long-term success in this industry, focus on the services you receive: from the counsel provided to the care taken in management, both for the sake of your property's value and for the residents.
At REI Nation, this has always been our standard. We deliver excellence by the standards that truly impact not only the success of our investors but their peace of mind.
Choose a proven investment strategy. Join REI Nation and reap the benefits of passive income, a world-class portfolio, and peace of mind!