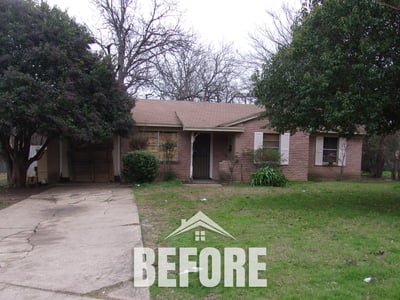 This week's Transformation Tuesday comes from Dallas-Ft.Worth, Texas. Horrendous might be an understatement for this home; a junked yard, depleted kitchen, and deteriorating bathroom left this house nothing but a pit. Luckily, there isn't anything our expert team of contractors can't handle, so we renovated this home into something that was as unrecognizable as it was beautiful.
Maximizing a budget of $81,000, our team began by cleaning up the backyard: installing a new roof, fence, and throwing away all of the trash that had piled in the backyard was all part of the process. Next, we repaired boarded up windows, missing cabinets, and filthy tiles. By installing new vinyl flooring, fresh paint, and new appliances, we were able to make this home a true sanctuary for its future residents.
It's fair to assume that only the biggest, boldest, and best survive when it comes to the Lone Star state. The Dallas-Ft.Worth metroplex is no exception. As a hub with a central location, evolving landscape, and cultural mecca, it's no wonder that Dallas is not only a titan of economic activity but an ideal incubator for startups and small businesses.
Related Article: The Surge of Small Business in a Big Economy: Top Dallas Startups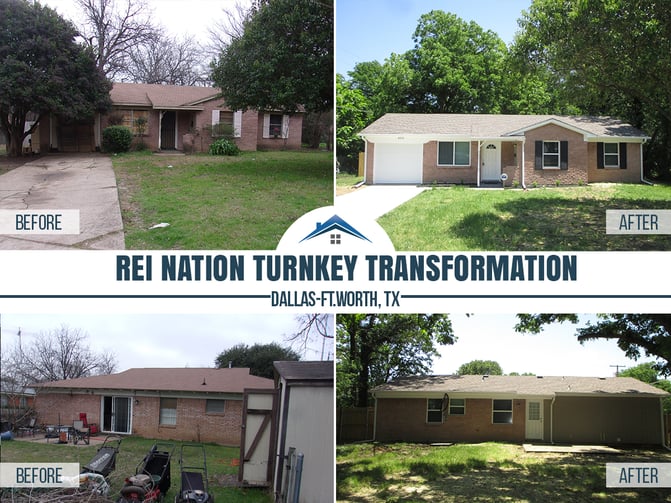 About this Transformation:
The owner of this Turnkey Transformation is located in California; this is their third property that they have invested in and had managed by us. Here is additional info about the home:

- Built in 1963
- 1,043 sq. ft.
- Lot size of .20 acres
- 3 bedrooms, 1.5 bathrooms
- Installed New Roof
- Installed New Fence
- Installed New Blinds Throughout
- Installed New Light Fixtures
- Installed New Dishwasher
- Installed New Countertops
- Installed New Hardware on Cabinets
- Installed New Vinyl Plank Flooring Throughout
- Installed New Carpet in Bedrooms
- Installed New AC
- Installed New Water Heater
- Replaced all damaged/rotten wood/trim/siding around house
- Painted all walls, trims, doors, closets, ceilings, and cabinets
- HVAC, Electrical and Plumbing inspected and repaired by a Licensed Professional


Let REI Nation transform your financial future!