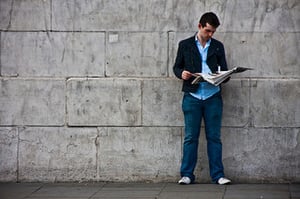 There's a lot of reading to be done. As we've done in the past, we're bringing you a handful of recent, relevant articles for real estate investors and professionals to pursue this week in lieu of having to hunt down posts worth reading.
As always, we try to keep our selection diverse, covering a broad range of industry topics and recommending reading that investors will find useful and practical.
5 Must-Read Real Estate Articles for the Week...
Real estate crowding funding is buzzing, as we explored in our recent guest post over at BiggerPockets. At Inman, Scott Picken brings investors advice on selecting a reputable, profitable crowdfunding platform for their real estate endeavors. This is valuable advice for any investor who wants to try crowdfunding but is unsure of which platform best suits their needs.
Brenden DeSimone, author of "Next Generation Real Estate: New Rules for Smarter Home Buying & Faster Selling," brings Zillow readers keys to strategy revision for both buyers and sellers in the current market — ideal for kicking off of the busiest time of year for real estate.
On the REIClub blog, Ken Meyer warns against relying on generalized trends and data when making investment decisions. Instead, he points to the value of looking deeply at specific, unique demographics before investing. Looking at age, spending habits, jobs, population growth and the percentage of homes owned versus homes rented are all important to investors looking for success in market. This is especially important for investors looking to join out-of-state and overseas markets.
------------------------
Do you make these mistakes with your investments? Watch the video and learn the top 11 mistakes to avoid in real estate.
------------------------
Do you know what makes a great property manager? For real estate investors, a great manager is your number one asset — more important, even, than the property itself. These qualities aren't all that make a great manager, but they are most certainly the essential ones. If you're looking to hire or improve your property management situation, you can't go wrong with these essential guidelines.
While not for every investor, this article imparts good knowledge for green investors and solid reminders for seasoned industry veterans. This advice is practical and at the foundation of any investment strategy.
Which article caught your interest? Share your thoughts with us in the comments.