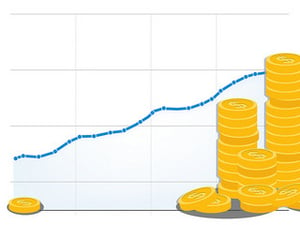 Just like positive cash flow, the notion of a good ROI has long been the gold standard for real estate investing. ROI can come in the long term through appreciation (which is what most people who take on big property renovations are banking on), but also through the short-term (such as just buying an investment property and achieving positive cash flow).
3 Tips on ROI & Positive Cash Flow on Real Estate
Look to Cash-on-Cash Returns
As Zillow points out, cash-on-cash return is the most important calculation for real estate investors. This looks at every dollar invested and determines the percentage yield return on an equity cash investment. This calculation is an important step in determining true positive cash flow for a given property. It's essential when considering whether to buy.
Don't Be Wooed by "Prize" Properties
Who doesn't dream of owning beautiful condos and impressive homes in prime locations in the hottest real estate markets around? "Prize" properties can be very wooing. They look nice, they come with a certain declaration of success and status...but they're rarely worth the investment. The aforementioned cash-on-cash returns are generally quite bad or downright negative for these expensive properties.
Moderately priced properties are always a better bet — you can always invest in improving the property later, and it's far easier to earn positive cash flow in the beginning.
Related Article: 4 Essential Habits For Achieving Real Estate Investing Success
Stress ROI Where It Matters
Number-crunching is a big part of real estate investment. It's a very tangible business — properties are physical, numbers are telling, and it's all very real. ROI really makes a difference and positive cash flow can make or break your investment business. It's important — but not everything. Beware stressing ROI too heavily in areas like marketing and social media. While these are important, they're not as important as in your actual investments.
There are some ways to measure ROI in marketing (namely, through the funnel approach), but the truth is that these measurements are a lot more complicated than cash-on-cash returns. Stressing ROI too much can be frustrating when value is not immediately measurable or tangible. You may just have to go with your gut when it comes to other aspects of real estate investment.
There are endless amounts of data out there for investors to look at that don't boil down to plugging numbers into an equation. Finding what matters can be a challenge and there isn't always a straight answer to ROI in your real estate investment business marketing plan. Recognize the complexities and learn not to stress ROI where it's not top-priority — save that for your investment properties.
Feeling value, at times, may have to be enough.
How much do you stress the importance of ROI? Let us know in the comments.
image credit: www.workcompass.com/