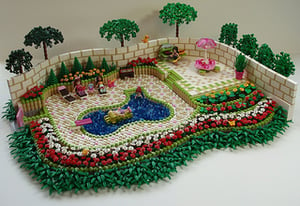 One would think that with the relatively sluggish recovery of the real estate market in many parts of the country, with both home buying and home building on the low side overall, home improvement would be similarly stunted.
And yet, that's not the case — a study by the Joint Center for Housing Studies at Harvard, property renovations are booming with nearly $300 billion in sales. It could be the highest spending this year since 2007. That's good news!
The study points to millennials as key to the home improvement market — as well as real estate investors:
"While currently lagging previous generations in forming households and buying homes, the Millennials will eventually give a dramatic lift to home improvement spending. More immediately, the growing presence of Millennials in the rental market is encouraging property owners to invest in updates to their units."
So if property owners should be investing in updates, what kind of updates are best for your budget and your value? Consider these investments:
4 Smart Investment Property Improvements
Convenient Amenities
While this applies more to multifamily properties than single-family homes, consider what renovations add significant value for your tenants. Washer and dryer hookups, for example, are often a big drawing factor. The availability of well-kept outdoor spaces is also desirable. Patios, decks and gardens, especially in summer, can add great value to your rental properties.
Updating Fixtures
From lighting and doorknobs to sinks and cabinets, a little updating can go a long way without costing too much time and capital. Silver and steel are evenly matching this year with the return of popularity for brass and gold fixtures. It's free game, as long as they're clean and appealing. Retro styling is in, of course, but it won't be to everyone's tastes. Whatever you choose, just ensure that there is consistency throughout the property.
Focus on the Rooms the Matter
What are the two most important rooms for any property renovation? You already know it well: the kitchen and the bathroom. If you're going to do big improvements, focus on these rooms first. They tend to be the most important to tenants and buyers. Get rid of outdated appliances and fixtures, look at countertop trends (no, you don't have to have granite anymore) and pleasing color options.
Even better, if you decide to sell within the next five or ten years, these investments usually reap an 80% ROI.
Just Clean!
Before you take the plunge with major renovations, whether it's ripping up a carpet or tearing down lighting fixtures, you really might just need to clean it. Get professional cleaners in to take care of carpets and the deep-clean nitty gritty details.
Are you planning any property renovations for this season? Let us know in the comments.
------------------------
Create Your Own Bank Book to Raise Your Line of Credit and become a bankable investor!