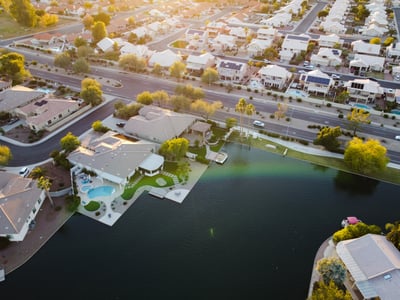 As we approach the end of the first quarter of 2020, it's time to evaluate the performance of the U.S. real estate market thus far. Not only do we need to review what has happened, but we need to take a look at the factors that may impact the market moving forward. Though as passive investors we subscribe to the buy-and-hold strategy, we can't make the mistake of ignoring the state of the market.
While you may not be looking for a golden window of opportunity to buy or sell, being in-the-know can only be advantageous to your investment career, regardless of strategy.
3 Facts on 2020 Real Estate Market Performance (So Far)
Supply and Demand is More Balanced
Over the last decade or so, one of the biggest challenges facing the real estate market nationwide was an imbalance between supply and demand. The struggle to build and create enough supply to meet demand ultimately led to increased property prices nationwide. While this created several "hot" markets over the years, it also exacerbated the issue of affordability in the U.S. housing market.
Rising housing costs have largely been due to a lack of available land for development in more crowded markets as well as lagging (and increasingly expensive) construction.
However, Forbes reports that the market has been growing more balanced. Over the past two years, home building has accelerated and pushed more towards a supply and demand balance. We have not overbuilt, thus markets continue to see appreciation. Thankfully, this growth has been largely stable. Both rent and property prices have grown steadily over the past decade, with rent growth being more stable than home prices given some significant spikes in the early 2010s.
Be sure to check out: Balance in the Real Estate Market Bodes Well for Investors
Mortgage Rates Drop & Remain Low
For homeowners and investors with leverage alike, mortgage rates are a major point of consideration. While there were recent worries surrounding increasing interest rates, mortgage rates have fallen to a 50-year record low. A year ago, 30-year fixed mortgage rates were approaching 4.5 percent. Today, that rate looks more like 3.3 percent. The percentage also slipped among 15 and 5-year rates. In response, mortgage applications jumped by 10 percent.
Mortgage rates, despite rising home prices, have played a role in encouraging homebuyers to bite the bullet. For real estate investors, this is also advantageous when acquiring new properties.
Rental Market Strengthens
The strength in the rental market has a direct correlation to the state of supply and demand in the U.S. housing market. That said, inventory has been tight in the rental sector, too. Rental vacancy today is at its lowest rate since 1985 — good news for investors. Rental rates have also risen steadily (3 percent overall in the last year) and remained stable in 2020.
This is despite the balance brought to the real estate market. Though home price growth has slowed over time, it has not put a damper on rental demand or prices.
2 Factors Influencing the Real Estate Market Right Now
Coronavirus
Coronavirus is no doubt one of the hottest topics around the globe. We've already seen how the virus has impacted the U.S. stock market. While the coronavirus may not directly impact the U.S. real estate market, it affects factors that impact it. For example, the stock market drop is indicative of a lack of economic confidence. Economic growth is one of the key factors in an ideal investment market.
This isn't to say markets will crash or cease to grow — but we may see a slowing down in some areas. (By contrast, China's real estate market has been significantly impacted by coronavirus fears).
Experts say that they expect the residential real estate market to remain largely unchanged, even if cases and worries grow. Of course, that impact depends on how widespread the virus becomes and how severe countermeasures are. Even so, decreased interest rates and a stable market mean there are plenty of opportunities to take advantage of.
Foreign Investors
For traditional real estate investors, competition may heat up. Because China and other Eastern countries have suffered significant economic blows due to the coronavirus, it should be no surprise that foreign investors are looking for "safe haven" investments in the United States. Because our real estate market has remained stable (even if the stock market has not), these investors are looking for opportunities in markets that have experienced a lower virus impact.
This exposes the strength of the turnkey investment model in this way: real estate investors may find themselves in the midst of more bidding wars as demand for U.S. real estate — particularly single-family rental homes — heats up.
The turnkey model takes the hassle out of acquiring properties. No bidding wars, just perfectly vetted properties in tried-and-true investment markets. With a turnkey company by your side, you will never feel the pressure to seal the deal before another buyer.
Instead, you can thoughtfully plan every move that grows your wealth.
Call REI Nation today — don't wait to secure your real estate portfolio!