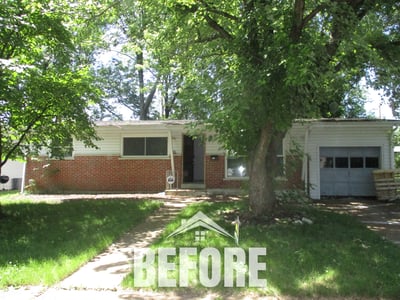 This week's Turnkey Transformation comes from St. Louis, Missouri! When our expert team of contractors hit the scene of this home, there wasn't much to look at except for torn out floorings, empty space, and neglected walls. But where some might see disaster, we saw potential. To see how we transformed this home into something totally new and inviting, check out the photos below!

Maximizing a budget of $42,000, we got to work restoring this home with some good ole TLC. Brand new floors and a fresh coat of paint already made a huge difference. In the kitchen, we installed fresh white countertops that paired with matching cabinets to make this home breathe life again. Equal attention to the outside of the home sealed the deal in making this house an excellent choice for its future resident.
Careful research goes into the markets that REI Nation chooses to invest in; St. Louis, Missouri is no exception. We have steadily tracked the increase in job opportunities, the rising technology industry, and the decrease in troubled mortgages and foreclosure rates. These are just a few of the exceptional features that make St. Louis a great choice for passive investors.
Related Article: Memphis Invest Brings Turnkey Investors New Opportunities in St. Louis, Missouri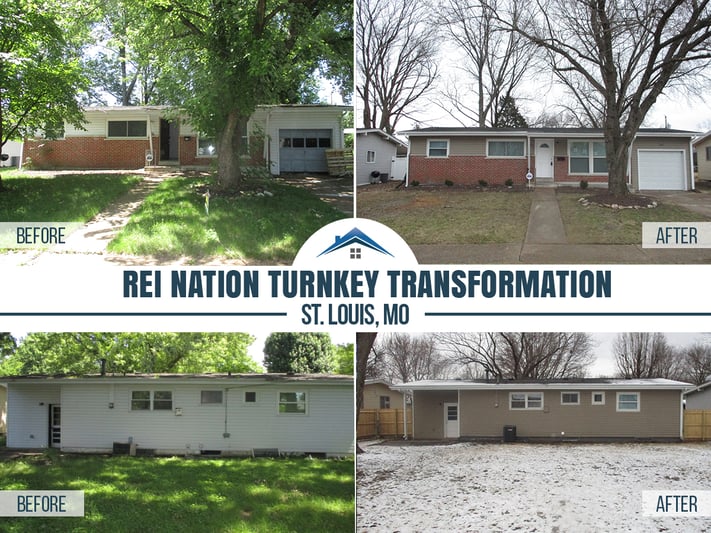 About this Transformation:
The owner of this Turnkey Transformation is located in Washington; this is their first property that they have invested in and had managed by us. Here is additional info about the home:

- Built in 1960
- 1,040 sq. ft.
- 3 bedrooms, 2 bathrooms
- Lot size of .23 acres
- Installed New AC
- Installed New Furnace
- Installed New Blinds Throughout
- Installed New Light Fixtures
- Installed New Dishwasher
- Installed New Countertops
- Installed New Vinyl Plank Flooring Throughout
- Installed New Carpet in Bedrooms
- Replaced all damaged/rotten wood/trim/siding around house
- Painted all walls, trims, doors, closets, ceilings, and cabinets
- HVAC, Electrical and Plumbing inspected and repaired by a Licensed Professional


Let Memphis Invest transform your financial future!