RealtyTrac recently featured Tennessee in their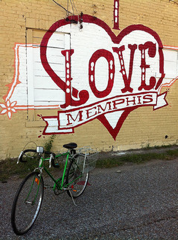 latest newsletter and even published an article from Memphis Invest. The newsletter is full of fantastic information and is linked at the bottom of the article. In the meantime, here is our article with some fantastic updates on Memphis real estate.
Positive things are happening in Memphis. In the wake of the recession and housing bubble, plenty of people found themselves in difficult, sometimes life-changing situations. Homeowners found themselves underwater and in foreclosure. Neighbors disappeared one-by-one. Real estate agents and builders left their professions while families watched the value of their long-term investment drop further and further.
We did mention positive things, right? Well, 2015 is shaping up to be the year for the Memphis real estate market. In 2014 things started to pick up, bringing much-needed good news to the industry and setting the groundwork for the best year in quite some time. Companies like the one my family started here in Memphis 11 years ago, Memphis Invest GP, have been purchasing, renovating and managing properties for investors from around the country and essentially propping up the housing market in mid-sized cities like Memphis. Jobs and positive economic news would come back and we knew it was only a matter of time before housing would follow.
Now, Memphis is preparing for a big 2015 and more investors are taking note of the positive vibe flowing through the river city.
Memphis Real Estate is Picking Up the Pace
In 2015, the positive motion in the market has only continued, leading to what David Goodwin Jr., 2015 President of the West Tennessee Home Builders Associations calls "a breakout year."
Data points to a renewed demand for new homes, particularly in Memphis suburbs, where most new home development takes place. Some professionals feared the interest rates would rebound too quickly, which could destabilize current growth. Still, most believe that they'll remain at record lows and, as a result, encourage the recovery. Memphis Invest built 12 new properties in 2014 and have plans to build an additional 15 in 2015. All of those properties are specifically for real estate investors who purchasing brand new build-to-rent properties.
There is the chance that, as we saw previously in Houston, a shortage supply could artificially inflate prices due to demand and subsequently out price many would-be home buyers in the market. As it is, however, the tight supply is currently a good thing, bringing home prices back up from rock-bottom and allowing homeowners to reclaim lost values. At the same time, it allows investors to participate in the new build market as well and provide high-quality housing for families continuing to rebound from the economic crisis, yet still unable to purchase a property for themselves.
Memphis Named Prime Spot for Millennials
In addition to positive projections for the year after a promising first quarter, Cushman & Wakefield's annual real estate report saw Memphis (along with sister cities Nashville, Portland and Brooklyn) as one of the most promising places for millennials to live, citing an attractive "live/work/play" environment as a contributing factor — making it an ideal place for real estate investors.
The unique Memphis Blues flavor of the city combined with an emerging high-tech industry and low cost of living is bringing in new folks. The plans for Broad Avenue and Overton Square only encourage young people to come to Memphis, where dreams of starting new businesses and finding success are very much within reach. With one of the largest Bass Pro Shops in the world coming to the Pyramid this year and the possibility of IKEA as well as other world-famous manufacturers, Memphis is stirring with promising activity.
Memphis real estate will benefit as a result as demand for housing improves and sales go up. But remember that many millennials, more so than the generations before, have come to favor renting. While many will go on to be homeowners themselves, they're also likely to be content to rent. Renting is no longer a status relegated to those who can't afford a home — it's a perfectly valid lifestyle choice, and one that many people are making.
Premier Property Management Group of Memphis, which primarily provides property and portfolio management services for real estate investors working with Memphis Invest, shows a fast-growing portfolio. Premier began 2014 with 1,850 properties under management and 16 months later that portfolio has grown to over 2,300 properties. Passive real estate investors, many located outside of Memphis, own those properties and they are clearly choosing Memphis based on demographics like millennial growth.
Multifamily properties in Memphis are looking good as well. Martin Edwards of Edwards Management Inc. Realtors reported of Memphis, "Of the 17 new complexes planned or underway in 2015 or 2016, about half of them are Downtown. Millennials are not buying homes. They want availability, they want to be where the action is, they want to be where other millennials are and they want to move quickly."
Learn how to Invest in Cities like Memphis, Dallas and Houston Safely! Click below...
Job Growth Very Strong
From February 2014 to February 2015, Memphis added 23,000 jobs and the unemployment rate continued to fall. Not since the jobs boom of the mid 1990's has Memphis added 23,000 jobs in one 12-month period. The great news about those jobs is that they did not come from big companies moving in and adding thousands of jobs at a time. Did some large companies move to Memphis? Absolutely. But, the real growth came from small entrepreneurs and mom and pop companies that either started or grew over the past 12-months and they led the charge in our growth. Memphis Invest alone spent over $16 million in the past 12 months with over 75 local, small companies provided all types of services and products.
"We haven't seen this kind of job growth in a long time," University of Memphis economist John Gnuschke said. "We had lost so many jobs it was hard for us to bounce back. But this time it looks like a bounce back."
What Does it Mean for Real Estate Investors?
It's all good news for Memphis real estate investment. The dwindling pool of foreclosed properties is no reason for alarm and no reason to doubt whether or not there's a place for investors in Memphis. Memphis, with the help of companies like ours, has begun to market itself as a hot spot for young people and their families, there's no doubt that the rental market will be hotter than ever. The Memphis M.S.A. (Metropolitan Statistical Area) continues to grow, add more job-seekers as well as more jobs and those economic positives are fantastic drivers for the housing markets.
We expect to continue to see high demand for rentals from not only the millennial crowd, but across all demographics. That demand, much of which will be in high-quality single-family housing, will only bolster the price of rent, which is good news for investors looking to get more out of their investment properties.
Overall, a reinvigorated real estate market thanks to the the influx of new people and surging economy means that Memphis real estate is a prime place to invest. During Spring and Summer, the busiest time of year for real estate across the country, investors have a lot to look forward to.