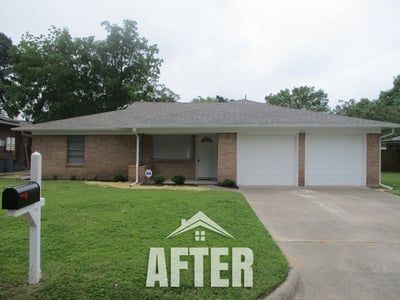 This week's Transformation Tuesday comes from the Dallas-Ft. Worth metroplex. Inside this single-story property, mountains of trash towered to the ceiling. Years of neglect left the home in dire need of an interior overhaul. That's where we came in. Keep reading to see how our team transformed this hoarder's retreat into a welcoming paradise.
Maximizing a budget of $54,500, our team rebuilt the roof and landscaped the front and back yard. Next, we bulldozed the waste buildup polluting each room. Once we achieved a clean slate, we upgraded the interiors with fresh paint, new flooring, carpet, and sparkling appliances. The final result is a welcoming home for a single-family residence.
Dallas is an optimal market for turnkey real estate investors. The Texas metroplex attracts Millennials and Gen Z alike, boasting a market perfect for the younger generation focused more on careers than homeownership. The higher percentage of young, educated renters allows Dallas to maintain a high ranking for investor portfolio options.
Related Article: Why Real Estate Investors Love Dallas, TX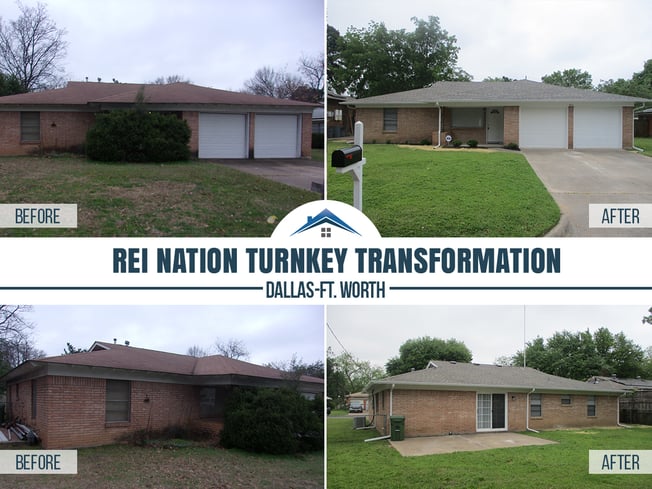 About this Transformation:
The owner of this Turnkey Transformation is located in Tennessee. This is the tenth property that they have invested in and had managed by us. Here is additional info about the home:

- Built in 1959
- 1,484 sq. ft.
- 3 bedrooms, 2 bathrooms
- Lot size of .19 acres
- Installed New Roof
- Installed New AC
- Installed New Furnace
- Installed New Water Heater
- Installed New Blinds Throughout
- Installed New Light Fixtures
- Installed New Carpet
- Installed New Vinyl Plank Flooring
- Replaced all Damaged and Rotten Wood, Trim, and Siding Around the House
- Painted all Walls, Trims, Doors, Closets, Ceilings, and Cabinets
- HVAC, Electrical and Plumbing Inspected and Repaired by a Licensed Professional


Let REI Nation transform your financial future!