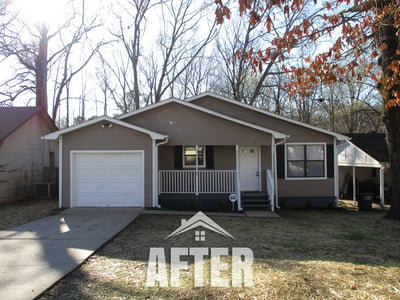 This week's Transformation Tuesday comes from Little Rock, Arkansas! Towering trees and a beautiful backyard surround this quaint property. However, rotten wood, a demolished bathroom, and an outdated interior kept this house from reaching its full potential. To see how our team transformed the structure into a welcoming home, keep on reading.
Maximizing a budget of $49,500, our team began by installing a new fence and roof. After a fresh coat of paint and repair job to the back stairs, we moved inside. New cabinets, vinyl plank flooring, and carpet in every bedroom breathed new life into the house. After finishing touches, it's safe to say this cozy home is the perfect place for any single-family residence.
Little Rock is much more than just the capital of Arkansas and agriculture—it's a growing industry hub for industry and engineering as well. Market stability and affordability are skyrocketing, bringing many jobs to the city. The Little Rock market is prime for real estate investors looking to diversify their portfolios for single-family homes.
Learn More: SFRs are the Hot Real Estate Commodity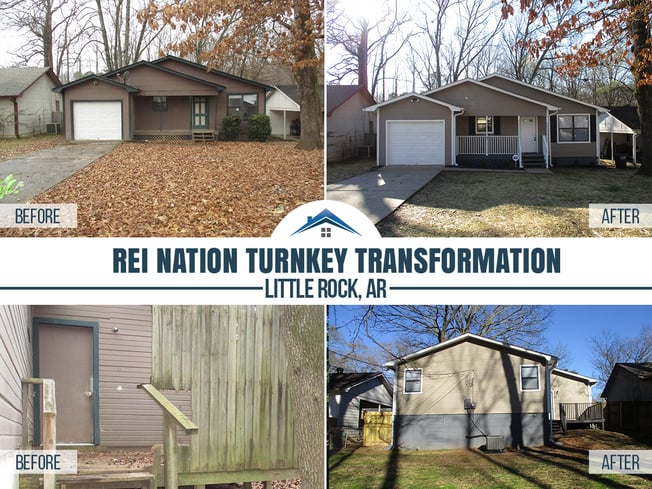 About this Transformation:
The owner of this Turnkey Transformation is located in California. This is the second property that they have invested in and had managed by us. Here is additional info about the home:

- Built in 1985
- 1,062 sq. ft.
- 3 Bedrooms, 1.5 Bathrooms
- Lot size of .14 Acres
- Installed New Roof
- Installed New Fence
- Installed New AC
- Installed New Furnace
- Installed New Water Heater
- Installed New Countertops
- Installed New Dishwasher
- Installed New Blinds Throughout
- Installed New Light Fixtures
- Installed New Carpet
- Installed New Vinyl Plank Flooring
- Replaced all Damaged and Rotten Wood, Trim, and Siding Around the House
- Painted all Walls, Trims, Doors, Closets, Ceilings, and Cabinets
- HVAC, Electrical and Plumbing Inspected and Repaired by a Licensed Professional


Let REI Nation transform your financial future!