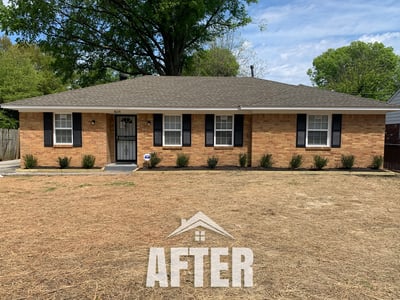 This week's Transformation Tuesday comes from Memphis, Tennessee. With its peeling roof and yard littered with fallen tree branches, we weren't quite sure what to expect on the inside of this house. Pink fluffy insulation pooled inside the kitchen and bedrooms, and a massive hole in the wall cursed the living room. But by the time our expert team completed the renovation, this home was completely new again.
Maximizing a budget of $89,500, we began by taking care of the outside: a new roof, strong fence, and clean landscaping job were all part of the process. Next, we battled the inside. We patched and repainted the walls, laid down new flooring, and took care of the missing ceiling evident in almost every room. At the conclusion of this project, we had a beautiful single-family home perfect for its new residents.
The Bluff City is rich with opportunities for passive real estate investors, although admittedly it might not be one of the first markets to appear on one's radar. However, out of Memphis' various business sectors, there is evidence of demonstrated increases in the private investigation, immigration legislation, bookkeeping, and life coaching industries. This paired with a low cost of doing business fuels the Mid-South city's local economy.
Related Article: The Memphis Market Strikes the Right Chord for Real Estate Investors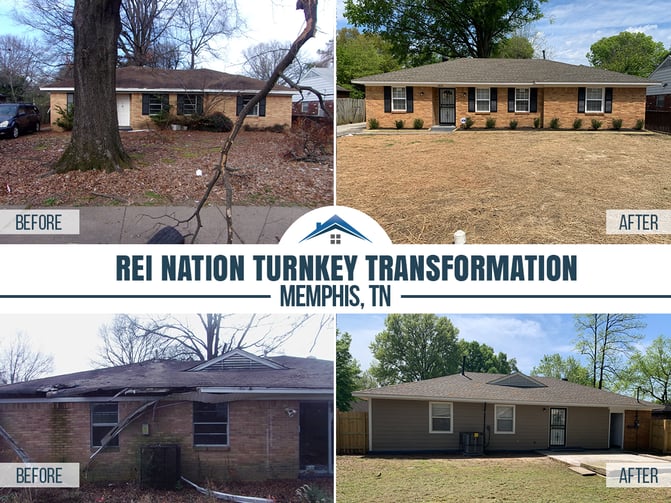 About this Transformation:
The owner of this Turnkey Transformation is located in Washington; this is their first property that they have invested in and had managed by us. Here is additional info about the home:

- Built in 1960
- 1,407 sq. ft.
- Lot size of .20 acres
- 4 bedrooms, 2 bathrooms
- Installed New Roof
- Installed New Fence
- Installed New Blinds Throughout
- Installed New Light Fixtures
- Installed New Dishwasher
- Installed New Countertops
- Installed New Hardware on Cabinets
- Installed New Vinyl Plank Flooring Throughout
- Installed New Carpet in Bedrooms
- Installed New AC
- Installed New Furnace
- Installed New Water Heater
- Replaced all damaged/rotten wood/trim/siding around house
- Painted all walls, trims, doors, closets, ceilings, and cabinets
- HVAC, Electrical and Plumbing inspected and repaired by a Licensed Professional


Let REI Nation transform your financial future!