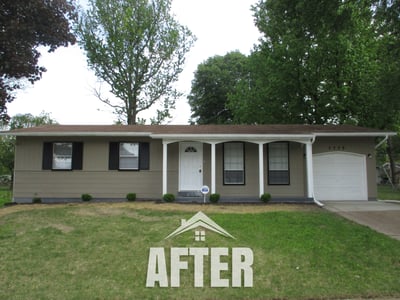 This week's Transformation Tuesday comes from St. Louis, Missouri! This home was terribly neglected on both the inside and outside. From the year-round Christmas wreath to the grimy living corridors, this single-family home desperately needed experts' time and attention. After the work of our renovation team, this home was finally able to embrace its full potential.
Maximizing a budget of $49,000, we began by polishing and repairing the foundation of the house, as well as the roof, fence, and backyard shed. Next, we cleared away all of the trash that filled each room and installed new lights, blinds, floors, and paint to the walls. The end results are a modern, sleek home with a welcoming atmosphere perfect for its future residents.
At REI Nation, our experts painstakingly observe the rising trends and long-held patterns of specific markets and determine if they are a fit candidate for real estate investing; St. Louis hits the mark. From its population growth to its job market diversity, the "Gateway to the West" offers our real estate investors long-term, prosperous opportunities.
Related Article: REI Nation Brings Turnkey Investors New Opportunities in St. Louis, Missouri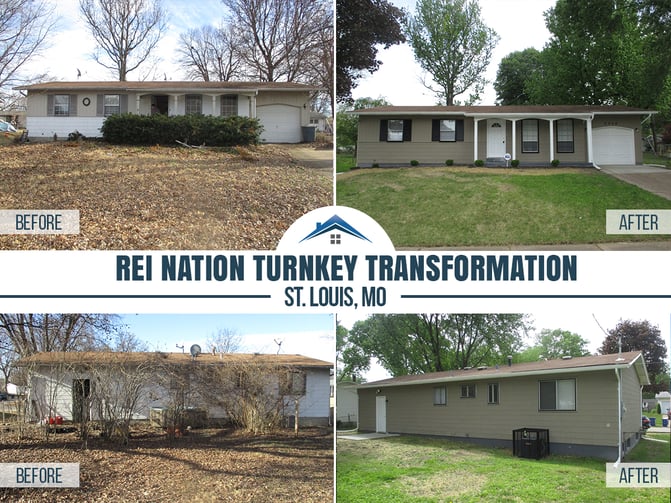 About this Transformation:
The owner of this Turnkey Transformation is located in California; this is their second property that they have invested in and had managed by us. Here is additional info about the home:

- Built in 1967
- 960 sq. ft.
- Lot size of .16 acres
- 3 bedrooms, 2 bathrooms
- Installed New Blinds Throughout
- Installed New Light Fixtures
- Installed New Dishwasher
- Installed New Hardware on Cabinets
- Installed New Vinyl Plank Flooring Throughout
- Installed New Carpet in Bedrooms
- Installed New AC
- Installed New Furnace
- Installed New Water Heater
- Replaced all damaged/rotten wood/trim/siding around house
- Painted all walls, trims, doors, closets, ceilings, and cabinets
- HVAC, Electrical and Plumbing inspected and repaired by a Licensed Professional


Let REI Nation transform your financial future!