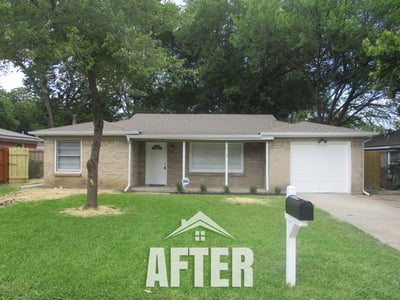 This week's Transformation Tuesday comes from Dallas - Ft. Worth, Texas! A hodgepodge of abandoned belongings and trash littered the front yard of this single-family home. The interiors were outdated and what little was left was entirely past its time. To see how our expert team of contractors renovated this home from the ground up, see the before and after pictures below!
Maximizing a budget of $58,000, our team began by installing a new roof, cleaning up the yards, landscaping, and much more. On the inside, we installed new flooring and paint and gave the home a new modern feel. New appliances including a new dishwasher, AC, and water heater were also added to make this home all the more welcoming for its future residents. The results of this renovation are truly unrecognizable.
The Dallas - Ft. Worth metroplex is an ideal market for real estate investors. Millennials and even Gen-Z, the oldest of whom are nearly twenty, find that their lifestyle doesn't accommodate buying a home and staying there for most of their life. When we look at a city like Dallas, where the median age is thirty and almost 20 percent of its population falls into the 25-to-34 range, the city is certainly a worthwhile consideration.
Related Article: Why Real Estate Investors Love Dallas, TX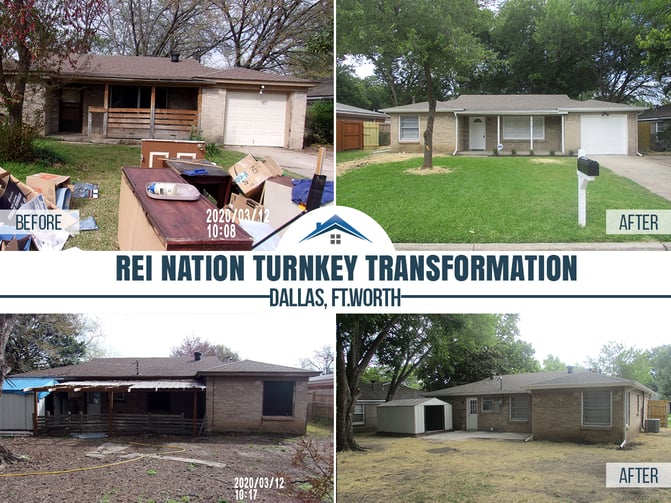 About this Transformation:
The owner of this Turnkey Transformation is located in California; this is their second property that they have invested in and had managed by us. Here is additional info about the home:

- Built in 1959
- 1,182 sq. ft.
- Lot size of .14 acres
- 3 bedrooms, 2 bathrooms
- Installed New Roof
- Installed New Blinds Throughout
- Installed New Light Fixtures
- Installed New Hardware on Cabinets
- Installed New Dishwasher
- Installed New Vinyl Plank Flooring Throughout
- Installed New Carpet in Bedrooms
- Installed New AC
- Installed New Furnace
- Installed New Water Heater
- Replaced all damaged/rotten wood/trim/siding around house
- Painted all walls, trims, doors, closets, ceilings, and cabinets
- HVAC, Electrical and Plumbing inspected and repaired by a Licensed Professional


Let REI Nation transform your financial future!