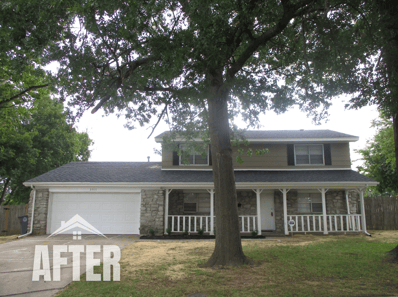 This week's Transformation Tuesday is from Tulsa, Oklahoma.
The original state was a mix of styles, from its farmhouse exterior, to its dark, rustic European interior. On top of that, leftover damage and debris made it hard to see the potential of this property. However, with a little elbow grease and a healthy renovation budget, it's now a resident-ready home with plenty of room and fantastic features revealed!
Our team of renovators and local contractors used $70,000 to transform this two-story terror. Outside, the overgrown landscaping was trimmed back to make the front and back yards more usable. Inside, the real stone features were tied into a contemporary look and feel, while the artificial stone work was removed entirely. The kitchen has a new, clean slate, as do the two full and one half baths. Now, this residence is a spacious, breathable space, ready for its residents to enjoy!
The owner of this property is a member of our WOW Group, and is one of eight purchased through REI Nation! It is currently managed by Premier Property Management.
Tulsa's history may be in oil, but its future is a diverse, new economy, bringing with it a booming population. We love this rental market for its balanced and affordable real estate. What can "Green Country" do for you portfolio? Gives us a call today to see for yourself!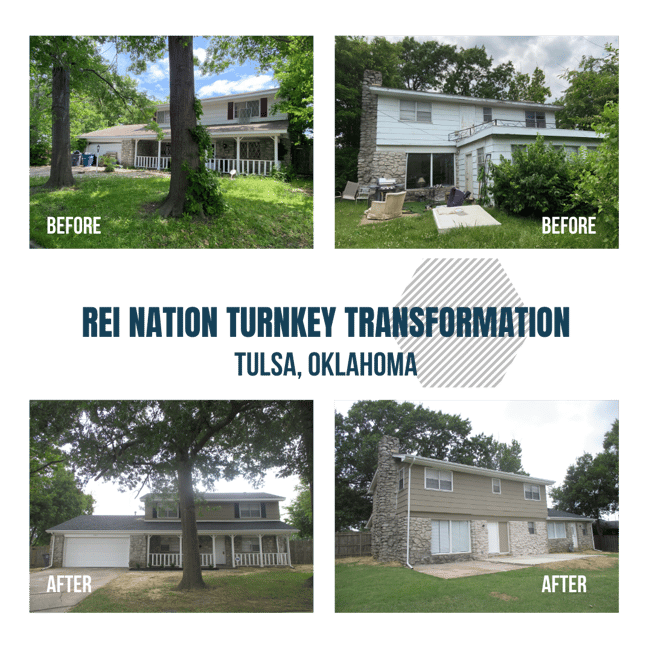 About this Transformation:
Built in 1964

2,078 sq. ft.

4 Bedrooms, 2.5 Bathrooms

Installed:

New Roof

New Doors

New Vinyl Flooring

New Light Fixtures

New Blinds throughout

New AC

New Water Heater

New

Furnace
Inside: Painted All Walls, Trims, Doors, Closets, Ceilings, and Cabinets

Outside: Updated Siding and Landscaping around the House

HVAC, Electrical and Plumbing Upgraded by a Licensed

Professional




Let REI Nation transform your financial future!