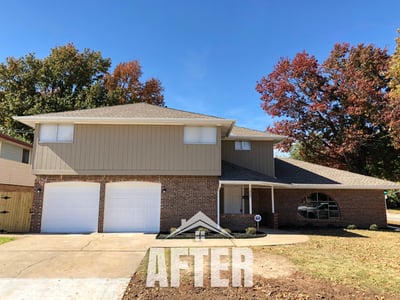 This week's Transformation Tuesday comes from Oklahoma City! This two-story single-family home had a solid foundation to make it a unique home for any family; however, the property had been severely neglected with stockpiles of trash and unfinished bathrooms. To see how our expert team of contractors renovated this house into a sleek and modern sanctuary, check out the before and after photos below!
Maximizing a budget of $61,000, our team began by repairing the outside of the property. We took care of any rotten wood, repaired the roof, and renovated the beautiful sun-room showcasing the backyard. Next, we tackled the tarnished walls and reconstructed the kitchen from the ground up. Now this home is able to properly show off its artistic window shapes and exude a welcoming atmosphere for its new residents.
Oklahoma City was one of our earliest cities to invest in and it still remains a strong contender for our investors' portfolios. The oil and gas industry has played a large role in cultivating the current state of the market. This combined with new job opportunities keep the market steadily growing with new opportunities, both for residents and investors alike.
Related Article: What's Behind Oklahoma City's Economic Boom?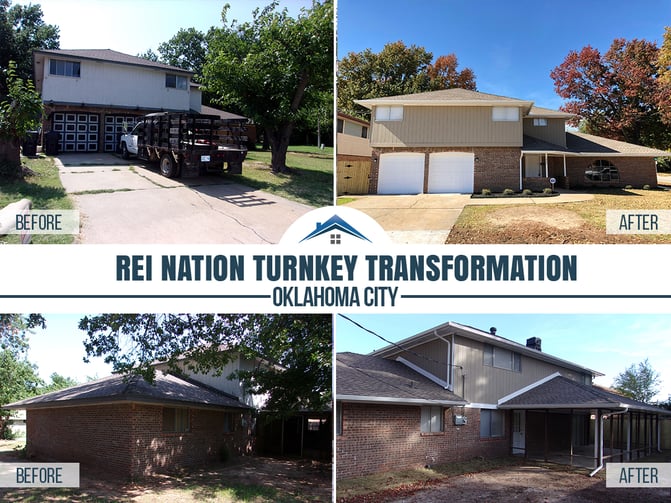 About this Transformation:
The owner of this Turnkey Transformation is located in California; they have two properties that they have invested in and had managed by us. Here is additional info about the home:

- Built in 1970
- 2,567 sq. ft.
- 4 bedrooms, 2.4 bathrooms
- Installed New AC
- Installed New Furnace
- Installed New Water Heater
- Installed New Dishwasher
- Installed New Blinds Throughout
- Installed New Light Fixtures
- Installed New Hardware on Cabinets
- Installed New Carpet
- Installed New Vinyl Plank Flooring
- Replaced all damaged/rotten wood/trim/siding around house
- Painted all walls, trims, doors, closets, ceilings, and cabinets
- HVAC, Electrical and Plumbing inspected and repaired by a Licensed Professional


Let REI Nation transform your financial future!