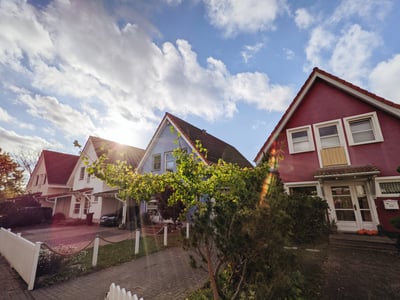 Throughout 2020, one of the driving forces behind an incredible year of real estate market performance was record-low mortgage rates. Despite the pandemic and its economic impact, these rates incentivized a flurry of homebuying activity throughout the year.
Mortgage rates, along with tight inventory in many desirable markets nationwide, largely contributed to sustained demand and rising property prices. In some regards, rising home prices pose a challenge. Affordability has been a growing issue in the United States for the better part of a decade. Slow or stagnant wage growth combined with a rising cost of living overall has made the "American Dream" of homeownership more challenging.
Of course, favorable mortgage rates have eased the burden of rising home costs. However, Freddie Mac has already reported a rise in mortgage rates by some 14 points to 2.79 percent. With rising mortgage rates, even by a minute amount, some wonder if we're due to see the end of record-low rates.
Don't be mistaken — a rise in mortgage rates doesn't mean a return to some of the historical rates we've seen before. When we look at mortgage rates through the years, we see that rates have been much, much higher. 1990's annual average was a whopping 10.32 percent for a 30-year fixed-rate mortgage. In 2000, it was 8.05 percent. In 2010, 4.69 percent. And in 2020, it was 3.11 percent.
The rate has fluctuated over the past several decades with a consistent downward trend. Even if they increase, Freddie Mac projects that the rise will be slow.
However, knowing that mortgage rates are a huge driving factor in home buying and investment property acquisition, how will rising rates potentially impact the real estate market?
One Major Consequence of Rising Mortgage Rates
Tempered Market Activity
Mortgage rates alone are not likely to turn the market upside down — particularly at the slow rate at which they're expected to climb. Instead, a combination of factors will contribute to a more even-keeled real estate market environment:
Mortgage rates
Unaffordability
High lending standards
Inventory increase
While low rates have taken the sting out of the growing price tags on houses, an increase will make it more difficult to buy a home, particularly for first-time homebuyers. Rising prices already make it more challenging to come up with a down-payment and without the incentive of stellar mortgage rates, many will think twice before they buy.
The good news is that inventory is likely to increase in 2021, which takes some of the pressure off of the market.
High lending standards will continue. While they may present a barrier to entry for new homebuyers, they will, overall, decrease the need for foreclosures. Because lending standards have remained high in the years after the Great Recession, we're unlikely to see the slew of foreclosures that some have been fearing.
As the economy recovers thanks to COVID vaccine distribution, the fear of mass loan defaulting will diminish as well.
In summary, we're likely to see a more "normalized" real estate market in the coming year. While 2020 was exciting, it was also unpredictable. Many investors and buyers will find comfort in a more average year in real estate.
Business as Usual in Real Estate
It's important to recognize that mortgage interest rates should have been low during the pandemic. Some would argue that they have not been low enough. If anything, we will be seeing a market return to "normal" in 2021 as interest rates inch up.
For real estate investors, there are advantages and disadvantages to the current environment. In some ways, COVID signified a paradigm shift in the market, particularly where location and property types are concerned. Demand moved inland and into more rural and suburban areas. Prices spiked in traditionally more affordable markets. Soon enough, we will see prices dropping in large coastal markets as well.
Because of the current climate in real estate, investors would best sight their sights on the long-term. There are still advantages to the market, but the fact of a seller's market and rising prices and rates along with elevated competition means that investors must be especially intentional about their investment choices.
Thankfully, turnkey real estate investing with REI Nation is designed to build long-term wealth in some of the nation's best markets. Not only that, but we take the hassle and headache out of acquiring and managing rental properties. This is premier turnkey real estate at its finest!
2021 could be your best investment year yet. Join REI Nation today!