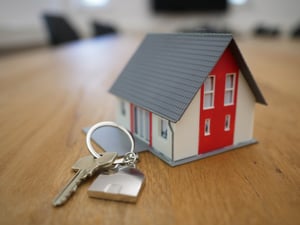 If we're honest, investing in anything can come with its fair share of anxieties. We all want to find success in our financial endeavors, particularly when they take so much of our time and resources. For many of us, our idea of investing in real estate comes from glamorized HGTV productions about property flipping—a type of investing that demands not only agility in the right neighborhoods and markets, but key timing.
This not only can give us false expectations about what it means to invest in real estate, but it provides a narrow view of the experience and our opportunities.
Because investing in anything so often comes with volatility—ups and downs beyond your control, or profits contingent on the state of a market that you also have no control over—wouldn't it be great to have an investment strategy that eliminated that pressure?
How Buy-and-Hold Investing Gives Investors a Hands-Off Experience
As an investment strategy, buy-and-hold is the only method that transcends the demand for market timeliness. When you combine a buy-and-hold strategy with real estate, you have the potential to reap investment rewards for decades. While you may be able to buy-and-hold stocks, a market disaster can make your investment worthless.
As a physical asset, real estate never sees such tremendous losses. The real estate cycle, too, is a great boon to a buy-and-hold investor. Knowing that whatever market conditions there are now are temporary gives you the endurance to wait for better seasons.
But does a buy-and-hold strategy really create a worry-free investing experience? It can.
You aren't worried about the market.
As diligent as we can be about our own investments, a bad market can make the best choices go sour. However, when we look at the buy-and-hold strategy, we see that there is an opportunity to be informed on real estate, the economic climate, and politics without having to worry about it.
This is the key. A lack of worry doesn't mean a lack of knowledge. Buy-and-hold investors have mastery of due diligence, and that means they are in-the-know when it comes to their markets and their trajectory. However, they also know that a downturn or twist isn't the end of their world. Because buy-and-hold is built on the notion of "holding" property, they know that they can bide their time. There's no need to worry about a market when conditions change and will continue to change.
You don't worry about making a profit.
One of the key benefits of a buy-and-hold investment strategy is the two-fold nature of its profits. By nature of holding real estate in your portfolio, you reap the benefits of appreciation over time. For some investors, this is enough. You wait until the market conditions are just right, and then you sell your property for a profit.
However, we at Memphis Invest know that there is more to a successful buy-and-hold strategy than this. It is what truly sets it apart from flipping as a strategy. When you rent out your properties, you generate passive income each month. While one or two properties on their own may not seem to generate that much, a full portfolio generating rental income year after year truly adds up.
This passive cash flow combined with appreciation, both forced by quality renovations and grown naturally over time, creates an investment that brings profits by two means.
Flippers, on the other hand, must rely on ideal market conditions for a one-time property sale and profit before they continue on to their next project. The buy-and-hold rental method is not only more steady and stable in the long-term, but it demands far less of the owner.
You don't rely on your own experience.
Buy-and-hold real estate investors don't succeed by their own merits. You can't even be a hands-off investor (so-to-speak) on your own. No, in order to find success from the outset, an investor needs the right turnkey partner.
A partner such as Memphis Invest allows investors to experience buy-and-hold investing worry and hassle-free. With over fifteen years of experience, we handle everything from property acquisitions and portfolio management down to renovations and connecting our clients with insurance and financing partners.
When you don't have to rely on your own experience...or inexperience...a weight can come off of your shoulders. Not only can you invest without fear of the market, the anxiety of needing to sell a property, or the constant need for more capital, but you can have access to experienced advisors and management teams who can handle and navigate all the tough stuff.
Let real estate investing be about your success—not your stress.