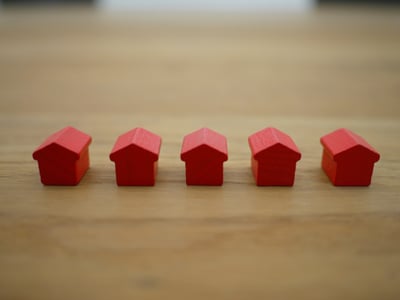 For passive real estate investors, there are some big decisions that have to be made at the beginning of your investing career. Yes, you have to think about where to invest. You have to think about how you want to build your portfolio. But first and foremost, you should be thinking about who you trust with your investing future.
After all, a passive real estate investor is one who leaves the essential operations of their rental properties in the hands of others. Other people manage properties, place residents, direct repairs and renovations, and so on. These are the people that optimize the profitability and wealth-building potential of every investment property in your portfolio.
It's safe to say that, for the passive investor, nothing and no one is more important than who you choose to work with.
As you investigate different companies and providers, you will likely find yourself wondering who to go with. And ultimately, it comes down to one factor — one key quality — that impacts every area of real estate investment: due diligence.
How Due Diligence Impacts Your Passive Investments
First things first, let's define due diligence. Typically, due diligence is understood as the investigation or exercise of care that business people engage in in order to evaluate and manage risk effectively. For example, a homebuyer who makes their offer contingent on a home inspection is practicing due diligence.
However, we at REI Nation apply the concept of due diligence in a more broad sense. The key phrase in the definition is the "exercise of care." Due diligence impacts more than just the physical properties you own.
Due Diligence Impacts…
Quality of Services
If there's one thing we at REI Nation value, it is the quality of the services we provide. With over 2,000 investors and over 6,000 managed properties across five states, quality is simply non-negotiable. You can find turnkey providers just about anywhere, but more rare are those who truly value their investors, properties, and residents.
Our brand of due diligence means that we not only hold ourselves to the highest industry standards, but we constantly look to see how we can improve our systems and services.
Resident Relations & Retention
For the real estate investor, nothing impacts passive income more than vacancies and resident turnover. Something we have seen, especially as we have reached out to our residents throughout the COVID-19 pandemic, is their desire to stay. Having top-notch, well-maintained properties is part of the reason, but a bigger piece of the puzzle is how we treat our residents.
It's true not only of these times — when residents need more communication, support, and compassion than ever — but true of "normal" circumstances, too. We ensure that our residents feel safe, welcomed, and encouraged to communicate any concerns, questions, or feedback regarding the property, their lease, or issues.
We're proud to say that our residents, on average, stay for five or more years. Our properties boast a vacancy rate of under 3 percent and an eviction rate of under 2 percent. We know that this points to the primary factor that sets REI Nation apart from other turnkey companies — our diligence, our service, in placing residents and building relationships with them.
Property Values
Due diligence stops problems before they balloon out-of-control. Rental properties make such good investments for this reason! If you want to maintain the value of an investment, you have to take good care of it. Too many management companies try to cut corners with quick-fixes and letting regular maintenance slide. While this seemingly saves money, it hurts the long-term value of your investment — declining not only its value as a property but its income-earning potential in monthly rent.
Be sure to check out: The Due Diligence Checklist for Turnkey Real Estate Investors
Due diligence keeps property values and cash flow growing in tandem. While great maintenance costs money, it is well worth it in maintained and added value — not to mention peace-of-mind!
Transparency & Communication
Due diligence demands more from turnkey companies than their ability to care for investment properties responsibly. For our part, it also means that we value transparency and communication among our teams, investors, and residents.
This means that we are honest and upfront about the suitability of investing in our model with potential investors, open about our numbers (as well as yours), and willing not only to answer questions but to offer professional counsel on the state (and growth) of your portfolio. We want every one of our investors to feel confident and at-peace about their passive investments.
That only happens with proactive, diligent priority in communication.
Ultimately, true due diligence impacts more than one's risk management. It permeates the full spectrum of the real estate investment business — from investors and advisors to managers and residents alike. Not to mention the properties themselves!
This is the brand of due diligence to look for in a turnkey provider: care and attention to detail that far surpasses simple risk management.
How does REI Nation stand out from the pack? Schedule your 1-on-1 call to find out for yourself!