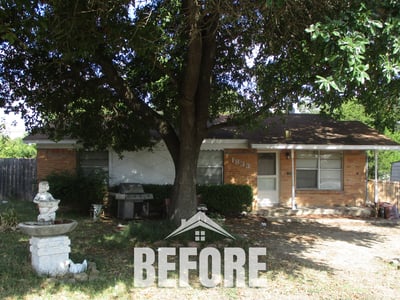 This week's Transformation Tuesday comes from Dallas-Ft.Worth, Texas. This house from the 1950s had endured a great amount of wear and tear over the years. From its faded pastel walls to its deteriorating fence, it was rich with opportunities to be transformed into something irreplaceable. To see the stark before and after pictures, keep on reading below!
Maximizing a budget of $64,500, our expert team of contractors began rehabbing this home into rent-ready conditions. On the outside, we replaced all rotten wood, posted a new fence, installed a new roof, and landscaped thoroughly. Inside, our first step was ridding the home of the piles of trash that had been abandoned in each room. By the end of the project, each room was sparkling with new white countertops, clean floors and walls, and the amenities needed to make this house perfect for its future residents.
For a plethora of reasons, the Dallas Ft-Worth metroplex is an ideal market for real estate investors. As Millennials dominate the population and flock to Dallas for its economy, this generation prefers to rent instead of buy, making the market for investors flourish. As this ideal continues to go stronger, there's little doubt of Dallas not being a prime market.
Related Article: Why Real Estate Investors Love Dallas, TX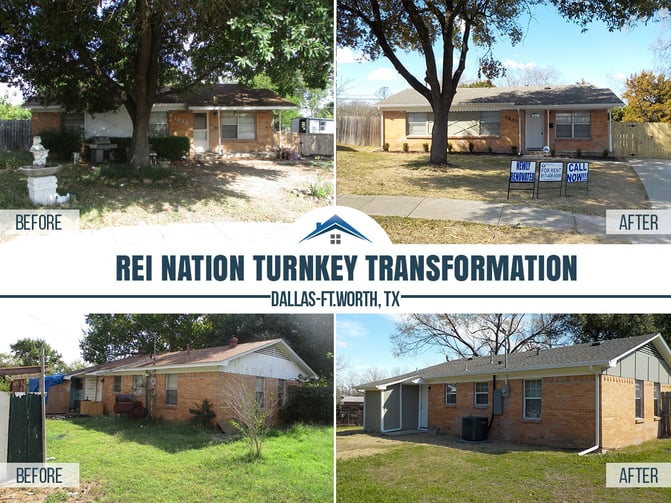 About this Transformation:
The owner of this Turnkey Transformation is located in Hawaii; this is their first property that they have invested in and had managed by us. Here is additional info about the home:

- Built in 1958
- 906 sq. ft.
- Lot size of .10 acres
- 3 bedrooms, 1 bathrooms
- Installed New Roof
- Installed New Fence
- Installed New Blinds Throughout
- Installed New Light Fixtures
- Installed New Dishwasher
- Installed New Countertops
- Installed New Hardware on Cabinets
- Installed New Vinyl Plank Flooring Throughout
- Installed New Carpet in Bedrooms
- Installed New AC
- Installed New Furnace
- Installed New Water Heater
- Replaced all damaged/rotten wood/trim/siding around house
- Painted all walls, trims, doors, closets, ceilings, and cabinets
- HVAC, Electrical and Plumbing inspected and repaired by a Licensed Professional


Let REI Nation transform your financial future!