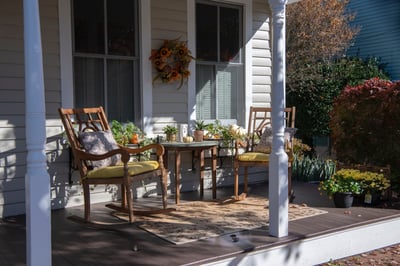 On the cusp of the summer home-buying season, it's becoming more and more evident that the housing shortage poses a problem for the average buyer. In fact, there's a shortage of some 5 million homes across the nation.
This shortage has fueled the ongoing upward trend for home prices. Combined with rising interest rates, aspiring homebuyers are pushed out of the market.
Enter the single-family rental.
More and more, single-family rentals – mostly owned by local businesses and individual investors versus real estate conglomerates – are establishing themselves as an essential part of the real estate ecosystem.
These are the trends we have our eyes on as we move into Summer 2022:
SFR Trends Real Estate Investors Must Watch
Trend #1 – Tighter Margins for Returns
According to a new report from ATTOM, the profit margins for most 3-bedroom single-family rentals are down across the nation. This doesn't come as too much of a surprise as home prices in many markets continue to push upward despite rising interest rates. Naturally, as the cost of acquiring properties increases – along with supplies and services associated with renovation and upkeep rising thanks to inflation – there's a tighter number crunch. Although rent prices are rising too, the ratio has been thrown off in the nation's pricier markets with returns dipping below 7%.
Our Advice: Invest in Lower-Priced Markets
Don't let profit margins disrupt your investing potential. The key is to invest in markets that are priced well relative to your location and current income.
There will be a relief as rental rates catch up to rising property prices, but it may take a bit of time. Regardless, be strategic about your money. Southern and midwestern markets will stretch your dollar further. For reference, the national median purchase price as of Q1 2022 was $428,700. Here's a breakdown of how median home prices in our markets compare as of 2022 according to NAR and realtor.com, with year-over-year percentage changes for further context.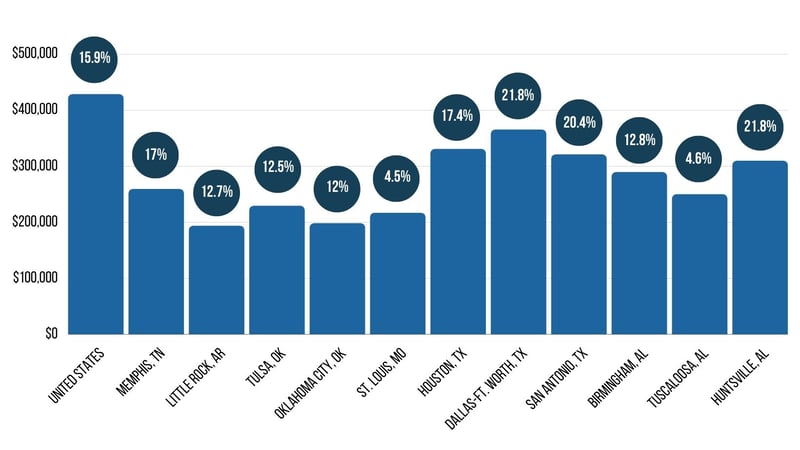 Consider this shift: Huntsville, AL was recently named the most livable city in America. It dethroned Boulder, Colorado, which currently has a median home price of $859,100 (an 18.2% increase). Priorities are shifting. Affordability matters not just for you as an investor but for the residents you serve.
Do your due diligence – including the number crunching – and partner with providers who still know how to get the best deal and manage expenses efficiently.
Trend #2 – Increasing SFR Demand
Because buying a home has become an increasingly unattainable and competitive process, single-family rental demand is on the upswing. People still want the feeling of owning a home, and SFRs are the next best thing. This is particularly important as most Americans continue to favor increased square footage, outdoor spaces, and suburban living in the post-pandemic world.
Of course, demand is rising on two fronts. Not only is the resident pool growing, but so is the competition. Other investors are trying to capitalize on the hot housing market, and we've got to stay ahead of the pack.
Our Advice: Prioritize Quality Customer Service
For real estate investors, it's not just about attracting residents. It's about retaining them. You start by having a top-notch property to offer, but that's not enough. Residents must have quality services that they can rely on. They need to know that the management team is responsive and that fixes and renovations are quality. They need to feel secure and well-cared for. The more you can do this, the more you can incentivize residents to stay even if the investor down the road tries to lure them away.
Trend #3 – Rising Rent Prices
In some U.S. cities, rent rose as much as 40% last year. On average, however, rates rose by 11.3%. While on one hand, rising rates are necessary to compensate for rising property prices, they pose a problem, too. Both buying a home and renting one are increasingly unaffordable thanks to inflation and stagnant wages. While you must make sure your numbers work, you don't have to resort to taking advantage of your residents to bolster your passive income.
Our Advice: Make Your Rentals Worth the Money
Own the rentals worth paying for. This is how you adjust to rising costs without angering or driving away your client base. If you offer a good home with great services, you're doing right by your residents.
At the end of the day, remember this: cash flow isn't the only value in owning a rental property. Over time you'll increase your equity and you'll always be able to utilize the many tax advantages afforded to investors.
Get the full benefits of premier turnkey real estate investment in the nation's best markets!
Join REI Nation today.