This week's Transformation Tuesday is from Little Rock, Arkansas.
This spacious single-family appeared deceptively compact from the outside. Dingy colors on the exterior, plus a makeshift outdoor oven in the side yard, added up to disaster! Inside, half-hearted efforts to renovate left the living spaces segmented, when the bathrooms were in the most need of an update!
With a budget of $52,500, our expert team of renovators and local contractors began their renovations from the outside in, starting with a new color palette for the siding and shutters on the house. In the backyard, the yard was evened out in the wake of the above-ground pool and DIY chimney being removed. Inside, you'd never know there were old renovation projects lying around! The living spaces and kitchen now sport new surfaces that are clean and inviting. The bathrooms were redone from top to bottom, in addition to changes to the bedrooms as well. This thorough transformation ensures that its future residents enjoy their home for a long time!
This property is currently being managed by Premier Property Management Group.
Arkansas has experienced a demand boost throughout the pandemic. When it comes down to it, Little Rock and Arkansas as a whole are more affordable than other desirable markets in the nation. Lower population density has played a role in attracting buyers, but the cost of living is the biggest draw. Learn more about property availability in this market by giving us a call today!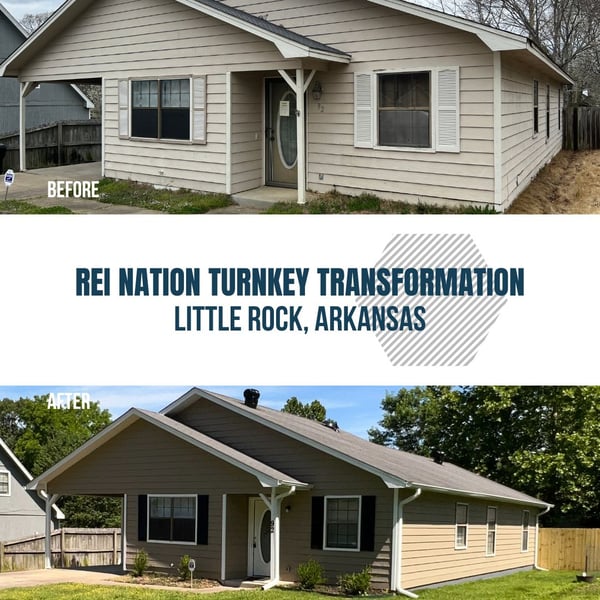 About this Transformation:
Built in 1991

1,894 sq. ft.

3 Bedrooms, 2 Bathrooms

Installed:

New Roof

New Doors

New Vinyl Flooring

New Light Fixtures

New Blinds throughout

New AC

New Water Heater

New

Furnace
Inside: Painted All Walls, Trims, Doors, Closets, Ceilings, and Cabinets

Outside: Updated Siding and Landscaping around the House

HVAC, Electrical and Plumbing Upgraded by a Licensed

Professional




Let REI Nation transform your financial future!