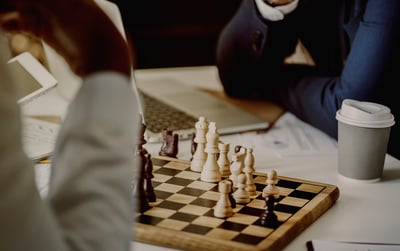 If you have ambitions of becoming truly successful in real estate investment, one thing that you will come to learn quickly is that one or two investment properties are not going to cut it. If you have a desire to quit your day job, grow your passive income into a dream retirement, or reach sustainable long-term wealth, you're going to find that scaling your portfolio is an absolute necessity.
But saying you want to scale your portfolio is often a lot easier said than done. For most of us, just buying that first investment property felt like a monumental step. It feels like adding multiple properties to our portfolio will take an enormous amount of time and resources.
How in the world can we get on the on-ramp to real estate investment wealth in a reasonable amount of time?
We're here to bring you some of the best financial and portfolio strategies in the biz to help you go from investment beginner to real estate mogul in no time.
---
You can order your copy of The Turnkey Revolution, the first book release from Memphis Invest chronicling the best advice on how to safely build a passive portfolio from real investor experiences!
Watch The Turnkey Revolution Webinar Here
---
5 Effective Financial Strategies for Acquiring Multiple Properties Quickly
Leverage Experience
As a turnkey real estate investor with Memphis Invest, you have the distinct advantage of leveraging the combined experience of our team—that's over 15 years in this industry. That means that you don't have to figure this out alone or make mistakes that other investors may fall victim to. One of the best strategies you can utilize is simply taking advantage of the experts who are at your disposal. These are the people who are equipped to advise you on how to best scale and expand your portfolio.
They can not only guide you on the logistics of how to scale but when and where. Too many investors don't allow themselves to tap into this rich resource. Don't make this same mistake! Feel free to schedule a phone call with one of our licensed real estate portfolio advisors here.

Set Clear Financial Goals
Another big factor in your success as a real estate investor is setting clear financial goals and truly going after them. Too many investors are content with merely earning passive income without a clear picture in their mind of what they really should or could be earning when empowered by a truly strong passive real estate portfolio.
What you need are clear goals on multiple levels. We've mentioned it before, but some investors seem to be afraid of setting goals for fear of failing them. Remember, however, that speaking these goals into existence is a way to motivate yourself to move forward in a clear direction.
Ask yourself: how much passive income do I want to be generating each month? How much more do I want to generate this year? How many properties do I want to acquire in the next two years? One year? Six months? Ask and answer the questions that make sense for you, but what is important is to do it.
Related Article: 4 Next Level Estate Investment Goals to Make the Most of 2018
Diversify Risk
The diversification of risk is a crucial part of scaling your portfolio. When you hedge yourself against risk, you prevent unnecessary losses, which in turn allows you to more firmly hold onto profits. This gives you the capital that you need to scale more quickly. The less risk you have, the less you have to worry about losing in your portfolio.
Diversification happens in a few different areas, but one key place is in your market. By acquiring investment properties across different markets, you are able to greatly mitigate risk. Should one market be hit by economic crisis, natural disaster, or some other circumstance that would affect your investment, your portfolio, on the whole, would largely get by unscathed because you had the foresight to diversify.
Normally this process would involve a lot of extra work to research and know so many different markets and make contacts within them, but when partnered with a company like Memphis Invest who has access and expertise in many diverse markets, it is possible to do so with ease and peace of mind.
Related Article: How Portfolio Diversification Brings Lasting Financial Security
Get Creative Financing
For some investors, the obstacle to quick scaling is simply a slow growth of funds. This is understandable, as a single property does not generate an astonishing cash flow. You need those multiple streams of cash flow in order to buy multiple properties per year, which is ideal when you want to really grow a successful real estate portfolio quickly.
What many investors do is get creative with their financing. This usually means finding private money lenders. Whether this comes in the form of friends, family, or other individuals, these are people willing to lend their money in lieu of a bank in order to fund a real estate acquisition. This can be tricky for a buy-and-hold investor as private money loans tend to have a higher interest rate. You must be careful when establishing terms.
You can also consider going into with a partnership with another investor, refinancing, or simply shifting how you live for the time being to accelerate your ability to buy. Many investors make temporary sacrifices knowing that they are setting themselves up for long-term financial success.
Ask the Right Questions
Lastly, you have to ask yourself the right questions. No investors are in just the same circumstances or in this for the exact same reasons. Are you asking yourself the right specific questions regarding your investments and your portfolio?
How much money do I need to have in passive cash flow to cover my living expenses?

Do I want to eventually quit my job and rely on my passive income?

Is cash flow my primary goal, or is property acquisition my goal?

Do I have targeted financial goals in mind or one overarching financial goal?

Do I value low-risk investments more, or would I rather take on more risk for the chance at higher profits?
These questions are not only integral in determining your portfolio-building strategy, but they're critical in seeing what sort of investing truly suits you to begin with.
Start building a worthwhile turnkey real estate investment portfolio with Memphis Invest. It starts with your call!