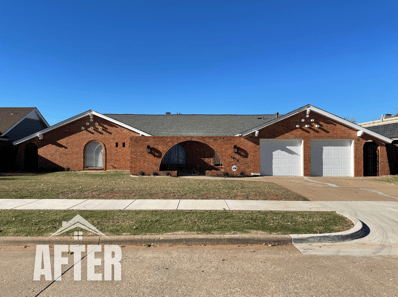 This week's Transformation Tuesday is from Oklahoma City, Oklahoma
This property was a stunner from the start. A spacious ranch with unique architectural details, we could see the potential clearly, even through some of the outdated features inside. Each room had a remnant of 70's style, with dark beams and cabinets, wood paneling, and teal bathroom tile. Our team was more than up to the challenge of bringing this beauty up to date.
Using a budget of $45,000, our expert team of renovators and local contractors went to work. The exterior work required brightening up the wooden accents and evening out the landscaping to increase curb appeal and yard use. Inside, the brightening continued with new surfaces and painted beams that made the living spaces feel bright and spacious. Not to worry, though! All of the fantastic original details, like rounded arches and and built-in shelving, were kept to ensure the property still felt like a unique and resident-ready home.
The owner of this property is a member of our Platinum WOW Group, and manages their REI Nation investments through Premier Property Management.
Did you know that Oklahoma City is the second-largest U.S. capital, only second to Juneau, Alaska, in terms of land area? But why does land area matter? In the pandemic era, available land and lower population densities are powerful incentives when considering both real estate inventory, buyer priorities, and health and safety guidelines. See what Oklahoma City has to offer your portfolio by giving us a call today!
About this Transformation:
Built in 1970

2,420 sq. ft.

5 Bedrooms, 2.5 Bathrooms

Installed:

New Roof

New Doors

New Vinyl Flooring

New Light Fixtures

New Blinds throughout

New AC

New Water Heater

New

Furnace
Inside: Painted All Walls, Trims, Doors, Closets, Ceilings, and Cabinets

Outside: Updated Siding and Landscaping around the House

HVAC, Electrical and Plumbing Upgraded by a Licensed

Professional




Let REI Nation transform your financial future!