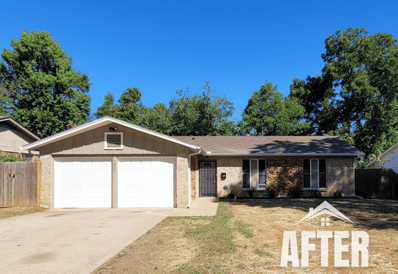 This week's Transformation Tuesday is from Dallas-Ft. Worth, Texas.
If it wasn't clear we'd landed in Texas, perhaps the stars on the double garage doors of this property might have given us a clue. In its original state, the exterior of this property was styled as a true rancher with dark red and brown features leading up to the front door. Inside, more red hues and wood panel overload were there to greet you. Old flooring and outdated colors added to the hectic feel of the residence. It was certainly due for a do-over.
Using a budget of $57,000, our team of renovators and local contractors went to work transforming this ranch residence from the outside-in. The curbside view was cleaned up with white trim, and the landscaping was reined in to allow more space in the front and rear yards. The galley kitchen now feels doubled in size thanks to new white-painted cabinetry, complimented by new, darker-toned flooring. The living spaces and bedrooms were also re-floored, and the bathrooms completely updated. Now, this renovated property is resident ready!
The owner of this property is a member of our WOW Group, and manages their REI Nation investments through Premier Property Management.
The Dallas-Ft. Worth Metroplex is the largest in the South, and in the top 5 in the country. A booming economy and population spells real potential for REI Nation's investors, who've been working within this market for over fifteen years. See what our seasoned DFW experience can recommend to you and your portfolio by giving us a call today!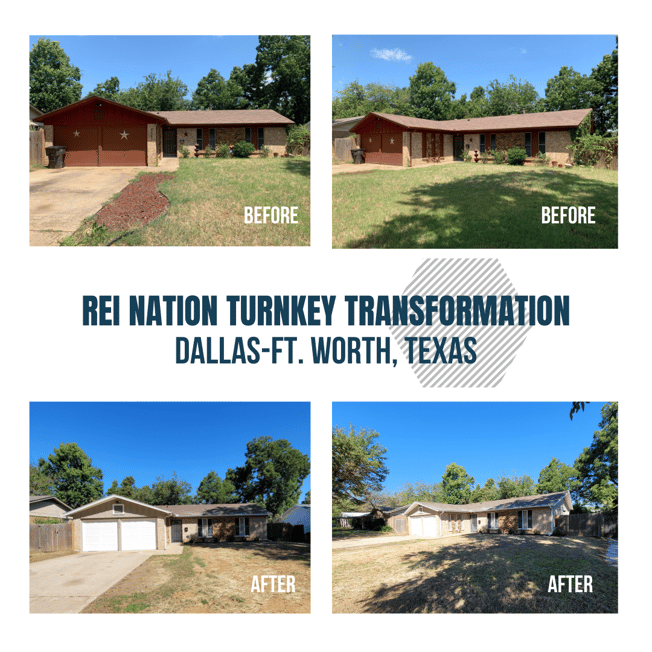 About this Transformation:
Built in 1967

1,158 sq. ft.

3 Bedrooms, 2 Bathrooms

Installed:

New Roof

New Doors

New Vinyl Flooring

New Light Fixtures

New Blinds throughout

New AC

New Water Heater

New

Furnace
Inside: Painted All Walls, Trims, Doors, Closets, Ceilings, and Cabinets

Outside: Updated Siding and Landscaping around the House

HVAC, Electrical and Plumbing Upgraded by a Licensed

Professional




Let REI Nation transform your financial future!