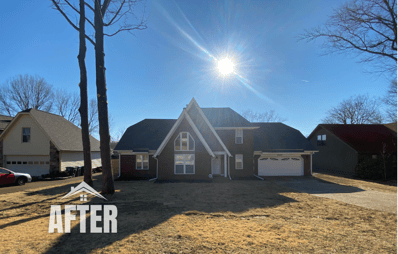 This week's Transformation Tuesday is from Memphis, Tennessee.
This large, eye-catching property had many things going for it. One thing it didn't? An old biohazard of a pool! Inside, loud colors and worn-down flooring pulled focus from some amazing architectural features. However, we knew that with a little TLC this property could be the talk of the town.
Employing a budget of $63,000, our expert team of renovators and local contractors first ensured that the backyard pool was safely removed and the yard filled in. The exterior of the home was also painted and the landscaping cleared of weeds. Inside, the vaulted ceiling and fireplace were highlighted with a neutral color palette, making the living spaces—and the kitchen off of them—feel even more spacious. The bathrooms were given similar makeovers from top to bottom, and the old flooring was replaced as needed. Now, no one would mind calling this place home!
One of our WOW Group Members owns this property and manages it through Premier Property Management.
Over the years, Memphis has steadily diversified its economy and engaged in massive revitalization efforts. As a result, the city is increasingly economically stable while also remaining highly affordable. Also, the Memphis metro has only increased in population since 1950. See why we love the Memphis market—give us a call today!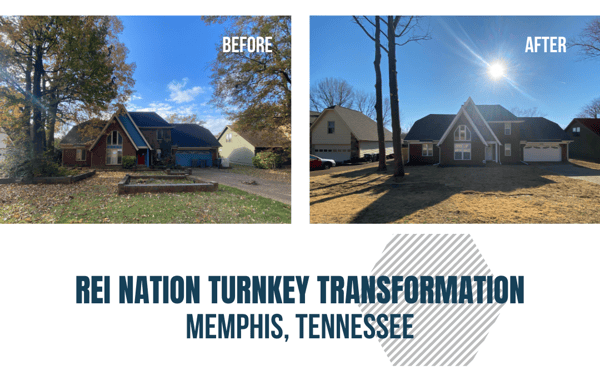 About this Transformation:
Built in 1984

2,796 sq. ft.

4 Bedrooms, 2.5 Bathroom

Installed:

New Roof

New Doors

New Vinyl Flooring

New Light Fixtures

New Blinds throughout

New AC

New Water Heater

New

Furnace
Inside: Painted All Walls, Trims, Doors, Closets, Ceilings, and Cabinets

Outside: Updated Siding and Landscaping around the House

HVAC, Electrical and Plumbing Upgraded by a Licensed

Professional




Let REI Nation transform your financial future!