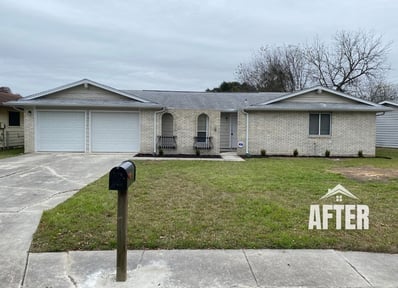 This week's Transformation Tuesday is from San Antonio, Texas.
You might've missed this house in its original condition, obscured as it was by overgrown trees and bushes that ran nearly the full length of the house! Inside, however, the empty spaces seemed to echo with dated motifs: wood paneling, patterned wallpaper, and off-putting colors left and right. Thankfully, our team knew just what to do to take this property back to its roots.
With a budget of $55,000, our renovators and local contractors began transforming this property by clearing the front yard of unsightly and precarious landscaping, and starting afresh with a clean, neutral exterior. New flooring inside made a world of difference, as did removing wallpaper and replacing loud colors with bright, inviting wall paint. The kitchen and bathrooms were given the same treatment, providing new, clean spaces for future residents to live in and enjoy.
The owner of this property is a Premium WOW Group member who uses Premier Property Management Group to manage their REI Nation portfolio!
San Antonio would not be home to so many thriving businesses in so many industries if not for the city's efforts to maximize incentives. Tax rebates and abatements, fee waivers, development funds, and workforce training initiatives all serve to bring in new businesses while retaining the city's staples. A local government that truly invests in growing in industry and diversity is good for real estate, as it attracts businesses, job opportunities, and people to the region. See what the Alamo City can add to your portfolio by giving us a call today!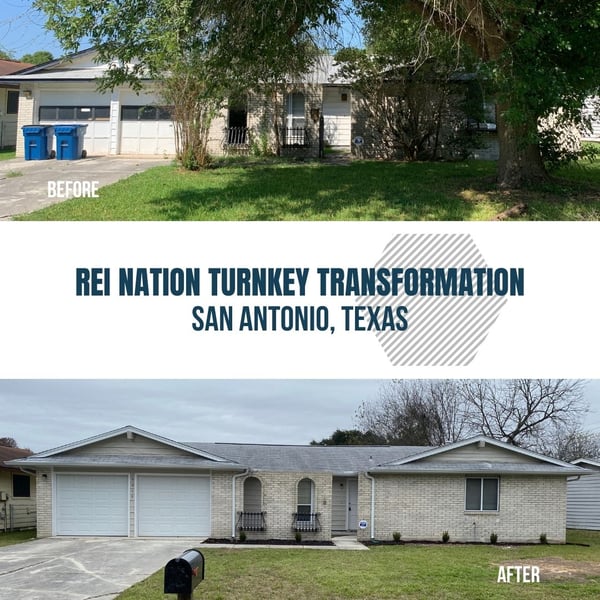 About this Transformation:
Built in 1972

1,356 sq. ft.

3 Bedrooms, 2 Bathrooms

Installed:

New Roof

New Doors

New Vinyl Flooring

New Light Fixtures

New Blinds throughout

New AC

New Water Heater

New

Furnace
Inside: Painted All Walls, Trims, Doors, Closets, Ceilings, and Cabinets

Outside: Updated Siding and Landscaping around the House

HVAC, Electrical and Plumbing Upgraded by a Licensed

Professional




Let REI Nation transform your financial future!