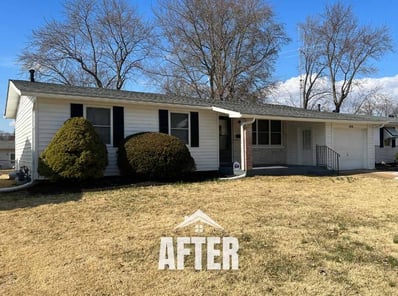 This week's Transformation Tuesday is from St. Louis, Missouri.
There was a lot of appeal to the original state of this property: large fenced-in yards, open-concept living spaces, and great use of the limited square footage. These features, however, were drowned out by others that were dingy and outdated, including choppy wood paneling and inconsistent flooring.
Fortunately, our expert team of renovators and local contractors came together to make this renovation a success, using a budget of $47,000. Once the exterior was refreshed, the remainder of the work was in tackling the interior disaster zones: flooring, bathrooms, and kitchen. Now, we can't get enough of the warm, inviting spaces this property offers—and we're sure its residents feel the same!
This property is one of two single-family residences currently being managed its owner through Premier Property Management Group.
St. Louis benefits from increased economic diversity and modernization, with its largest industries spanning aviation, biotechnology, chemicals, electrical utilities, food and beverage manufacturing, refining, research, telecommunications, and transportation. Healthcare, education, and tourism also play significant roles in the local economy. Call us today to learn more about what St. Louis can add to your portfolio!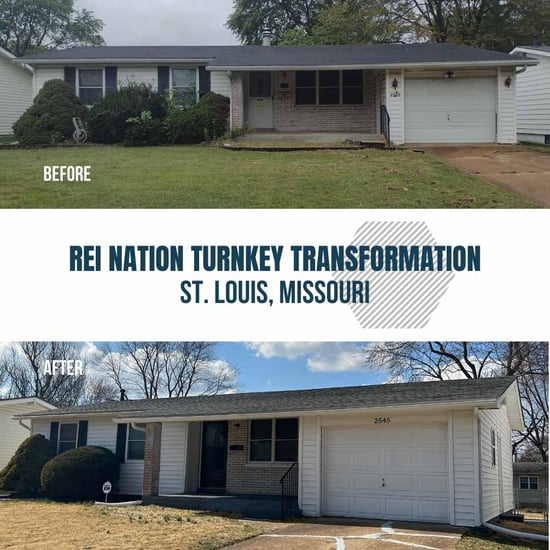 About this Transformation:
Built in 1964

1,032 sq. ft.

3 Bedrooms, 1.5 Bathrooms

Installed:

New Roof

New Doors

New Vinyl Flooring

New Light Fixtures

New Blinds throughout

New AC

New Water Heater

New

Furnace
Inside: Painted All Walls, Trims, Doors, Closets, Ceilings, and Cabinets

Outside: Updated Siding and Landscaping around the House

HVAC, Electrical and Plumbing Upgraded by a Licensed

Professional




Let REI Nation transform your financial future!