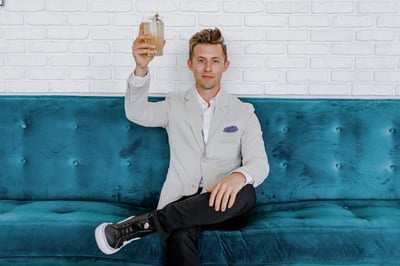 When we talk about building wealth, there is usually the notion or expectation that it will cost us something to do so. We will either have to make sacrifices to build wealth, spend money to build wealth, or somehow do something we are uncomfortable with in order to make long-term gains in the future.
While this can be true—building wealth does come with moments of risk and discomfort—there are also steps we can all take as everyday people to change our habits and mindsets in a way that orients us towards a more rich, wealthy life. These steps don't cost us anything.
5 Free Strategies that Build Wealth
Rise with the Sun
The old adage "the early bird gets the worm" actually holds some weight. In a five-year study of self-made millionaires, almost half of those studied woke up three hours before their workday really started, often before the sun rose. What's the logic? Not only have studies shown that our willpower is highest in the morning, but we have to acknowledge the peace and lack of interruptions that come in the morning. Our day is fraught with phone calls, intervention, and disruptions. It can be hard to find a moment to think, let alone accomplish everything you've set out to do.
When you rise early, you can have that quiet time to organize your thoughts, exercise, and get a headstart on the truly crucial tasks in your day. This isn't to say skip out on sleep, either. Rising early means going to bed early.
Set Your Goals
We often underestimate the power in setting goals. It's easy, too, to go about setting goals the wrong way. We can very easily say "I want to do x today" without much more thought than that. This, however, is not effective goal-setting.
Effective goal-setting involves both a detailed understanding of how to accomplish large tasks (breaking them down into smaller, more manageable goals) and prioritization of your tasks overall. Not only this but as someone looking to grow their wealth, it is critical to recognize which goals are worth your pursuit. You must seek the things that enhance your wealth rather than hinder it.
Prioritize Money Management
Money management is a sorely lost art. In order to manage our money well, we have to not only have a long-term financial plan for our wealth, but we have to be mindful of how we spend our money in the day-to-day. Everyone needs a budget and regular financial health check-up. Everyone needs to sit down with their spouse or partner and regularly discuss finances to ensure that they're on the same page. You need a game plan for tackling investments, debts, and future expenses, like a child's education or a home purchase.
You can have a money manager or do it yourself, but regardless, the state of your financial health can't go ignored or be allowed to be aimless. Left to our own devices, we will almost all overspend and under-save.
Check out some related tips: The 7 Crucial Components of a Wealthy Mindset!
Continue Your Education
Want to be more wealthy? Invest in your education. This might sound like it will cost you, but with the vast wealth of free resources available to us now more than ever, becoming more educated not only about finance but on virtually any topic you want to know more about is a snap. With access to podcasts, books, education platforms, Youtube, and more, learning is always accessible.
For the wealth-minded, this is crucial. Not only does keeping your brain engaged longer have vast health benefits, but it expands your skill set and improves yourself. People who strive for a better, more equipped version of themselves naturally make more money and handle that money a lot better.
Be a More Conscious Consumer
Conscious consumerism can look like a lot of different things. While in most circles it can refer to being aware of the sociological and environmental impact of our purchases, which is important, we also believe it can be internal. As in, how conscious are you of your decision-making process when you make purchases, big and small?
Think about where you spend your money. Count how many time a week you eat out or how many times you grab a gourmet coffee. Now add that cost up over a month. Then a year. Do you feel sick yet?
Conscious consumerism calls us to be mindful and thoughtful of our spending habits. One exercise that is helpful is to imagine that your money isn't yours. Sounds strange, right? But think about it: how careful are you when you are entrusted with a company card or account, knowing that every penny must be accounted for?
We rarely, if ever, treat our own finances with such rigid accountability. So treat your own finances as if you will be held accountable for every spending decision you make. It just might change how you view your wealth...and your lack thereof.
There are no big secrets to building wealth. While it does take some know-how in finance and money management, average everyday people can take control of their financial future. What it takes is a willingness to learn and the diligence to follow-through.
Get more FREE resources on your road to financial freedom.