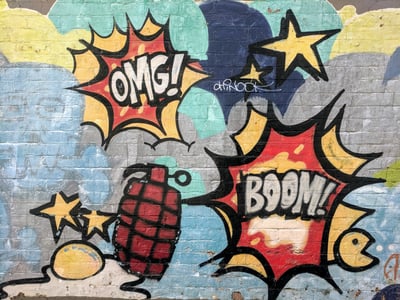 The pandemic housing boom is over.
The summer is traditionally the busiest homebuying season — but not in 2021. It seems as though out-priced homebuyers have finally had enough. In June, sales of newly built houses dropped from May's rate by 6.6%.
That's a 19.4% drop from June 2020.
And while the median home price is still on the rise, the pace has slowed. In May, home prices rose by between 15 and 20 percent. In June, the median home price rose only 6 percent.
The market, of course, is still incredibly hot. We're still faced with competition and sticker shock. However, the drop in sales and the declining growth of home prices point to a market correction. For real estate investors, there's plenty of good news in this change of pace. Here's what you need to know about the end of the COVID-19 housing boom.
3 Things to Know About the End of the Housing Boom
This isn't a housing bubble.
Unsurprisingly, the wild conditions of the housing market since 2020 have raised concerns among real estate professionals. Although the frenzy of the market has been exciting, many have wondered if we're not just setting ourselves up for another housing bubble — and a bust.
Here's the important thing to remember as you have nightmares about a Great Recession repeat: this isn't a housing bubble.
The Great Recession was fueled largely by the subprime mortgage crisis. Financial institutions were lending to people who were not creditworthy. In the years since, banks and other lenders have grown more cautious in their lending practices. One of the hurdles facing today's homebuyers, for example, is the difficulty in mortgage approval. Whether you're a traditional buyer or an investor, you have to have airtight credit and financial credentials to get financing.
What we're seeing today is just the market cycle shifting. It has moved purely based on supply and demand. Because the pandemic has a national and global scope, virtually every real estate market has felt the impact.
As we move forward, the balance between supply and demand will shift. We're already seeing it. The decline in home sales and price growth demonstrates waning demand — either because buyers have had their fill or because high prices are driving them away.
Rentals remain in high demand.
The pandemic-fueled market frenzy didn't just impact traditional homebuying. The rental market felt the full force of surging demand. As homebuyers found themselves priced out of the market, single-family rental demand spiked. SFR growth has reached its highest peak since 2005. Between high prices and low inventory, buyers opt for the next best thing: a single-family rental in a lower-density area.
The end of the housing boom isn't likely to stop SFR growth, either. Even if the housing market comes back down to earth, rentals will persist as an essential part of the real estate landscape. Even if home prices taper off and correct themselves, people will continue to rent for a variety of reasons: flexibility, affordability, and location.
Time will tell.
Even though we can say that the housing boom is over, time will tell how the market moves from here. It depends on why the market is slowing its pace. If it is a matter of affordability, we will likely see demand increase once prices correct themselves. Economic recovery plays a role here, too. This could push prices back up.
However, if the market is slowing down because the majority of would-be buyers have purchased homes, we're more likely to see a sustained market correction. It's a question of whether or not there is pent-up demand waiting for improved buying conditions.
For real estate investors, now is the time to keep your fingers on the pulse of your investment markets. As demand tapers off, opportunities will be more accessible — and affordable. Don't fear the shifting real estate market. It's all part of the natural real estate cycle.
With that said, be intentional and diligent about the investment markets you set your sights on.
No two markets will correct at the same pace. Look for markets that have a long-standing record of growth — not only in home values and rental prices but in population and economic standing as well. Look beyond pandemic performance to identify the markets best suited for long-term investment.
Find investment success at any point in the real estate cycle with REI Nation!