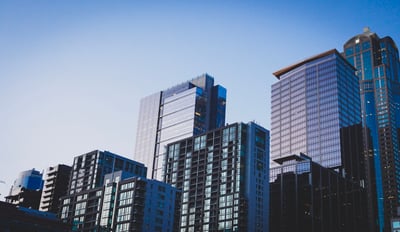 Even though we're not even halfway through 2021, experts in the real estate industry are already looking ahead to 2022. More precisely, they're looking ahead to a post-COVID world.
We would be hard-pressed to find someone who was not impacted by COVID in one way or another. 2021 was not the magic antidote to bring an end to pandemic fears, and 2022 won't be, either.
However, our hope grows as each month goes by.
Like many industries, real estate was shaken in profound and wildly different ways. While in some regards it was a disaster — see the plummeting demand and values in primary, coastal markets — in others, it was and continues to be a successful year for the industry.
Americans made their living arrangements of utmost priority. The suburban migration went into overdrive. Sunbelt real estate markets saw higher demand (and prices) than in any year in recent memory. For suburban secondary and tertiary markets, it has been a frenzy. With a lack of supply putting the pressure on market prices and mortgage rates incentivizing homebuying, it sent the 2020 and 2021 real estate markets into overdrive.
While we have at times felt nervous and excited watching these twists and turns, we have to wonder what the U.S. real estate market will look like when it returns to "normal."
If "normal" is even in the cards anymore, that is.
What to Expect from a Post-COVID Real Estate Market
When we consider what is in store for the future of the U.S. real estate market, we have to look at the trends that were in motion before COVID, the trends accelerated by COVID, and outliers as a sole result of the pandemic. Then we can make a better assessment of the future of the real estate market.
Persisting Inventory Challenges
Because demand surged in 2020, it brought the nation's inventory issues to the forefront. The truth of the matter is that new home construction has been struggling to keep up for over a decade. Between the significant hit the industry took during the Great Recession and the rising demand for more affordable housing, inventory has struggled in most of the nation's markets.
2020 amplified this problem when the real estate industry effectively shut down last spring. When it re-opened, people were ready to buy! While there may be a surplus of luxury homes, properties in a more affordable range are harder to come by. Naturally, these are the homes in most demand. It is also increasingly difficult for new homes to meet these price requirements, as labor and materials have increased in cost exponentially.
Rising Mortgage Rates
One of the biggest incentives for homebuyers is low mortgage rates. For many, getting a great rate was worth paying a bit more for a home. Unfortunately, we're already seeing rates rising again. While a great rate is still possible, it is less of an incentive than it was a year ago. Higher rates mean that homebuyers will have the burden of higher interest rates combined with hefty home price tags.
As mortgage rates rise, it will no doubt cull the pool of potential homebuyers in the coming year.
A Seller's Market
Because inventory is expected to continue to be tight throughout this year and beyond, we can expect that the firm seller's market will be the norm in most U.S. real estate markets. For buyers and investors, this demands prudence. We have to understand the compromising we are willing and unwilling to make to seal the deal. A seller's market doesn't make investing impossible, but it highlights the ever-present need for due diligence.
Shifting Demand
At the height of the pandemic, we saw disaster for primary markets, such as New York City. These high-density, expensive markets simply lost their luster. Not only did Americans want more space, but the economic problems brought on by the pandemic led many to turn to more affordable, suburban markets — particularly as they were able to work from home.
New York City is already seeing renewed demand for apartment units as the city moves closer towards reopening. As the threat of the pandemic wanes thanks to vaccination efforts, big cities will begin to open again. Many offices will return to in-office workdays. This will increase demand in these more traditional primary markets.
At the same time, demand is unlikely to cool entirely in the popular Sunbelt markets. Their allure doesn't end with the pandemic. If anything, we can expect more modest price growth and less frenzied bidding wars.
Renting Over Buying
Lastly, we will continue to see rentership grow among Americans. Renting has been on a steady journey to designate itself as a perfectly acceptable living arrangement rather than a compromise. With the increase in single-family rentals, for example, renting a home doesn't feel all that much different from buying. In some ways, rentals offer amenities and conveniences — like maintenance and repair services — that can be difficult to give up.
As home values rise along with mortgage rates, renting becomes not only more attractive but more fiscally responsible. While there is a clear crisis in affordability within both the renting and buying markets, renting is likely to emerge as the top choice in an increasing number of U.S. markets.
Build a world-class real estate investment portfolio in expertly selected markets.
Join REI Nation today!