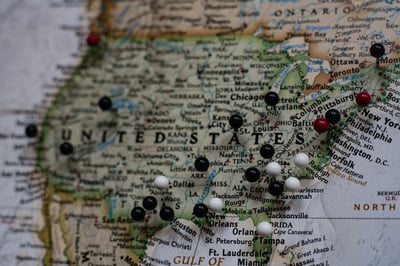 We're not all able to see and visit our investment markets, but if ever you have the chance, it's good to know where you can see and do the very best and authentic experiences that the city has to offer. While compared to other vacation destinations Little Rock, Arkansas may not sound like it has much in the way of a glamorous vacation getaway, you might be surprised what all this great city has to offer in terms of experiences.
Little Rock has so much to offer not only in terms of investment opportunities, but for the people who want to live, work, and visit this city, too.
If you want to get just a small taste of Little Rock, here are our recommendations for things to see and do while you're in town.
---
Order your copy of The Turnkey Revolution, the first book released by Memphis Invest chronicling the best advice on how to safely build a passive portfolio from real investor experiences!
---
8 Little Rock Attractions You Can't Afford to Miss
Heifer International is a nonprofit working to eradicate global poverty through the provision of livestock and sustainable, values-based community development. They work closely to train struggling communities and tackle the problems of systematic hunger and poverty head-on.
Their headquarters also happens to be in Little Rock, Arkansas, along with the Heifer Village. This is their educational facility, where school groups, families, and individuals can learn about world hunger and other global issues that Heifer International works to address.
While this is certainly not a light and jolly venture to put on the list, it's an important one and certainly one worth experiencing for yourself. Their facilities are top-notch and an eye opener on some of the more pressing issues in our world today.
This one might seem like it's for the ladies, but this museum is one-of-a-kind. The ESSE Purse Museum is the only brick-and-mortar purse museum in the United States and one of three in the world. You can see not only the evolution of handbag fashion and design but the evolution of the modern American woman through the 20th century.
River Market District
The River Market District is your one-stop shop to try any and every local delicacy that Little Rock has to offer. With 10,000 square feet of indoor dining provided from local vendors in all price ranges, there's something for everyone. Don't forget to check out other attractions in the River Market, like the outdoor Farmers' Market, where you can stock up on fresh produce as well as artisan goods from local vendors.

Related Article: Real Estate Market Overview: 3 Things to Know About Little Rock, AR
Sims BBQ
You won't find too many restaurants left that have been in operation since before WWII, but Sims BBQ is one of them. This establishment has been serving up sumptuous ribs in its sweet and tangy sauce since 1937! Though Sims has moved around over the years, there's a reason they've stayed in business—trust us.
Loblolly is all about local. With flavors like coffee and cream, honey green tea, and Little Rock-y Road, they make all of their ice cream in-house and in small batches, from scratch. If there's one thing you can count on here, it's the flavor that comes from quality ingredients and an attention to detail. You can snag a scoop at their standalone store downtown.
For a little piece of cinema history, you can visit Little Rock's Old Mill, which was featured in the 1939 classic Gone with the Wind. It is believed to be the only remaining structure from the filming of the movie. Visitors can visit the Mill, located in T.R. Pugh Memorial Park, free of charge. Weddings and events are often held in the park thanks to its stunning scenery and enchanting backdrop. Even if you aren't a movie buff, it is a quiet, romantic piece of a bygone era.
Regardless of political affiliations, an Arkansan list would be amiss not to list the William J. Clinton Presidential Center. Bill Clinton was born in Little Rock, so it only makes sense that the Clinton Presidential Library and Museum would find its home here. The permanent exhibition chronicles American history at the turn of the 21st century, including a scale replica of the Oval Office and White House Cabinet Rooms as interactive exhibits.
Related Article: Restaurant Hotspots to Visit on your Weekend Trip to Houston, Texas!

Temporary exhibits range from presidential pets to fashion icons. The library also shows films and documentaries. If you're at all a history buff, the Clinton Center is worth a stop.
When visiting a destination, place priority on attractions, restaurants, and sights that you can't get anywhere else. Local businesses, unique pieces of history, and one-of-a-kind hotspots.
That's what makes a place special, and that's why we selected these entries for our list. Little Rock has a lot to offer—whether you're looking to visit for a weekend or want to invest in the long-term through turnkey real estate investment.
Join Memphis Invest and start building your successful turnkey real estate portfolio today.