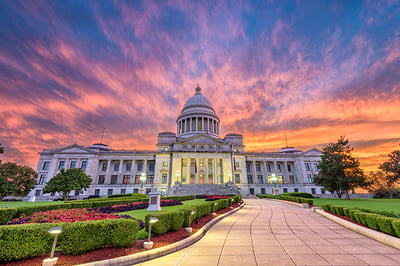 Want to succeed as a real estate investor? Know your market. Each of REI Nation's eleven markets (and counting) has been thoroughly analyzed and vetted for their wealth-building potential. Little Rock, Arkansas is no different.
As the capital city of the Natural State, Little Rock is ripe with investment opportunities for investors willing to take a chance on an unassuming, more affordable real estate market.
Here's your updated guide to Arkansas' capital.
Overview
Little Rock is the most populated city in the state of Arkansas with some 197,000 residents in the city proper and a population of 741,100 in the wider metropolitan area. It rests in Pulaski County, almost in the middle of the state.
Like many of our other markets, Little Rock has a humid subtropical climate. That means hot, humid summers and mild, cool winters with very little snow. For real estate investors, this means less winter maintenance and winter storm damage concerns. In northern markets, winter weather creates significant additional costs to protect and maintain the investment property.
Although Little Rock was originally recognized as a popular river crossing as pioneers moved West, the city has become a destination in its own right.
In the recent past, Little Rock has been recognized as:
#1 — 10 Great Places to Live (Kiplinger's)
#6 — America's Happiest Cities (Gallup)
#2 — Most Diverse Economy in the Nation (Moody's Investors Services)
#46 — Top 200 Best Places for Business and Careers (Forbes)
#7 — Best Value City (Kiplinger's)
While Little Rock may seem unassuming compared to some more popular real estate investment markets, the city is rife with opportunity for those looking for it. If you invest in Little Rock, you're looking for long-term wealth-building over flash-in-the-pan investment success.
If there's one thing you can count on, it's that Little Rock will be there for the long haul.
Little Rock's Economy
Little Rock falls into a similar pattern as other southern U.S. markets. In 2019, the median household income in Little Rock was $53,331 with a cost of living 6% below the national average. For comparison, the national median household income in the same year was $68,703.
In 2021, Little Rock's average household income grew to $83,730.
Unemployment
The past year has been challenging for every market in terms of employment. The COVID-19 pandemic saw the national unemployment rate spike to a high of 14.8% in April 2021. Little Rock never reached those heights. Unemployment peaked in the metropolitan statistical area at 11.9% in April 2020 and has been on the decline since.
Pre-pandemic, the unemployment rate in Little Rock remained consistently low.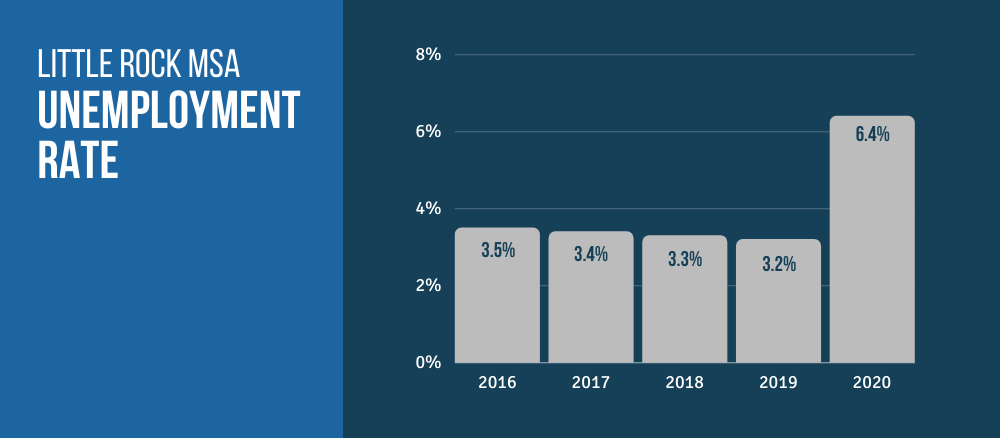 Overall, the unemployment rate has remained on par with or below national averages. That extends into 2021, where the Little Rock unemployment rate has been on a steady decline, according to the U.S. Bureau of Labor Statistics.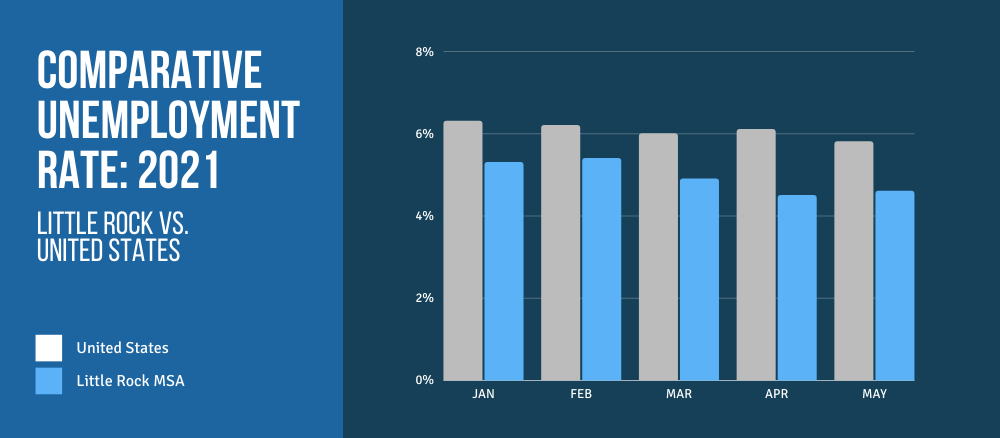 The unemployment rate in a market is a key indicator for real estate investors, as it helps us see and assess the financial stability of its people. The more unemployed people there are, the more financial hardship and difficulty meeting basic needs — like housing.
A lower unemployment rate indicates a greater pool of rental residents that are stable and able to pay rent on time. Unemployment also impacts overall housing demand and sales. Every real estate investor wants to invest in a market that has a vibrant, growing local economy; one that demonstrates strength, upward mobility, and buying power for its residents.
It has yet to be seen how many of 2020's job losses will be permanent, but the declining unemployment rate in Little Rock points to economic recovery.
Major Industries & Employers
Economic diversity is a strength in every REI Nation real estate market. Little Rock is no different, boasting an economy of healthcare, aerospace, agriculture, finance, technology, advanced manufacturing, and education.
Over the past few years, the governor of Arkansas strived to remove many of the bureaucratic barriers hindering job creation and growth across the state. As a result, Little Rock has become a hub for startups, entrepreneurs, and innovators. Arkansas also has generous incentive programs for investors, businesses, job creation, and community development.
Many of these incentives include tax credits, cash rebates, exemptions, and tax liability reductions.
Crafting this business-friendly environment has contributed to Little Rock's economic diversity. Arkansas overall is home to near 245,000 small businesses — accounting for 99.3% of all businesses in the state. (Small businesses are defined as having no more than 1,500 employees.)
Little Rock's Largest Employers
Federal/State/Local Government (70,000+)
The University of Arkansas for Medical Sciences (9,700)
Baptist Health (7,340)
Little Rock Air Force Base (4,500)
Arkansas Children's Hospital (4,370)
Central Arkansas Veterans Healthcare System (4,000)
Little Rock School District (3,970)
CHI St. Vincent (3,000)
Pulaski County Special School District (2,700)
AT&T (2,615)
Arkansas Blue Cross Blue Shield (2,610)
Entergy Arkansas (2,580)
Verizon Wireless (2,500)
Dillard's Inc. (2,000)
Union Pacific Railroad (2,000)
The University of Arkansas at Little Rock (1,850)
University of Central Arkansas (1,750)
CenterPoint Energy (1,600)
( Source: The Little Rock Regional Chamber )
The diversity of the local economy is an excellent indicator for real estate investors looking for long-term stability. Diversity, along with new business opportunities, indicates a thriving local economy. It also helps protect the market from an isolated market downturn.
The example we use is Houston, Texas. The city once heavily relied on the oil and gas industry to support its economy. After a devastating oil crash in the 1980s threatened to collapse Houston's entire economy, they diversified. In recent years, far more dramatic oil crashes have occurred but without the same severe consequences.
Economic diversity ensures that a market can withstand hardships and downturns in specific industries — thus, sustaining employment, real estate demand, and property values.
Population Growth
Little Rock's city population has grown steadily since data was first recorded in the 1850s. The city saw its greatest rate of population growth between the 1960s and the 1990s. Although the growth rate has slowed in recent years (particularly during the pandemic), the growth rate since 2010 has been 1.78%.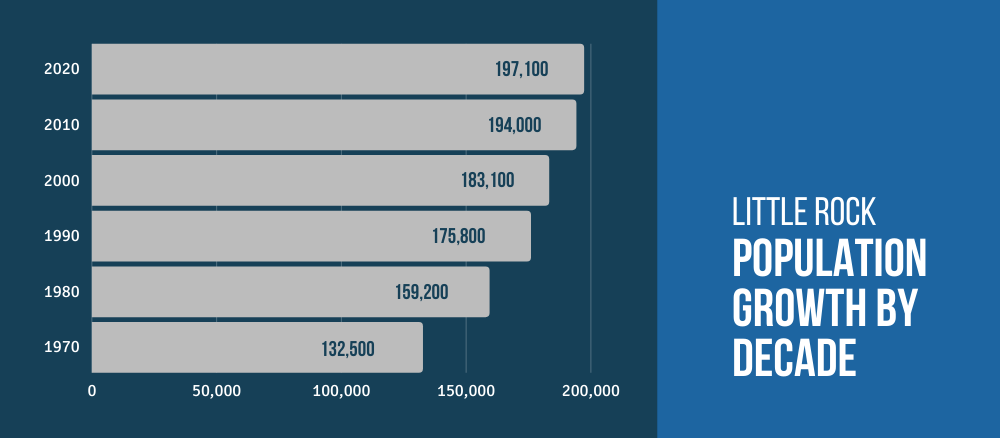 Population growth directly impacts real estate demand. Population gains don't have to be massive to be beneficial for investors. In fact, explosive growth can throw supply and demand out of balance very quickly — causing real estate prices to skyrocket.
Because Little Rock has a history of slow-and-steady growth, it makes for a more reliable investment market — particularly when it comes to predicting market fluctuations. Though Little Rock as a city has lost a small margin of the population over the past few years, the metropolitan statistical area hasn't seen the same decline. The MSA growth rate between 2010 and 2020 was 6.3%.
Challenges
Poverty Rate
Comparatively speaking, Little Rock has a high poverty rate. In 2019, the U.S. poverty rate was 10.5%. In the same year, Little Rock's poverty rate was 16.6% — down by 4.32% from the previous year. Minorities disproportionally live in poverty across the United States, which is a contributing factor to the poverty rate in Little Rock. Like many Southern cities, there are larger populations of Black and other minority residents than other comparable metropolitan areas across the country.
At the same time, Little Rock has a lower poverty rate than Arkansas as a whole, which was 18.1% in 2019.
Still, as in many markets across the nation, poverty and the wealth gap persist as pressing socioeconomic challenges.
COVID-19
The entire United States was hit hard by COVID, and Little Rock is no exception. The rate of daily COVID cases in Arkansas has been higher than in comparable states. The Arkansas economy was hit hard, too — though not as hard as people expected. Although March 2020 saw a $213 million loss in state revenue compared to 2019, the diversity of the Arkansas economy, again, helped save the day.
While some industries were disproportionally impacted by COVID, others were not. Because Arkansas (and specifically, Little Rock) has large healthcare, technology, agriculture, and food processing industries, they kept their proverbial heads above water.
As a result, we've seen Arkansas experience above-average — even robust — economic recovery throughout 2021.
Time will tell just how lasting the pandemic will be on Little Rock's economy. We know that small businesses were hit hardest by the pandemic recession, and Arkansas is mostly small businesses. It is their recovery that will tell us more about the state of the economy moving forward. The decreasing jobless rate and impressive economic recovery, however, point to a bright future for the Natural State.
The Little Rock Real Estate Market
Real Estate By the Numbers
As expected, Little Rock is one of the more affordable real estate markets in the nation. The 2021 median home value is $161,946, where the national median home price hit $350,000. The median list price for Little Rock properties is $229,900 according to Realtor.com, although the median sales price is lower at $184,500.
The balance between supply and demand is more balanced in Little Rock than in other markets. You'll find an average of a 50-day supply on the market.
According to Neighborhood Scout, the greatest share of Little Rock properties fall within the $115,000 to $230,000 range at 34.7%.
Since 2000, Little Rock real estate has appreciated by a total of 65% — or an average of 2.38% each year.
Pandemic Real Estate Performance
Like many Southern real estate markets, Little Rock has had a frenzied real estate market throughout the pandemic. Low interest rates incentivize buyers, and Arkansas Realtors called it the hottest market they've seen.
Fiery Demand
Arkansas has experienced a demand boost throughout the pandemic. When it comes down to it, Little Rock and Arkansas as a whole are more affordable than other desirable markets in the nation. Lower population density has played a role in attracting buyers, but the cost of living is the biggest draw.
Experts say that 32% of Arkansas homes sold above list price in March 2021.
This demand isn't surprising when we realize what the COVID-19 pandemic did to the housing market as a whole. A renewed desire for more square footage, private outdoor spaces, and distance between neighbors spurred homebuyers to take the plunge.
Tight Inventory
Inventory is tight in the Little Rock MSA — down 60.90% YoY from November 2019 to 2020. We know that this is a result of:
Sellers pulling their listings early in the pandemic
A stalled construction sector
General lack of new homebuilding
Of course, this tightening of inventory has increased the competition among homebuyers. Of course, this has caused a bit of an issue. Prices are pushing up, but appraisals aren't necessarily on the same page. This problem isn't exclusive to Little Rock — it's a potential hazard in any market experiencing sudden price jumps.
Buyers of all kinds need to be sure that their offer matches the appraisal, lest you end up with a property worth less than you're paying for.
Modest Price Gains
Despite experiencing some of the same market conditions as other metro areas, Little Rock has seen relatively modest price growth in the past year. The Freddie Mac Housing Price Index shows that Little Rock MSA prices have risen by 12.3% between May 2020 and May 2021 — or 1.2% per month.
Some metro areas have seen price gains near or exceeding 20%. Little Rock has been a bit more even-keeled.
That bodes well considering that experts expect the hot Little Rock market to begin favoring buyers as inventory increases. More modest price gains and appreciation mean that future trends will be easier to predict — and, should the market take a turn, Little Rock should largely remain stable.
What About the Rental Market?
Although WalletHub ranked Little Rock 81st overall in the "2021 Best & Worst Places to Rent in America" list, Little Rock came in tenth place for rental market and affordability. As with the real estate market at large, the rental market is known for its affordability. While this might sound like a detriment to real estate investors, it isn't.
Especially in the wake of the pandemic, the wealth gap is becoming more pronounced. The wealthy get richer while lower-income households struggle. People who already owned a home — especially a nice home — reaped the benefits of the 2020-2021 housing boom while first-time homebuyers saw dreams of homeownership evaporate with rising prices.
It's not just home buying, either. Suzanne Buzek of the University of Cincinnati reports that rent has increased 175% faster than income over the past 20 years. The pandemic certainly didn't help.
While these numbers and statistics most impact low-income households (where REI Nation prioritizes middle-income level assets), they do matter. The fact that Little Rock boasts a more affordable rental market, then, is good news in the long-term scheme of things.
And affordable doesn't mean that the market hasn't been growing.
Rental Price Trends
Average rent prices have increased by 6% year-over-year. The median rent price in Little Rock has remained in the $800 range since 2014. The median rent price in 2021 was $995. That means that between 2019 ($829) and 2021 ($995), the median rent price grew by 20.02%.
Keep in mind, SFRs are going to cost more than apartments, which are what these rent numbers are typically based on.
Overall, rent in Little Rock will take about 17% of annual household income, compared to a 20% share nationwide. This fraction has dropped in Little Rock where it has remained largely consistent nationwide. This speaks to the more balanced price growth in the market, which keeps a better pace with income growth.
Vacancy Rates
Vacancy rates in Little Rock are elevated but dropping. In 2019, the vacancy rate was 9.66% (compared to the national rate of 5.79%). Of course, the national rate has risen over the past three years while it has decreased in Little Rock. In 2021, multifamily vacancy rates dropped to 7% — well below the 10-year average.
This speaks to increasing rental demand in the market, particularly in the face of rising property prices. This is even as multifamily supply grew in 2020, along with rental demand.
Rental Expectations
55% of Little Rock homes are owner-occupied, leaving 45% of renters on the market. Despite this significant share of renters, apartment complexes only make up 27.6% of property types. Single-family homes dominate the Little Rock market at 62.6%.
The majority of these homes were built between 1970 and 1999 (54.1%) while only 17.4% were built in or after 2000, according to Neighborhood Scout.
For real estate investors, this means that there is ample opportunity to buy and renovate an older single-family home to convert into a rental property. These types are properties are preferable as they allow for greater forced appreciation.
A Summary for Real Estate Investors
Here's the bottom line on Little Rock, Arkansas. While the market may not dazzle investors in the same way other bigger, hotter markets do, Little Rock is a solid choice for any long-term investor — particularly out-of-state investors.
There are a few key advantages to the market to keep in mind:
Affordability — Rental affordability means more stable, long-term residents for your SFRs. Because the market as a whole is more affordable than national averages (and many other metro areas), investors can buy and scale their portfolios more quickly...without as much worry for diminishing profit margins. A low cost of living means market activity will continue regardless.
Out-of-state investors particularly benefit from the market's affordability. Because the cost of living and real estate is below the national average, chances are high that Little Rock will be less of a strain on your wallet. That makes it easier to scale in the future.
That isn't to say there's no threat here. Because home prices are on the rise, investors must be vigilant in ensuring that they're paying the right price and getting a good deal out of their investment.
Competition — Right now, a lot of real estate markets are frustrated. Homebuyers are turning away after losing one too many bids or seeing prices exceed their comfort zone. Little Rock, though currently a competitive market, is poised to balance out more quickly than other markets. We'll likely see Little Rock revert to a buyer's market in the near future — good news for investors looking to buy.
At the same time, the pool of renters is unlikely to diminish. Investors can enjoy more breathing room in property acquisition. That means more time to decide without being pressured by a market frenzy.
Stability — The economic conditions in Little Rock are ideal for long-term investors. With a business-friendly environment, diversity, and affordability going for it, the city will no doubt continue to attract innovators and young professionals to the region. Because fluctuations in population and housing affordability have been relatively tame, it speaks to a more predictable future where other markets may be wild cards.
Remember: just because prices aren't rising astronomically doesn't mean you're in a bad market. For real estate investors, a more slow-and-steady approach makes for a stronger portfolio.
Little Rock, Arkansas, is a staple of Southern industry and modern innovation. With a robust but even-keeled real estate market, investors stand to gain foundational investments to sustain any worthwhile portfolio.
Join thousands of REI Nation investors taking advantage of the nation's best real estate markets!