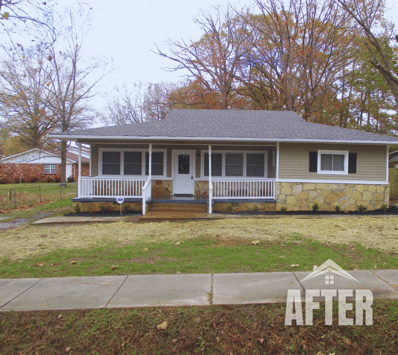 This week's Transformation Tuesday is from Little Rock, Arkansas.
Walking by the original state of this property, you might not be able to make out the house through the overgrown landscaping and miss the hidden front porch! Inside, there were peach walls as far as the eye could see, and the bathrooms and kitchens were cramped, rough spaces. Now, after our signature "turnkey transformation," this property is undeniably welcoming!
Employing a budget of $52,500, our team of renovators and local contractors went to work, first on the outside. The forest-like front yard was pared back to reveal this property's true curb appeal, and the large back yard was cleared for use. Inside, a consistent, neutral palette was installed, and the patchy, stained floors were brought back to life. Now, the bathrooms are bright and functional, and the kitchen's floor plan is opened up, allowing a resident to make full use of its spacious storage. And who wouldn't want to sit a while on that front porch?
This property is the first REI Nation purchase for its owner, and is managed by Premier Property Management Group!
Little Rock is a unique market to invest in for a number of reasons, including its centrality. Did you know that 40% of the nation's population (and buying power) is within a 500-mile radius of Little Rock? Not to mention the city's fantastic features—history, culture, and cuisine! See what this Southern star can do for your portfolio by giving us a call today.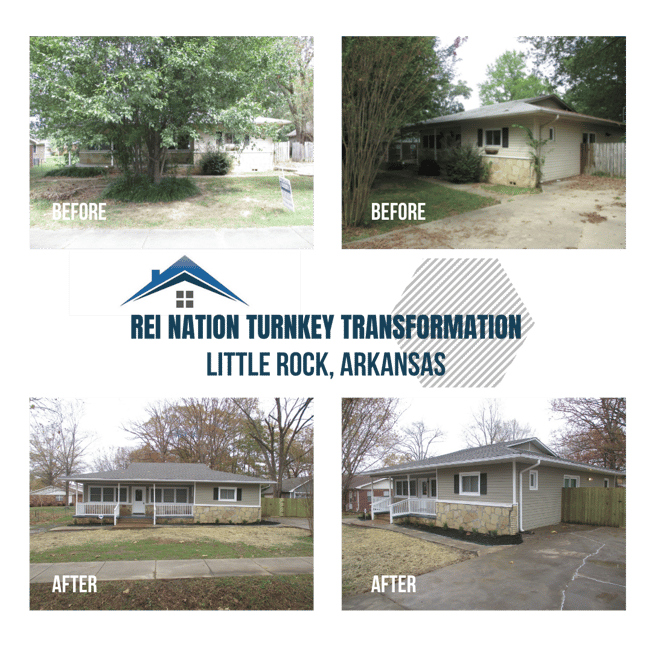 About this Transformation:
Built in 1984

1,680 sq. ft.

3 Bedrooms, 2 Bathrooms

Installed:

New Roof

New Doors

New Vinyl Flooring

New Light Fixtures

New Blinds throughout

New AC

New Water Heater

New

Furnace
Inside: Painted All Walls, Trims, Doors, Closets, Ceilings, and Cabinets

Outside: Updated Siding and Landscaping around the House

HVAC, Electrical and Plumbing Upgraded by a Licensed

Professional




Let REI Nation transform your financial future!