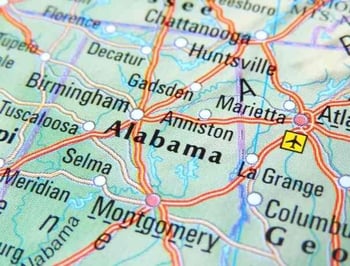 Some of the newest real estate markets in our repertoire at REI Nation are in the great state of Alabama: Birmingham, Tuscaloosa, and Huntsville.
Alabama may seem like an unassuming place for standout real estate markets, but its potential has only grown more evident as the pandemic ignited interest in Sunbelt and southern markets. For example, Forbes recently reported that Birmingham, AL is one of the top real estate markets attracting out-of-state buyers.
While each market may inhabit the same state with similar climates, they are wildly different from one another. So how do investors know which Alabama market best suits their real estate investment goals? We're here to give you the rundown so that you are prepared, informed, and destined for investment success.
The Market Overview
Birmingham: The Diverse City
Located in the state's north-central region, Birmingham is a well-known fixture in Civil Rights-era history. This regional hub was once known for its robust steel, rail, and mining industries. In more recent decades starting in the 1970s, Birmingham diversified its economic base. Manufacturing and coal mining remain important area industries, but the city is now a key business center in the South. It features prominent industries like banking, telecommunications, transportation, medical care, college education, and insurance. It's one of the largest banking centers in the U.S. and home to Fortune 500 company Regions Financial.
The city is home to two medical schools: the University of Alabama at Birmingham (UAB) School and Medicine and the UAB School of Dentistry. Birmingham also holds one of the three main campuses of the University of Alabama and three private higher education institutions: Samford University, Mile College, and Birmingham-Southern College.
While Birmingham's city limits have historically lost population to the surrounding suburbs, the city is undergoing something of a rebirth. Downtown is seeing the construction and conversion of multi-use buildings that include lofts and condos along with restaurants, shopping, and business amenities. As a highly affordable MSA, Birmingham attracts young professionals and families from all over the country.
In 2020, Birmingham lost its designation as Alabama's largest city, a title that now belongs to Huntsville.
Tuscaloosa: City of Champions
Though the smallest of the three markets, Tuscaloosa is a popular and prominent city, particularly among young families and college students. Located southwest of Birmingham, Tuscaloosa is home to the University of Alabama's main campus. In 2011, Tuscaloosa was named the "Most Livable" city in America at the U.S. Conference of Mayors. CNN Money ranked Tuscaloosa as the 11th best place to launch a small business in 2009, largely in part to its affordability and low unemployment rates. The analysis cited that although overdeveloped in condominiums and apartments, the real estate market had largely remained strong in the aftermath of the Great Recession.
Huntsville: Rocket City
Located at the foothills of the Appalachian Mountains in northern Alabama, Huntsville sits quite close to the Tennessee state line. As of 2020, Huntsville is the most populous Alabama city and home to one of the most robust post-pandemic markets, both in terms of real estate and economics. The city is home to NASA's Marshall Space Flight Center, the U.S. Army Aviation and Missile Command, and an FBI operational support headquarters near Redstone Arsenal.
Its metro area is the second-largest in the state, followed by the Birmingham MSA. As one would expect, Huntsville's main industries are aerospace and military-related. This is a hub of engineering and technological advancement. Huntsville hosts 57 Fortune 500 companies. It's not all left-brain industries in Huntsville, though. They're home to a robust and growing arts community, including visual and performing arts. Like Birmingham and Tuscaloosa, Huntsville is home to one of the three University of Alabama campuses.
Alabama Market Demographics (2019)

Source: datausa.io, FRED Economic Data
Healthy Market Indicators
What are healthy market indicators? For the real estate investor, monitoring the overall health and growth of any given market is key in determining its long-term investment potential. Property values, vacancy rates, and rental rates aren't the only trends to watch. The local economy is closely tied to housing market health. Growth in the following areas indicates stability and greater wealth-building potential:
Population

Industry Diversification
Employment Rate
Median Household Income
Property Values
Markets in the south are particularly known for their overall affordability, an attractive quality in today's economic climate, where real estate is increasingly expensive, and inflation tightens our purse strings. Though we'd say that none of these markets are victims of hype, we would say that their potential is increasingly recognized thanks to a consistent upward trajectory.
Birmingham
If we look strictly at Birmingham's population within the city limits, we could be concerned about the population decline. However, that's not a full picture of the market conditions. The suburban migration has only increased throughout the pandemic. Birmingham has long been known more for its suburban rather than inner-city growth. We see that reflected in the metro area demographics, which have experienced modest but consistent growth since first recorded in 1950.
MSA Population Growth by Number and Percentage between 2019 and 2022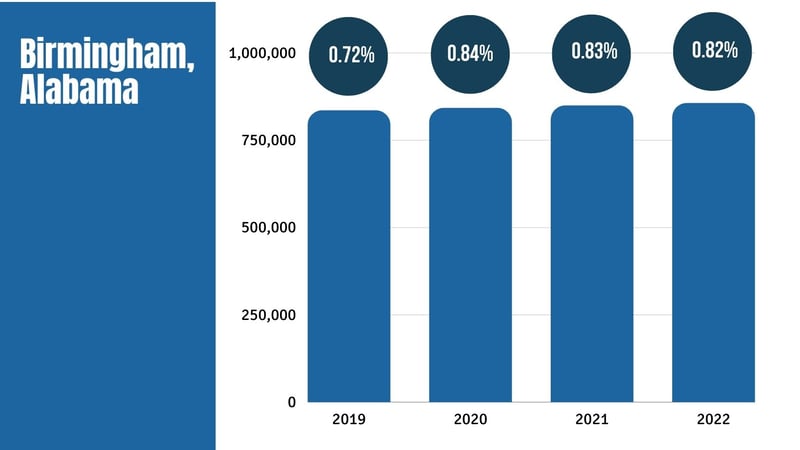 In addition, the unemployment rate has been on a steady decline after the pandemic spike. In March 2021, the Birmingham area unemployment rate was 3.4%. By March 2022, it was down to just 2.3%, lower than the United State unemployment rates of 6.2% and 3.8% in the same timeframe.
Tuscaloosa
Though the smallest of these Alabama markets, Tuscaloosa is also experiencing an upward swing in population. In 2019, the metro area population was 252,047. It grew by 0.31% in both 2020 and 2021, up to a population of 253,627. The area also has a lower unemployment rate than the U.S. as a whole, hitting 2.6% in March 2022 according to the U.S. Bureau of Labor Statistics.
The University of Alabama is a long-established economic powerhouse in the metro area, contributing more than $2 billion in economic impact on the Tuscaloosa metro area during the 2019-2020 academic year. UA employees and their families account for half of the city of Tuscaloosa's population. The university welcomed its largest freshman class in Fall 2021 with 38,320 students.
Of the three areas, Tuscaloosa has the biggest tourism industry, largely in part to the university's SEC football team, the Crimson Tide.
Huntsville
U.S. News crowned Huntsville, AL as the Best Place to Live in the U.S. 2022-2023, dethroning Boulder, Colorado. Huntsville beat 149 other cities for the top spot under the criteria of quality of life, housing affordability, the job market, net migration, access to quality healthcare, air quality, high school student college readiness, crime rate, and overall well-being.
At the same time, despite population growth and rising property values, Huntsville is far from overhyped. In 2020, the metro area population of Huntsville was 384,000. The area gained popularity throughout the pandemic with a 2.08% increase in population to 392,000 in 2021 and a 2.04% increase to 400,000 in 2022. Of the three markets, Huntsville has the highest median household income and highest median property values, along with the lowest unemployment rate.
The Takeaway
These three Alabama markets may differ in terms of population and demographics, but they have several key economic and real estate traits in common: growth. All markets have experienced steady population, income, and property value growth not only throughout the pandemic era but prior as well.
As staple Southern cities, these markets benefitted greatly from pandemic trends: the migration to southern and Sunbelt markets. Given the climate, relative affordability, amenities, and job opportunities, it comes as no surprise that they're all seeing an upswing.
Recession Market Performance
The Great Recession
Though we don't expect a recession of the caliber of the 2007-08 subprime mortgage crisis, the performance and recovery of markets through this period are important indicators of economic resilience. In part, therefore investors are better off looking for slow-and-steady real estate markets versus those with sudden explosive growth.
After all, markets like Houston, TX are the ones that fared better than others. Not only did they suffer fewer economic losses, but recovery was much quicker. This is for two main reasons: a diversified economy mitigated risk and more modest real estate values meant there wasn't as far for prices to fall. If the Great Recession proved anything, it was "the bigger they are, the harder they fall.
So how did these three Alabama markets fare?
Economic Indicators During the Great Recession
Source: U.S. Census Bureau, Dept of Numbers, Bureau of Labor Statistics, Culverhouse College of Business
*2009 value adjusted for inflation
Though the impact of the Great Recession continued to shake housing stability in the United States through the early 2010s, 2009 was technically the year that the global economic decline ended. By 2009, property values were on the decline – but less so in our Alabama markets. In fact, Huntsville was one of the few U.S. markets that saw property value gains that year.
Although the unemployment rate was higher, properties retained more of their value. Though these markets were not unscathed in the crisis, the more modest impact made it easier for prices to bounce back.
So why were these markets less affected?
When we look at the housing markets that came out on top after the Great Recession, we see a clear trend. These are markets that:
Have a diversified economy.
Experience modest YoY price growth.
Did not fall prey to overvaluations and hype.
Markets that meet these qualifications not only recovered more quickly from the Great Recession, but they attracted an increasing population due to their greater stability and the better preservation of property values.
The Pandemic Recession
Of course, the pandemic recession is another beast entirely. Though many have feared a Great Recession repeat, that hasn't been the case: particularly in the real estate market. But first, let's look at pandemic-era unemployment rates, one of the key statistics demonstrating a market's ability to "bounce back" from drastic job market changes.
Pandemic-Era Unemployment Rates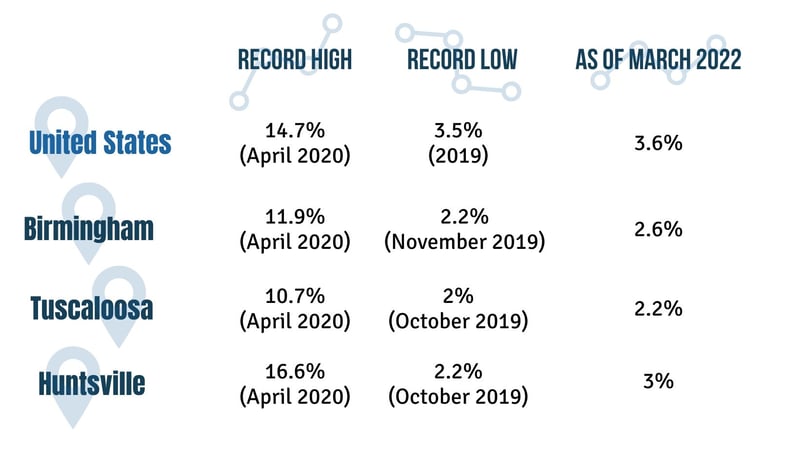 As we can see, Birmingham and Huntsville both retained unemployment rates well below the national average rate, both pre-COVID, at record highs, and currently in 2022. While Tuscaloosa had a higher record-high unemployment rate in April 2020, that rate dropped more dramatically – 0.6% lower than the national average in March 2022.
What this tells us is that our Alabama markets bounced back more quickly from the pandemic recession, in which nearly 50 million Americans were left unable to work or unemployed by May 2020 according to the Bureau of Labor Statistics.
Of course, unemployment is only part of the picture. Real estate was profoundly impacted by the pandemic! Between shrinking inventory, supply chain delays, construction disruptions, and a freshly ignited homebuyer surge, prices dramatically increased in just about every U.S. market. This was particularly true in the south and Sunbelt regions.
These areas proved more attractive to those looking to relocate during the pandemic, namely for the following qualities:
Warmer climate
Reduced population densities
Lower costs of living
Lower property prices
More square footage for the price
Abundant outdoor spaces
Because many Americans were and continue to work remotely, markets where one's money buys more are simply more attractive. It doesn't hurt that these southern markets have larger lots and more available space than crowded primary markets on each coast.
As a result, we saw a rapid increase in property prices.
Year-Over-Year Change of Median Home Price between April 2020 and April 2022, in Numbers and Percentages

Source: Zillow (accounting for the middle tier of properties in each market)
It should be noted that Zillow's housing price index only considers homes within the middle tier of properties, which eliminates low and high-priced outliers from skewing the data. For real estate investors, it's likely that these mid-tier properties are more relevant for our purposes anyway.
As we can see, Huntsville has experienced double-digit property appreciation throughout the pandemic with no signs of stopping. It is, in fact, one of the highest appreciating markets of 2022. Tuscaloosa was a bit slow to the appreciation increases but hit the double digits in 2022. Birmingham's year-over-year price changes have been the steadiest over the past three years.
Let's break down the differences.
2022 Real Estate Market Trends
Birmingham
Birmingham's revitalization efforts have renewed interest in its downtown area. This combined with job opportunities and an affordable cost of living has propelled pandemic-era trends. It's undoubtedly a seller's market, with persistence in tight inventory and multiple offers from buyers. The market was a bit sluggish in the early months of the year, but warmer weather and increasing interest from out-of-state buyers sets the stage for a busy summer homebuying season.
Tuscaloosa
In 2022, housing inventory tightened in Tuscaloosa by an astonishing 28.7%. Active inventory would sell in just 1.5 months! At the same time, home sales declined early in the year both month-by-month and year-over-year. Still, demand is there, which continues to prop up real estate prices.
Huntsville
Throughout Fall 2021, Huntsville saw a more extreme version of common U.S. real estate trends – extremely high demand paired with extremely low supply. So much so that at the time, active inventory could be gone within a month. These trends aren't changing anytime soon, particularly in the traditionally busier spring and summer homebuying seasons.
Huntsville had the highest rate of appreciation between 2021 and 2022. Not only are more people holding on to their properties, but the construction sector and supply chains are both still suffering shortages.
The Takeaway
As we'd expect from desirable markets, housing affordability is increasingly coming into question for homebuyers. Not only are property prices continuing to rise – and rapidly, particularly for Tuscaloosa and Huntsville – but rising interest rates are pricing buyers out. At the same time, each of these Alabama markets is affordable relative to much of the nation, something that out-of-state investors would do well to take advantage of.
In each case, however, investors should note that their greatest potential is in long-term – not short-term – investing.
Future Trajectory
As we look ahead to the future, what can we expect from each of these Alabama real estate markets? It's likely that rising interest rates will bring demand under control and ease a bit of the rapid price acceleration. At the same time, between lingering COVID-19 problems and the Russo-Ukrainian conflict, it's likely that inventory will still struggle to catch up with demand. After all, it hasn't caught up since the Great Recession!
Birmingham and Tuscaloosa have more modest outlooks in terms of future demand and property appreciation, whereas Huntsville is predicted to continue its rapid upward trajectory. That should come as no surprise given its position as "best place to live" in the nation!
While we can't totally predict what the future will bring, we see stability and growth for each of these markets – not to mention persisting demand from both homebuyers and renter households.
The Bottom Line for Investors
Investors should never consider any market or investment a sure thing. Both Birmingham and Tuscaloosa run the risk of the market taking a turn in the coming years. Even Huntsville may not be immune to the unexpected. However, all three have tight inventory and high demand, which means one thing: a need for rentals.
Birmingham's revitalization offers opportunities for investors to get on the ground floor with the rehab of older properties. Tuscaloosa has a large and vibrant student population that will always need housing. Even if their turnover is higher, they'll never be in short supply. Huntsville, meanwhile, is a more affluent Alabama community known for its high quality of living and robust job market – a perfect place to put down roots. For investors, targeting established families and forging long-term renter relationships are essential.
At the end of the day, these investment markets are full of enormous opportunities.
Mitigating Your Investment Risk
Keep a close eye on your numbers so that, should your market not continue along the path of quick appreciation, you're not left feeling the sting of declining values. This is particularly important as interest rates rise. Though they're still historically quite low, high prices and inflation mean that every marginal increase matters to your bottom line.
Be cognizant of your personal risk tolerance and how each of these markets may impact that risk based on your investment strategies.
Finding Opportunities
For Birmingham, Tuscaloosa, and Huntsville alike, tight inventory will pose the biggest obstacle for buyers – both investors and otherwise. It's commonplace for homebuyers to lose multiple bids before they see an accepted offer. On one hand, this means a greater number of eligible rental residents for your SFRs. These people obviously want houses and not apartments, and you can give that to them without the hassle and headache of buying a home.
Still, you must actually own property to benefit from increasing SFR demand. That's where REI Nation comes in. We take the headache out of finding ideal investment properties and winning the bid. If you're interested in totally turnkey buy-and-hold real estate investment in markets that are expected not only to survive but thrive beyond the twists and turns of the market, talk to us.
Our thousands of investors are growing their wealth in these Alabama markets and beyond!
Looking to invest in real estate online? Join REI Nation from anywhere in the world.