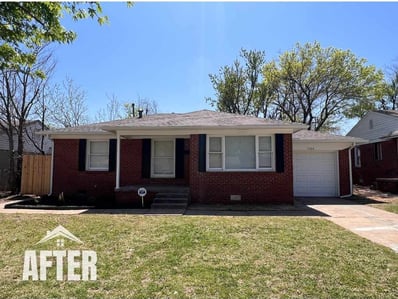 This week's Transformation Tuesday is from Oklahoma City, Oklahoma.
This brick bungalow has had a charming exterior from the start—if in need of a refresh for the roof and shutters. Inside, however, its dated features and worn out surfaces were cause for concern.
Not to worry! With a budget of $52,000, our expert team of renovators and local contractors did a thorough renovation to ensure its future residents would have a comfortable and contemporary place to call home. After the necessary refresh of the exterior, they turned their attention to the major problem areas inside: bathrooms, floors, and overhead fixtures. Once these were brought up to date, all of the potential of this single family residence was easy to spot! Just check out that vaulted ceiling in the main bedroom!
This property is currently being managed by Premier Property Management Group.
Although Oklahoma City did not escape the impact of the COVID-19 pandemic, it seems to have taken a softer economic blow than other markets. After a spike in 2020, the OKC unemployment rate seemed to drop in line with the U.S. rate, then began to drop much, much more quickly. See what a bright future Oklahoma City holds for you by giving us a call today!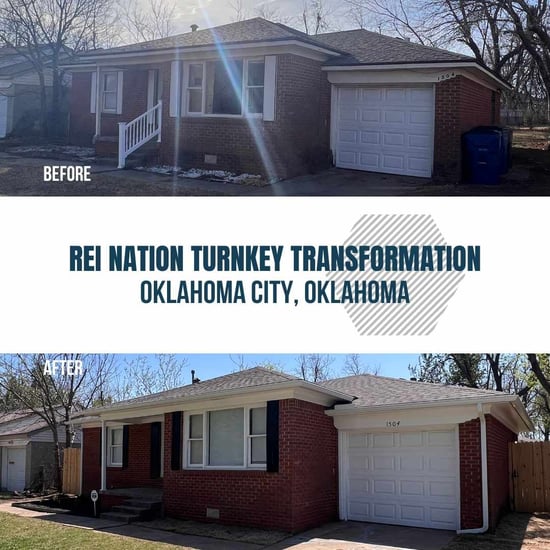 About this Transformation:
Built in 1950

1,697 sq. ft.

4 Bedrooms, 2 Bathrooms

Installed:

New Roof

New Doors

New Vinyl Flooring

New Light Fixtures

New Blinds throughout

New AC

New Water Heater

New

Furnace
Inside: Painted All Walls, Trims, Doors, Closets, Ceilings, and Cabinets

Outside: Updated Siding and Landscaping around the House

HVAC, Electrical and Plumbing Upgraded by a Licensed

Professional




Let REI Nation transform your financial future!