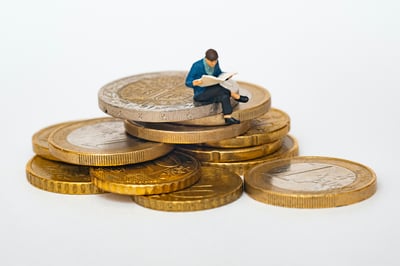 Let's be honest – passive investing doesn't sound like the most exciting thing in the world. And truth be told, it's not supposed to be! The big benefits of passive real estate investment aren't about the thrills of sealing deals and making fast-paced executive decisions.
No, the benefits run much deeper – and much more rewarding – than the high of a good flip.
Let's talk about it.


5 Unexpected Perks of Passive Real Estate Investing

First things first…what makes an investment passive?
Let's get this clear. "Passive" is not synonymous with "disengaged." It's not even really hands-off. Not in the truest sense. Passive investors are still owners. Like any good captain, they're steering the ship with an excellent crew that has all hands on deck.
For our purposes, passive real estate investing is an investment strategy that doesn't demand direct owner input on day-to-day operations. You're not the one dealing with clogged toilets, replacing appliances, finding residents, or even winning the bidding wars.
Instead, you deal in curated, hand-picked investments that are selected by experienced management and maintenance teams. While you're still in-the-know about the performance of your investments, it's not all on your shoulders to make it a success.
So what are the big, underappreciated benefits in this model?

Benefit: You're not limited by your physical capabilities.
Passive real estate investors are in this for the long-haul. That means that over time, your body, your occupation, and your capacities may change. An investor going at it alone is going to have trouble managing just a handful of properties by themselves simply because of time and labor demands. At a certain point, you might not be up for handling more hands-on landlording tasks.
A passive investor doesn't have to worry about this. You can better ensure consistency and efficiency across properties while knowing you can manage to keep doing this long after retirement.
Benefit: Passive investing knows no boundaries.
One of the greatest benefits in passive real estate investing is that it knows no boundaries. While investing in your local market can be fine – even lucrative – you are ultimately hindered by geography if you're taking an active role. Passive investors can capitalize on multiple markets and properties at one, reaping the benefits of each individual market and maximize their portfolio diversification.
Benefit: You leverage the experience of industry experts.
Leverage is one of the greatest assets available to the real estate investor. Not only is there bank leverage available in that you don't have to exclusively use your own money to acquire properties, but you leverage the experience of your team. Passive investors rely on outsourced management and maintenance teams, on top of other real estate advisors and experts.
This means that even a new, inexperienced investor can jump into the game like they've been playing for years. Your team will equip you with the know-how and advice to flourish from the beginning rather than flounder through newbie mistakes.
Benefit: You have time for meaningful pursuits.
If you're investing, you have a goal in mind. Maybe you're saving for your dream retirement, setting up financial stability for your family, or working towards other money milestones. Regardless, you don't want the act of making money to eat up all of your time. Most passive investors also have their day jobs, hobbies, and other pursuits. Being a passive investor means you can devote yourself more fully to the things that really matter to you – a career, a family, a dream retirement – without compromise.
Sometimes, you do get to have your cake and eat it, too.
Benefit: There's tangibility and stability.
Real estate is a hard asset. It's tangible. It's real. In a world being hammered by inflation and uncertainty, that's more of a benefit than you may realize. Real estate is known to be a hedge against inflation – its worth grows when your dollar stretches less. Because of this, real estate investors have a greater sense of economic stability during uncertain times. Not only that, but passive investors are almost always synonymous with a buy-and-hold strategy.
That means you're not left worrying about the real estate cycle, when to sell, or how to time the market just right.
Real estate is tangible. It is more secure, more reliable, and more stable than a great many things you could be investing in. Even if you don't solely invest in real estate, passive real estate investments can serve as a solid foundation upon which to grow your wealth!
Interested? Your REI Nation advisor is waiting for your call…