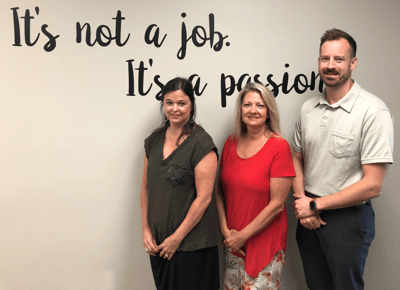 At Memphis Invest, we believe in the power of relationships. As a family-owned business, we know that community, closeness, and building lifelong bonds are invaluable not only to our success and that of our clients but to a sense of security and belonging.
We want our investors to know just how much the customer service experience matters to our team, so we sat down and had a chat with some of our customer service representatives to hear what they had to say about working with investors and for a company whose main product is customer service.
Meet Your Memphis Invest Representatives
Nathan Gray leads the property management and customer service divisions of Memphis Invest as an executive team member. He has 10 years of experience with us.
Cyndy McCrary has been with us for 8 years and is a customer service representative with the WOW group, serving property owners who own 5 or more properties.
Laurie Brooksbank has seen it all in her 12 years with us a customer service representative.
Q: What, in your opinion, makes the Memphis Invest customer service model distinct?
Nathan: We call you, not the other way around. Think of Comcast Cable. The only time I ever call them is when I'm mad because something is not working...that's not pleasant. We want our experiences to be pleasant. Therefore, we call you, even if there is no news. We check in on you and your family. We ask questions. We form relationships. We care.
Cyndy: Proactiveness. We call every month. Unless there's a vacancy or they are a new investor—then we call every week. Our main goal is to build that relationship and really have that one-on-one conversation.
Laurie: No other real estate company is reaching out to their clients on a one-to-one basis. You may get a monthly statement, but that is it. People are our difference. We proactively reach out to each customer monthly to see if they need anything or have any questions. We proactively let them know when their residents renew, move out, or when they have a new resident, or have maintenance expenses over $400.
Related Topic: Experience Matters Podcast Episode 37: Fanatical Customer Service
Q: What does your day-to-day customer service experience look like?
Cyndy: Compared to others, I have even more contact [with the WOW group]. They will pick up the phone and they're a lot more involved. It's important that they do talk to me. Being here eight years, I've talked to most of them a good percent of that time. It's building that rapport. I'm their point of contact for years, month-in and month-out.
There is a lot of research on the front end before they ever pick up the phone, too.
Laurie: I make about 15 to 20 calls a day, write lots of emails, and go to a meeting here and there. Getting to know and understand my clients, their needs and perspectives is the most important part.
Q: How do customers react to the Memphis Invest customer service experience?
Nathan: Most love us and brag about us and tell their families and friends about us. We're not perfect, and sometimes fall short, but we certainly try to be and truly care about our performance. Via the founder of Chick-Fil-A: " If we get better then our customers will demand we get bigger."
Cyndy: They very much like it. I get their permission if they want to be more hands off. They give me a level of trust. Some people with very busy schedules, like doctors or overseas investors, schedule quarterly calls. Regardless, it's about being there for them and building that relationship. We like to say that there's no good news or bad news, there's just news. We tell them the good, bad, and ugly. Part of our job is to reassure clients when they feel unsure by letting them know we've been there before.
Q: Why do you think a customer service emphasis is important?
Nathan: There's a lot of people that do what we do; buy houses, rehab houses, and manage properties. But, there's nobody that provides an extra tier on top of all of that and is providing customer service. It's not rocket science, but it makes all of the difference in the world.
Cyndy: When you're dealing with this high level of a portfolio [in the WOW group], this is their life. You have to show so much care and handling. They're putting their trust and faith in you to handle their needs. You have to let them know you have their back.
Laurie: Customer service is almost an archaic concept these days. Everything is computerized so people can do things themselves. There are kiosks, check-in online, scan this, pay that, email me, and text that. Human contact is almost oddly refreshing. All those services are very convenient.
However, it lacks understanding. Understanding of the subject, of its customer and their needs. Should the kiosk or pay online not work—there's a huge problem! There is no person there to help. Let's face it, you can't do anything alone. People need people when there is a problem.
Q: What is it like to work for a real estate company whose main product is customer service?
Nathan: In the end, we're in the people business. I run the property management and customer service divisions of our company. We're in the people business that just so happens to deal with real estate... It's that simple. If we get the people part right, the rest will easily fall into place.
Cyndy: Everybody in this company is involved in some sort of customer service. It's making sure that everything and everyone is taken care of. Without customers, residents, investors, and vendors, we would be nowhere.
Laurie: Most days it is fun, but we do have our challenging days. Thankfully, we have a great team who is efficient. Efficient people make my life easier. They do what they say they are going to do and we don't have to babysit them until the job gets done. It doesn't take away the challenges but there is comfort in knowing we do all we can to get an issue resolved as efficiently as possible, and that we have the investor's best interests in mind.
Bonus Question for Nathan: What is the most gratifying part of leading customer service as part of the executive team?
Handling problems and getting stuff done. De-escalating situations. To the normal customer, a situation in property management is a three-alarm fire. To me, it's everyday business that the fantastic team we have in place handles on a routine basis.
When people are in panic mode, I enjoy calming them down and assuring them that they have the right team in place to be able to handle just about anything. With ten years in, I've seen and heard a lot of stuff, but still see and hear something new every day. There's nothing we can't overcome and solve.
Bonus Question: What has been your most memorable or proud experience working with Memphis Invest?
Cyndy: That's a tough one! More than any single experience, it's the overall experience of people giving you trust. People will leave the country and give you the responsibility to handle everything for them. Achieving the trust, that's what I would say. It's cherished. You've earned it over the years. Your investors know you'll go to bat for them.
And I just have to say, Memphis Invest and this family have always stood by their employees. I worked corporate for years and I hated it. But this is different. They really care.
Laurie: 12 years is a long time to look back. I am proud of the entire 12 years. It has been a fascinating adventure watching this company evolve from just two people to over 90. Seeing this company grow, change, evolve, improve, mature is a source of great pride for me.

Believe in your ability to succeed as a real estate investor but not sure where to start?