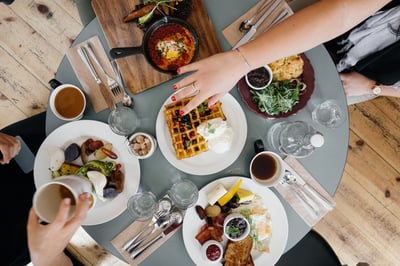 In the real estate investment game, we're big advocates of stopping in on the markets you invest in when you have the chance. While we know that it isn't always possible for everyone, we do think that there are so many great benefits in actually seeing your investment market firsthand.
Even if you're only in town for a short while, getting a taste for the local flavor can lend you some great insights that you didn't have before.
That said, the bigger the market, the tougher it is to really get an idea of what you're dealing with, and it really doesn't get much bigger than Texas.
While you might wonder what restaurant recommendations have to do with investing in real estate, remember that a vibrant economy and small business scene plays a huge role in investment opportunities. We want to highlight just a few of the great restaurants in Houston that you can experience for yourself if you ever get the pleasure of stopping by!
Understanding the local character and what a market has to uniquely offer not just you as an investor, but its residents, is a valuable part of what makes a market work in the long-term.
So without further ado, here are six restaurant hotspots you don't want to miss in Houston.
For a Scrumptious Breakfast in Houston
Pecan Creek Grille
There are two big things that will catch a traveler's eye about Pecan Creek Grille at first glance: free wifi and bottomless self-serve coffee. But don't be fooled, these aren't free gimmicks designed to draw in customers to make up for lacking food. Houstonia Magazine chose this establishment as an editor's pick for a reason.
Their all-day breakfast includes southern staples like biscuits and gravy, jalapeno cheese grits, shrimp and grits, and chicken and waffles. You'll find standard breakfast fare here as well as Tex-Mex favorites.
French Riviera Bakery & Cafe
Another editor's pick, most Houstonians know the French Riviera Bakery's bread even if they've never stepped foot in their establishment. Many other restaurants in the city rely on their top-notch French bread to stock their bread baskets. With delicious baked goods, sweet croissants and tasty pastries to satisfy any sweet tooth, all complemented with a finely roasted cup of espresso, it's tough to go wrong with this selection.
Related Article: The Millennial Impact on Houston Real Estate
For a World-Class Lunch in Houston
Xochi
We can't have a list of Houston restaurants without an entry featuring Mexican cuisine, and no restaurant captures the beauty and heritage of Mexico quite like Xochi. Xochi specializes in flavors and cuisine from Oaxaca, a state in southern Mexico known for its indigenous cultures.
James Beard Award Winner Hugo Ortega opened Xochi as a love letter to Oaxaca, and that love is infused into every vibrant and flavorful dish. Xochi is truly a feast for all of the senses.
Better Luck Tomorrow (Saturday and Sunday Only)
We would be amiss not to mention Better Luck Tomorrow's innovative and local brunch menu. Though only available on the weekends, it's certainly worth coming out for. This local bar is cozy and comfortable but features elevated flavors as a chic neighborhood establishment. Even if you miss out on brunch, the bar food served at night is just as tasty. A few stand-out brunch options are custard french toast, fried chicken with mashed potatoes, and a spaghetti and meatball sandwich.
For a Dinner to Remember in Houston
Coltivare Pizza & Garden
It's hard to go wrong with a good pizza. When you focus on making pizza with fresh, local, quality ingredients like Coltivare, it's even harder. This restaurant is always packed, and that's a good sign. The bulk of their ingredients are sourced from its 3,000 sq. ft. in-house garden. It's not all pizza, either. You can enjoy delicious dishes in the rustic Italian tradition, from small plates to pasta. Don't forget the hand-crafted cocktails at the fully stocked bar, either.
Kitchen 713
Narrowing down our list of recommendations for eateries in Houston to so few was a challenge. We could go on and on with restaurant after restaurant. But we can't have a list that doesn't include Kitchen 713. Chef-owners James Haywood and Ross Coleman were 2018 James Beard Award Best Chef Semi-Finalists. That alone is a testament to their vision and skill in the kitchen, and for the quality you can expect in their restaurant.
With dishes like goat bourguignon, lamb neck mole, and the 713 fried chicken dinner that involves the whole chicken, you can expect nothing short of flavorful, succulent excellence.
One of the best ways to get acquainted with a city is through its food. Houston has such a diverse population and rich culture that provides no shortage of quality, world-class eateries that would take more than a weekend to discover.
The vibrant restaurant scene in Houston is just one small testament to the health of the Houston market.
Want to learn more about investing in Houston real estate? Our portfolio advisers are waiting for you call.