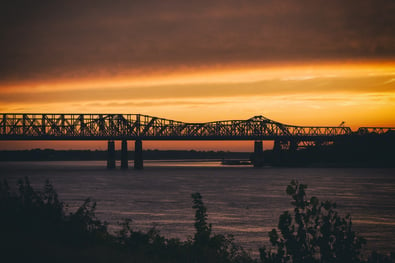 "The Rebirth of Downtown Memphis — It's hot. It's hip. It's back. Here's how the Bluff City recaptured its heart and soul."
You could read that headline in any publication today, but you might be surprised to know that it first appeared in Memphis magazine twenty years ago in 1997. At the time, the Pyramid was a new fixture in the city. A baseball park was under construction at Union and 3rd. There were rumors of a Hard Rock Cafe coming to Beale Street. At the time, downtowns all over the country were undergoing revitalization and there were good reasons to be optimistic about the future of Memphis.
In 2018, we find ourselves in a similar position—optimistic about the future.
What we're seeing today is an unprecedented level of redevelopment, repurposing, and investment in all areas of Memphis. Midtown, downtown, uptown—it doesn't matter where you are: plans are moving, areas are coming back to life, and the community is excited about the city again.
As real estate investors, we know that the economic health of the market is one of the best indicators for investment opportunity. We have to pay attention to things like the job market, industry diversity, and economic development.
When we look at Memphis, all we see are upward trends.
One of the reasons we love our city so much is that from the top down, we've seen a dedication to creating a better, brighter Memphis.
Quick Facts about the Memphis Boom
Data courtesy of the Memphis Flyer.
Residential growth in North Memphis (Mud Island, Uptown, The Pinch) since 2000 → 49%
Property value increase in the South District since 2005 → 66%
Property value increase in the Medical District since 2005 → 39%
While often revitalization efforts are subject to the sway of market turns, what we are seeing in Memphis is not unlike what we see in downtowns across the nation—a holistic and sustainable effort that hopes to overcome the chances of ever seeing the city fall into the same traps of abandonment and disrepair that have been in the past.
Related Article: We ♥ Memphis: 3 Facts About Memphis Food & Culture Investors Should Know
Big Developments in Memphis
Ultimately, we see a dedication to using the assets that the city already has, and transforming them, building upon them, and reviving them while honoring the rich culture and history that has always been a part of Memphis' DNA.
"We don't aspire to be Charlotte or Nashville or Austin or Atlanta. We aspire to be a better Memphis. What that means is we want to take Beale Street, and the Orpheum, and our Main Street, and our Brinkley Plaza, and our Sterick Building, and all those assets and keep the Memphis culture and heritage in place." — Terrence Patterson, DMC president
Among some of the transformations happening in Memphis are at St. Jude's Children's Research Hospital, one of the country's most revered and respected cancer research centers in the world. With a $1 billion expansion in the works, including a $412 million research center that will attract scientists and researchers from around the world, it will emphasize St. Jude and Memphis in their place at the top of pediatric biomedical research.
A New Model for Investing in Revitalization
What would you do with $95 million? It's a big question to pose to a single person, but it's an even bigger question to pose to a city. One new strategy being implemented in Uptown Memphis as part of their revitalization strategy is community involvement.
By involving the residents of the inner-city neighborhood targeted for the $95 million improvements, developers and investors hope to engage the community in a long-term, sustainable future. They will meet regularly with planners and residents in intensive sessions to carefully plot a trajectory and the details of improvements. This strategy is designed, then, to meet people where they are and do what is not just best for the city's bottom line, but for the people living in it.
Goodbye Blight
Beyond the development of existing Memphis attractions like St. Jude is the redevelopment of areas that were previously a black mark on the city's record. Just a few months ago the New York Times published a piece about Loflin Yard, a Memphis hangout boasting ping pong, bonfires, hometown brews, and something for families and foodies alike. The spot? West Carolina Avenue, a street that was once home to more than its fair share of criminal activity.
Loflin Yard was just one of many recent local efforts to create social hotspots in areas once known for crime. It's working, too—we've seen revitalization in Midtown by the same duo who launched Loflin Yard in the form of Railgarten, which we covered in our first We ♥ Memphis entry.
All over Memphis, locals are taking back and transforming crime-ridden areas with local businesses—and it's paying off.
Between 2012 and 2017, tourism increased by over 12%. Between 2017 and 2018 alone, it increased by 4%. In the past four years, there have been over 250 revitalization projects and $13 billion poured into them.
In Memphis, things are looking good, and we couldn't be more excited for the future of our city.
Learn more about turnkey investing, our markets, expert advice, the best books on real estate investment you can get, and more!