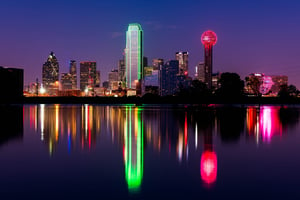 As we move on towards September and anticipate cooler weather, let's take the chance to reflect on the temperature of the real estate markets that we've chosen to invest in. We've already covered Memphis and Houston, and now our attention turns to Dallas!
Similar to Houston, Dallas' economy is affected by the state of the oil industry and, despite some recent lows, it hasn't done much in the way of slowing Dallas real estate down.
3 Things Happening in Dallas Real Estate
Home Prices Up in 43 of 45 Residential Sectors
The first half of 2015 saw hot home prices in Dallas. As you can see by this map, nearly every residential sector in Dallas saw home prices increase — some by over 21%. The most significant spike was in Oak Cliff. This area saw a 30% price hike so far in 2015, landing the median at $137,000, which is still on the more affordable side. North Dallas, which experienced a 22% price increase, has the median price of $800,000.
The value of homes varies widely throughout Dallas, but there's still the issue that prices are high enough to make things hard on home buyers. Still, home sales persist: the most being in Arlington with over 2,300 sales (an 11% sales increase), with a 4% price increase.
Dallas is leading the country in home price increases with an average of 10% over last summer. Those in areas with rapidly inflated prices are growing concerned, as no place can continue in that pattern indefinitely.
Homes are being sold now for 60% more than in the worst part of the recession in 2010, and 40% more than the last housing boom in 2007.
So What's Causing the Increase?
In short, job demand. Jobs are bringing people to the area and driving up demand and thus, home prices. The gains could be tempered by increased construction, especially for in-demand affordable properties, as well as any economic slow downs and an increase in mortgage rates. Still, the high prices haven't really deterred buyers — only frustrated them.
Most properties, especially those under the $350,000 mark, receive multiple offers. While that sounds like a sellers' dream, but they also struggle to get offers that actually stick.
The only thing keeping sales from increasing, however, is a lack of inventory. This summer has been a selling frenzy for Dallas real estate!
A Downtown Revival
While not new — the transformation has been building for years — Dallas has finally been recognized for its revitalized downtown. People are flooding in not only for nightly entertainment, but for living. Buildings that have sat vacant for decades are being acquired and reused by real estate investors, creating a large inventory of loft apartments. For the most part, this redevelopment in Dallas has only been the reuse of existing buildings without significant new construction. Old buildings are being converted for new purposes, and it's working.
Related Article: What is Trending In Dallas Real Estate?
Hotels, luxury apartments, trendy restaurants and entertainment venues are all packing in downtown. Occupancy at the core of downtown is at 93% capacity with 8,200 residents. All 15 downtown districts host over 40,000 residents.
Retailers are also clamoring for a piece of the downtown Dallas pie, where they were profoundly disinterested just a few years ago. The booming downtown, in combination with Dallas' strong job market, will only continue to bring in residents and sustain demand, both for homes and rentals.
Dangerous Rise in Rental Prices
While high rental prices always seem like good news to investors, there's a danger when rental prices spiral out of control. In Dallas, the state of the housing market and ever-growing demand has made renting the only option for a lot of people who simply can't compete as a home buyer. Thus, demand for rental rises, and so do prices.
The issue is that rental prices across the country are outpacing wage growth.
The Census Bureau recently reported that home ownership is at its lowest point since 1967. They also expect the number of homeowners to decrease while renters increase. In Dallas alone, over 260,000 properties are renter-occupied — making up over 56% of occupied housing units.
As with any market, there needs to be balance. People who are priced out of the housing market turn to the rental market. But what happens to people who are priced out of the rental market, too? Either way, the increase in prices is stifling the ability of renters to save up for home ownership as bigger and bigger chunks of their income go into paying rent. That is both good and bad.
While it's not a problem exclusive to Dallas, it certainly could have ill-effects on the market in the long run. What we can do as investors is make sure that we have high-quality rental properties and are providing over-the-top value for our rental tenants.
How do you feel about Dallas' real estate performance this summer? Share your thoughts in the comments.
Want to learn more about our companies and how you can get started? Click Below....