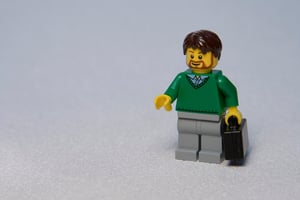 Everyone has a different plan anda different preference when it comes to investing in real estate. Full-time, part-time, turnkey, fix and flip...the list is endless.
One would think that being a part-time real estate investor is the easiest way to go: and most of the time, that's true. But it's not because the investor is part time. In fact, if you go into the world of real estate investment without understanding the work that goes into it, you'll wind up biting off more than you can chew.
Part-time investing—not relying on your investments as your only source of income, in other words—can be very rewarding. If done right, having a well thought out and secure business plan for investing in real estate is the surest pathway to earning passive income. But how exactly do you 'do it right'?
Finding Success in a Part-Time Real Estate Investments
Make a Clear Plan
Before real estate investors start investing, they need a solid plan at the foundation. This includes mission statement, goals, important concepts, and financial planning. There's also taking into account resources, competition, and opportunities. Planning means deciding if you'll be investing locally or remotely, single-family or multifamily, commercial or residential.
While all real estate investors should be willing to experiment and branch out, don't try to take on too much diversity as once.
When you're part-time, focusing on a niche or type that just 'clicks' with you is so important to sustaining your plan for the future, especially in the beginning. Assess your finances and decide what's reasonable to take on and how you intend to manage new responsibilities in addition to your day job.
Related Article: 5 Key Qualities of Successful Real Estate Investors
Know That It's Possible...
So many people miss out on reaping the benefits of real estate investment because they feel limited. Not enough time. Not enough money. Not enough experience. You can always gain more money and experience, but time isn't something you can earn back. It's an ongoing hurdle for part-time investors. The trick is in playing it smart.
...When You Budget Your Time Wisely
When you sit down to work, ask yourself: is what I'm doing right now going to further my financial goals? In a traditional occupation, just doing your work (and sometimes just showing up) is enough to get paid. Not so as an investor. Like a freelance job, you get out of it what you put into it, so effective time management is a must.
Beware of giving yourself busywork. Opening every e-mail, pursuing every lead, trying to do too much. To successfully manage your time, ensure that you sit down with a plan every day of what you need to get done. Schedule yourself and stick to it.
...When You Have a Good Team
It's impossible to effectively invest in real estate part-time by yourself. At the very least, you need a property manager to prevent that from becoming your full-time job! A good team will make or break your investments. Part-time investors, however, aren't usually looking to run their own businesses. While having a team doesn't always mean full-time investing, it usually does. After all, these are people that need to be paid for their hard work. So if you can't go at it alone part-time and you can't effectively run a team part-time...where's an investor to go?
Turn to Turnkey Real Estate
For anyone looking to go into real estate investment in as 'hands-off' a way as possible, turnkey real estate investing is where to go. Turnkey companies (like ours) take the heavy-lifting out of investing in real estate. They find the properties, take care of renovations, find tenants, and by the time a buyer steps in, the property is already producing a stream of income.
Even though we're biased in favor of turnkey real estate, understand some the benefits in this type of investment:
Easier to get started. No searching. No bidding wars. No fooling with property management. Some companies offer more than others, and different models, but turnkey real estate companies really do save investors a lot of their time. The team is already there and the income is established. At Memphis Invest, we handle all of the heavy lifting and offer transparent information on the performance of your portfolio.
Great for remote investing. Nowhere near the market you want to invest in? No problem. With a trusted turnkey company, all of the day-to-day operations and management are taken care of, and you can rest easy knowing that they know the area.
Expertise at your fingertips. This is especially valuable for new investors. The professionals with a turnkey real estate investment company know what they're doing. They understand their market, are always making deals, and have had the time to hone their skills in every aspect of investing.
Even though a turnkey investment will cost more on the front-end, you're paying for premium services that will save you time, money, and hassle in the long run. For many investors seeking passive income, it's more than worth the cost.
What do you think is the most effective strategy for part-time investors? Share your thoughts in the comments.