How to reach $1 Million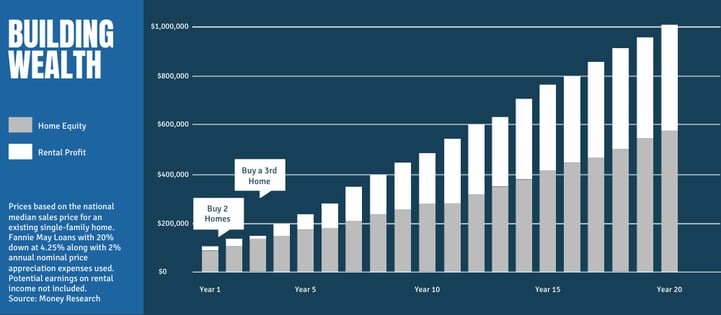 *Make $1 million with 3 properties. Assumes the following for each property: a purchase price of $182,600, annual rent of $26,400 and annual expenses of $17,780.
(Money magazine) -- Becoming a landlord has always been a well-worn path to millionaire status, with good reason: Not only does owning properties let you generate a second source of income, your tenants' checks will help you build equity in your investment.
The case for owning rental real estate is even more compelling now thanks to depressed prices, super-low interest rates, and the fact that the shortage of rental housing is the most acute it's been in five years, according to CoreLogic.
With median prices on existing homes at around $182,600, you won't get rich by owning one home. Based on modest estimates for appreciation and reasonable expectations for profits, it's likely to take three or more properties to produce the cumulative equity and rental earnings you need to get to the nominal sum of $1 million down the road. (Throughout this story, references to $1 million are to the nominal -- not inflation-adjusted -- figure.)
Part of a special report on How to reach $1 million, this story explains how investing in real estate can put you on the track to becoming a millionaire.
KEY MOVE: Expand your holdings to at least three properties
HOW TO GET THERE
Maximize your market. Once you own a property or two in an area, adding a third nearby generally makes sense, says Chris Clothier, co-owner of REI Nation, which buys and manages rental homes for investors. "It's usually easier to manage," he says. You can also save on maintenance by using a single contractor.
If fielding late-night calls about water leaks doesn't grab you, grouping your properties will also let you find a single company to manage your properties (typically for about 8% to 10% of the rent plus commissions).
Of course, you'll want greater diversification if you're buying in a smaller town dominated by a single large employer.
Think duplex or triplex. That extra unit probably won't cost you much more, yet the extra rent can be significant.
Three years ago real estate agent Greg Markov bought a triplex in Phoenix for $70,000, or about $5,000 more than what he would have paid for a single-family home in the same neighborhood. With more units, Markov's maintenance costs are higher -- he budgets $2,000 a year, vs. $1,000 for a one-family home. Yet the three units throw off $1,500 a month in rent, not $900.
Also, Fannie Mae rules state that you can finance up to four properties -- which includes your primary residence -- with just 20% down. Homes five through 10 will require at least 25% down and a higher credit score (720 vs. 620). Fannie, however, counts a duplex, triplex, or fourplex as a single property, so you can finance more units at beneficial terms.
Finance creatively. Take what the market is giving you. Buying with cash, for instance, will get you the best prices. So if you have, say, $150,000 saved up, try purchasing house No. 1 with savings. Then within six months, take out a Fannie Mae-backed loan on 80% -- in that time frame Fannie will consider it a purchase loan, with better terms than a cash-out refinance. You can use that $120,000 to buy house No. 2.
Own your own company? The U.S. Small Business Administration offers 10% down low-cost real estate loans as long as the business occupies at least 51% of the space.
In 2010, Greg and Audrey Charlap of Hermosa Beach, Calif., obtained SBA financing for a $755,000 store/warehouse with three apartments upstairs. The rent checks cut the real estate tab for their business, baby-products retailer Pampered Tot, by 35%, Greg says.
GETTING INTO GEAR
Where to look. Begin your search near large employment centers or universities, where strong rental demand will ensure profitability.
How to price it. Your operating income -- rents minus expenses, not including debt service -- should be at least 1.25 times your principal and interest, says mortgage broker Kathleen Kramer.
How to dress it up. Don't scrimp on amenities. A few upgrades, such as granite countertops, will make your rental stand out and reduce vacancies.
How to vet tenants. For $10 to $30, services such as LexisNexis and mysmartmove.com will run credit and criminal background checks.
CNN Money Magazine
This article was originally posted by Lisa Gibbs at CNN Money on July 20, 2012.