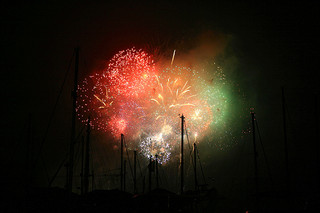 You may not be all that excited about the start of 2014. A new year can bring new stresses, new worries and the complications of the unknown. It could be that you were good and comfortable with 2013, but 2014? You might not be ready to make friends with 2014, let alone embrace it.
Well, maybe we can help you out with a few inspirational, motivational quotes. After all, what's a better boost than hearing words spoken (or written) by real people who've gone on before us and found success in their own endeavors? I am not a big believer in the old adage that success is preceded by failures. But, I do know that many who have failed, did so trying to do something great. And they did something great when they got back up and tried again. Anyone who wants to grow has to stretch themselves first. Use these words of wisdom to guide you as you kick off a new year of real estate investment success...and start getting ready to stretch yourself!
Ways to Motivate Yourself: 11 Inspirational Quotes
"Strive not to be a success, but rather to be of value." — Albert Einstein
"Definitiveness of purpose is the starting point of all achievement." — W. Clement Stone
"Twenty years from now you will be more disappointed by the things you didn't do than by the ones you did do, so throw off the bowlines, sail from the safe harbor, catch the trade winds in your sails. Explore, Dream, Discover." — Mark Twain
"People often say that motivation doesn't last. Well, neither does bathing. That's why we recommend it daily." — Zig Ziglar
"Everything you've ever wanted is on the other side of fear." — George Addair
"First, have a definite, clear practical ideal; a goal, an objective. Second, have the necessary means to achieve your ends; wisdom, money, materials, and methods. Third, adjust all your means to that end." — Aristotle
"Many of life's failures are people who did not realize how close they were to success when they gave up." — Thomas Edison

"Circumstances are the rulers of the weak; they are but the instruments of the wise." ― Samuel Lover

"Without ambition one starts nothing. Without work one finishes nothing. The prize will not be sent to you. You have to win it." ― Ralph Waldo Emerson

"Do not stop thinking of life as an adventure. You have no security unless you can live bravely, excitingly, imaginatively; unless you can choose a challenge instead of competence." ― Eleanor Roosevelt

"People are always blaming their circumstances for what they are. I don't believe in circumstances. The people who get on in this world are the people who get up and look for the circumstances they want, and if they can't find them, make them." ― George Bernard Shaw
No matter what you do in 2014, we hope that one of these quotes helps inspire you to success and to do something daring and new this year. Don't give up on your dreams or your investments, and don't let circumstances deter you from chasing success. You can do it.
Do you have a favorite quote to motivate yourself? Tell us what it is in the comments.
Are you interested in Investing with Inc. Magazine's #303 Fastest Growing Company In America? Grab Your 'Jump Start Investing Packet' Here!