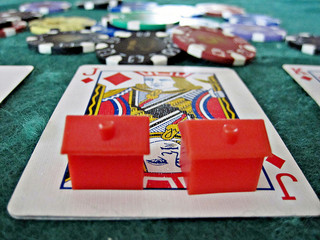 With the rush of foreclosed homes on the market in the past few years, investors were jumping into the business from every direction. Here in Memphis, the investment real estate market was booming due to the rush of foreclosures and most were caused by a slowing economy and not necessarily an over-heated housing market. That created a scenario where not only were houses available, but renters were in abundance as well.
As the real estate market is now recovering, easy buys on bank-owned homes are becoming more scarce. Some investors are opting out of real estate because properties aren't as easy to acquire. As serious investors knows, the real estate market will continue to change constantly over time.
Trends will change, the market will fluctuate, and it can't be predicted with 100% accuracy. That's why there is risk in real estate investment, after all.
So how does a real estate investor find good deals when market no longer looks as inviting to the naked eye? As prices rises and the selection of bank-owned homes decreases, investors can't afford to gamble with their real estate decisions, be sloppy, or think that low offers will be accepted. While your investment strategy doesn't have to be complicated, you do need to have one.
Finding Good Deals on Investment Properties
Networking, Networking
It's all about who you know. Okay, not entirely, but networking is an integral part of getting good leads on properties. It doesn't have to be a complicated process — just getting your name out there and on people's minds as a real estate investor will help you stay up to date. Post on social media, and build a presence. Make sure friends, family member and colleagues know that you're an investor. Have those people spread to word. When they know someone who knows someone who needs to make a quick sale or something else you can offer, that's where you can step in — if your name happens to come up. Make sure it does. Networking is an invaluable but often neglected investment strategy.
Make Your Realtor Relationships Better
Realtors are helpful to investors, particularly when bank-owned sales are concerned. How do you make your relationships with realtors better? Be committed, quick and serious about your offers. Realtors only get paid when they close a deal, so the fewer problems and delays, the better. When you close deals with realtors in a responsible, organized and timely way, you'll wind up with realtors who trust you and want to work with you more. Your hard work will be rewarded!
Be Organized & Follow Through
Have your documents ready to go. Be thorough when you need to provide information to realtors. Make sure that when you make an offer, you're serious about it. Having follow-through and commitment builds credibility, which encourages people to work with you.
Harness the Power of the Internet
If you aren't taking advantage of online resources, you are missing out on valuable opportunities. Real estate listing sites are essential to finding property deals. Follow Trulia, Realtytrac.com, Craigslist, and other websites to keep up with real estate listings. While you may not find anything immediately, you will have ongoing exposure to what's on the market.
What do you think are the best ways to find deals in your investments? Let us know in the comments.