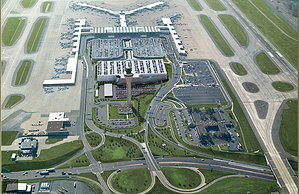 With completion nearing for the upgrades recently being added to Memphis International Airport,Memphis has a shining example of what redevelopment can do for the image of the city. Now, there are other great examples of redevelopment happening around the city including the historic Sears tower and Chisca hotel being redeveloped and put back to good use. There is also the emergence of South Main street full of eclectic shops and restaurants as well as mixed commercial and residential redevelopments. But none have the ability to impact the image of the great city of Memphis like Memphis International Airport.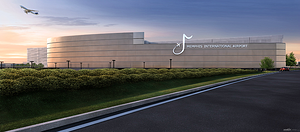 With this redevelopment, companies like Memphis Invest have a gateway to welcome our guests from around the country and a project that we can point to with pride that showcases the best of the future for Memphis.
I have been on the road a lot less lately which, has meant less time at the airport. However, I recently flew to California and was amazed by the progress and how beautiful the new additions and improvement to the airport were turning out. From the new 6,500 parking space garage wrapped in an aluminum skin to the covered pedestrian walkways complete with water features and people mover walkways, the airport improvements are top notch. A lot of credit has to go the Memphis Airport Authority and Larry Cox, but I am a big believer that the true driver right now in this city is Memphis Mayor A.C. Wharton, Jr. He may not be directly responsible for the airport improvements, but his leadership and drive are setting the tone for other Memphians to follow and he is fighting for this city.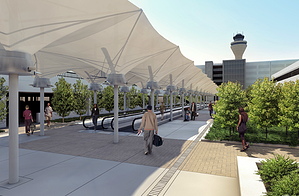 Recently, Mayor Wharton announced that Southwest Airlines confirmed they are coming to Memphis, but the Mayor knows how shaky airline deals can be. So while announcing the deal he also emphasized that one additional airline was not all Memphis was shooting for. He announced and held an October meeting with other local Mayors from nearby cities in Arkansas and Mississippi as well as Tennessee who benefit greatly from a renewed airport. Those cities not only benefit in jobs but also in affordable airfare.
Along those lines, several airline experts met recently to discuss Aerotropili such as Memphis and the need for a strong airport to spearhead development. Memphis leaders recognize the need to redevelop the areas surrounding the airport to spur not only foot and car traffic, but also to redevelop business, commercial and residential areas near the airport to invite new building activity and erase blight. Memphis is clearly looking to other cities to learn how a beautiful new airport can be leveraged into even more redevelopment in the area.
On a last note, as a real estate investor, knowing that the city and its leaders are always looking to improve on big projects as well as small details is vitally important and very up-lifting. It gives me great courage and energy that the tasks we undertake - redeveloping single-family homes in neighborhoods - is being equally matched by the city leaders. I spend a lot of time traveling around the country meeting with investors and sharing the story of this great city. Projects such as these are one of the reasons so many out-of-area investors are willing to take a chance on the redevelopment of our city!
If you are interested in hearing more about investment opportunities in Memphis, click the button above and we'll be happy to share with you our Getting Started Guide. The Guide is free and we'd be happy to follow up to answer any questions you may have about our company, our great city and the ease of getting started investing in real estate.