Premier Property Management Memphis Performance
Another month has come and gone and it feels like the Memphis real estate market continues to heat up on multiple fronts. There are definitely conflicting numbers being released by different groups all wanting to paint the real estate picture in Memphis a certain way. Home sales are up and sale prices are up. But, foreclosures and short sales are also up and while it appears homes are selling for slightly higher prices, the pace is still way off from what a normal housing market looks like.
As far as investment real estate goes though, the rental property picture at Premier Property Management continues to soar. Nate Gray and his team at Premier Property Management have done an excellent job and they had another incredible month. Here are the charts and numbers which we find most relevant and I will share one more number not found in the charts. As we continue to grow and add management services for investors from all over the country and even the world, we are challenged with a tremendous responsibility. We are managing close to $150 million in investment property value for investors and process millions of dollars in payments to investors every month.
We are preparing to invite a very prestigious and no-nonsense accounting firm to audit our process and help us improve and secure our methods for collecting, tracking, transferring and accounting for every investor and their rental payments. One thing that our company has excelled at as we have grown is improving how we conduct our business. We have improved processes in every department of our company and will be sharing many of those improvements here on our blog in the very near future. In the meantime, be on the look out for an announcement on the accounting firm!
Total Properties
Premier property management continues to grow at a very steady pace and the team is growing as well. Premier Property Management hired two new employees in the past 30 days to assist with the growth and Premier Property Management of Texas hired one new employee as well. These numbers reflect Memphis properties only and beginning in January we will be releasing numbers for both Memphis and Dallas. As of today, Dallas has eclipsed 54 properties and when combined with Memphis, the two companies are managing over 1500 properties. After November, the total number of investors we are currently working with is 565.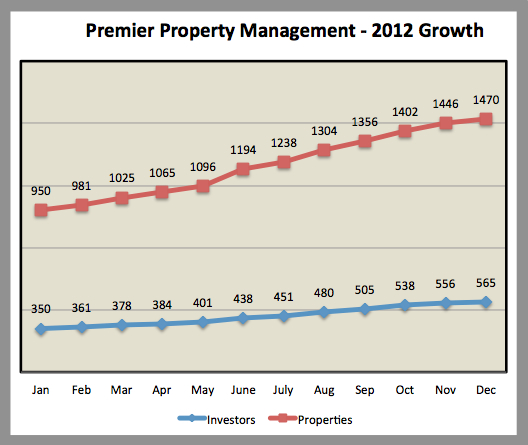 Our Happy Meter!
Last month I reported on a number that we will beginning releasing a chart for in January of 2013. That number is, how many sales go to existing clients each month? For us, this is our signal to how well we are performing both in service and in return. Gauging happiness is a tricky thing for a company and many companies can convince themselves they are making clients happy in lots of ways. For us, rather that convince ourselves, we would rather ask our clients and monitor responses. We call every client - every month - and the tone of those conversations always keeps us in the know if there are problems or concerns. For tracking of numbers, we can track purchases from existing clients and use it to gauge their satisfaction with our company. As long as existing investors continue to ASK for the opportunity to purchase additional properties, then I would say we are providing exactly what our clients want. In November, 59% of the investors purchasing rental properties were existing clients. 20 of the 34 investors who purchased in November were existing clients. All 34 clients combined to purchase 40 homes in November. I would say we are hitting the Happiness goal!
2-Year Leases & Rent Increases
This next graph shows how many properties were rented each month this year. It also shows how many of those properties were leased for 2 years and how many of those properties were leased above our internal zip-code rental average. Our data comes straight from the actual rental contracts in our portfolio, so we pay very close attention to our trends and not so much to what a .com website says about rental rates. This graph shows incredibly positive trends and those trends have as much to do with the quality of property renovations as it does the actual management company.
Be on the lookout for a new chart in January showing the number of permits pulled by property renovations each month. It seems some bystanders with no knowledge of our company have been questioning our renovations. So keeping with our commitment to transparency, and seeing as how those questioning us have never taken time to visit our company, we have decided to begin publishing this data. To date in 2012, we have had over 400 permits pulled on work that requires permits in our properties. Since much of the redevelopment work does not require permits in the first place, those permits have been for everything from electrical to mechanical to plumbing and general construction, but not clean up or cosmetic repair. In November, we went over 400 permits pulled on the properties we have renovated in 2012 and will begin to show those numbers monthly. We will also show the average amount spent per property which exceeds $18,000 on average as well as the number of days to complete and the number of jobs that project affected. The higher level of work and the higher level of detail on each rental property definitely contribute to our ability to rent properties above zip code averages and for 2-year contracts!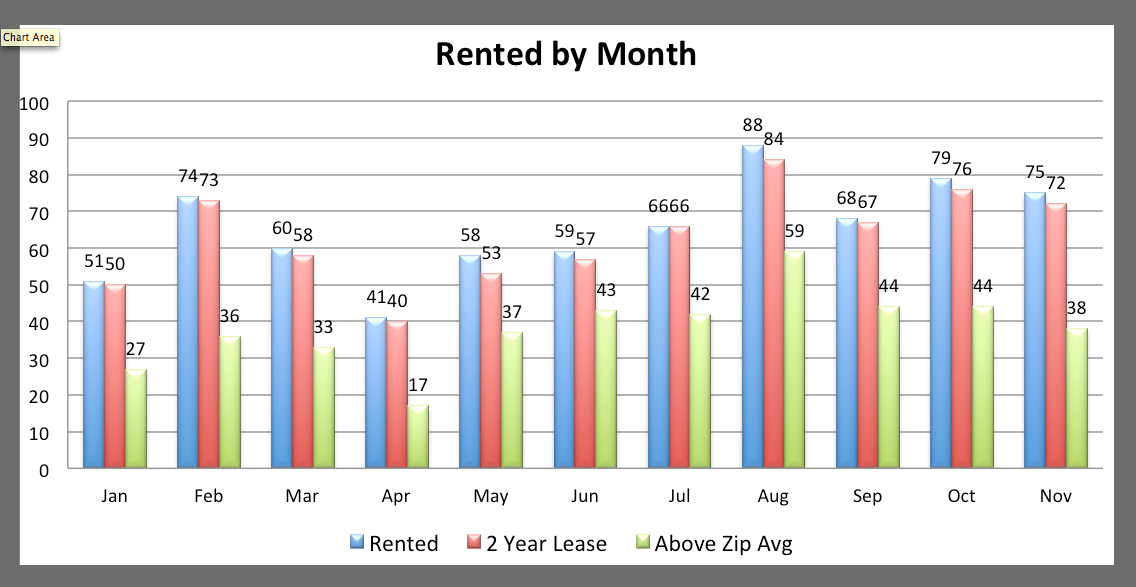 This last chart shows our vacancy rate as measured on the first Tuesday of each month. ON the first Tuesday in December, our vacancy rate measured 6.33% which is reflected in the report. However, I am extremely excited to see how the month ends. There has been an abundance of activity here before Christmas and the vacancy rate on Thursday was measured at 5.85% with only 86 vacancies out of 1470 properties. That 86 property number includes several new properties that were renovated in November. Currently there are only 8 properties that have been vacant for longer than 30 days which, is our red line. That lower vacancy rate entering into the new year should make for an improved performance for the entire portfolio under management as we start 2013. We'll keep our eye on it!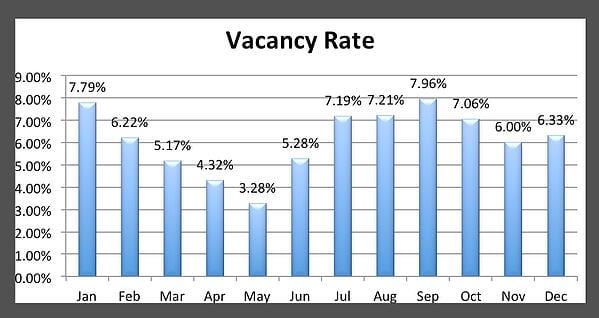 Simply being aware of these numbers and constantly working to improve and measure improvement, are essential actions that have to take place at a quality company. Here at Memphis Invest, we consider ourselves much more than just a property management company or a neighborhood redevelopment company. We have a really, really good staff that works hard to be whatever our clients need us to be. I'll leave it at that for now!
If you would like more information on our company or would like to speak with someone about how to get started building a real estate investment portfolio, please click below: