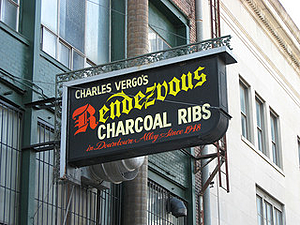 There are a lot of reasons that investors come to Memphis for real estate. Low prices, above average rental ratios and a solid recovery taking hold are just a few of the reasons. But in this article, we're going to talk a little bit about the real reason real estate investing is going crazy here in Memphis. I'm talking, of course, about the food!
I could write on and on about the ridiculous variety of restaurants that Memphis has to offer when it comes to good eats. Now, I know that good food is not the real reason that real estate investing is such a hot topic in Memphis right now. But, good thing for you, if you you are interested in buying Memphis real estate, when visiting the the city to meet our team we can show you some of the restaurants that Memphis is famous for - and some will keep you smiling for weeks! I'm going to mention a few places to visit while you are here and they are great places to stop and take in some great Memphis hospitality as well. I've included some down-home favorites and some establishments that manage to be "fancy" while still holding on to the Southern roots. Bon appétit, investors and be sure and ask me for me to go to lunch or dinner when you are here...I love all these restaurants!
1. Charles Vergos' Rendezvous
Here's what you need to know about Rendezvous: It's been doing barbecue in a city known for barbecue since 1948. With a legacy like that, using the slogan, "Not since Adam has a rib been this famous," doesn't seem pretentious at all. From pork ribs to beef brisket, from barbecue nachos to barbecue shrimp, Rendezvous is a can't-miss Memphis institution. And though the menu clearly caters to carnivores, vegetarians take heart: You can still get that Rendezvous barbecue flavor with the meatless red beans and rice.
2. Gus's World Famous Fried Chicken
Memphis food lovers know that this is a place that's famous for three things: chicken, chicken, and chicken. Gus's World Famous Fried Chicken is known for its top-secret, spicy-but-not-too-spicy seasoning. It's been around for 25 years, and as if it weren't famous enough among those who revere fried chicken, Man v. Food did a segment on it, cementing its reputation as the place to get fried chicken in Memphis.
3. ACRE
Boasting a menu that fuses haute cuisine with down-home Southern flavor, ACRE proves that one doesn't have to abandon one's heritage to appreciate the finer things. Menu items like the Roasted Colorado Rack of Lamb (with parmesan polenta, collard greens, King Trumpet mushrooms, and smoked black garlic sauce) and Sticky Toffee Date Cake (warm date pudding cake with toffee butterscotch and vanilla ice cream) will have your mouth watering for Chef Wally Joe's take on Southern cuisine.
4. Local
Local Gastropub just opened its' second location in the Midtown Overton Square district and what a great find this restaurant has been for Memphis. Two great locations, great food and even better drink concoctions, Local has quickly become a Memphis favorite. It is great for late night eating and the atmosphere is great for watching sporting events while grabbing food that is way better than any normal bar food. Don't settle for greasy burgers. At local I suggest the seared Tuna salad - it is one of the best I have ever had!
5. Flight
If you are in town for the Memphis In May with Memphis Invest celebration, then you will probably be staying close to this restaurant and it has become a Memphis MUST when it comes to restaurants. Reservations are hard to come by at this Downtown Memphis favorite which was founded by local Ole Miss graduates. Flight is located right on Main street with the Main Street Trolley rolling right by the front door. The food is unbelievably good and the concept is definitely an original one with flights (a grouping of 3 items) paired with wine flights. Flight might be the one restaurant I would suggest EVERY visitor to Memphis try while in town.
Where do you plan to start your Memphis food tour? Tell us in the comments!