Memphis Invest Team Getting Fired Up!
We are super excited that we are only 1 week away from what has become a signature event for our company and a whole lot of fun. We have been asked a lot this past week about being able to attend if you have not registered and the answer is yes...but, we really need you to register first so we are able to prepare for the size of the crowd.
Right now we have 210 registrants with 167 double confirmed with rooms booked. That puts us pretty close to capacity! BUT...if you really want to come, we can fit a few more. We have six buses booked and can comfortably sit 182 people...so come on down!
Want to know what is going to be happening? Here are some highlights:
Check-In for Memphis in May with Memphis Invest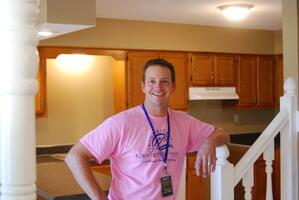 Just look for the pink Memphis Invest T-Shirts. They will be directing traffic and answering questions all afternoon and evening on Thursday May 9th and the check-in process is made super easy with our I-Pad app! Check In is on the west mezzanine at The Peabody Hotel and the pink shirts will have I-Pads ready to help you check-in quickly!
From there, we will direct you to the Hernando-Desoto Room to grab your shwag bag of goodies, event badge and notebook and then get settled before the Thursday night Meet N Greet.
Rendezvous BBQ Meet N Greet
The Meet N Greet starts at 6:15 at the Rendezvous restaurant directly across the street (Union) from The Peabody Hotel. World famous BBQ and lots of new friends and existing cleints to meet with lots of smiles to go around...
Friday at The Peabody
So we start Friday morning with a light continental breakfast on the West Mezzanine. The event is being held in the Continental Ballroom and we will keep a very tight schedule. The schedule will be in the bag you receive at check in and we will stay to the minute. For lunch, we are going right across the street to Autozone Park, which is home to the Triple-A baseball team, the Memphis Redbirds. We have a great lunch planned in a beautiful setting and a movie treat for everyone in attendance on the Jumbotron.
After lunch, we return to the Continental Ballroom at the Peabody and are joined by best-selling business author and noted motivational and business speaker, Joe Calloway. Joe has agreed to join us in Memphis for the event after featuring Memphis Invest, GP in his latest book, "Being the Best At What Matters Most". We will finish the afternoon off at the Continental Ballroom and give everyone a chance to "freshen-up" before our Celebration Dinner that night>
Cocktail Hour and Seated Dinner
During our break the crew at The Peabody is going to flip the Continental Ballroom into an elegant evening dinner. There will be a cocktail hour starting at 6:00PM on the West Mezzanine and seating will begin at 7:00PM. At dinner we will be joined by several Memphis business owners as well as the Director of the Memphis Boys & Girls Club and the Mayor of Memphis, the honorable A.C. Wharton. It will be a great way to end a very good day learning about why Memphis is such a special city and a great investment for real estate investors.
Saturday House Tour
Again, we are starting on time on Saturday morning and the buses leave from in front of the Peabody at 8:00 AM sharp. For those that like to be early, we will meet in the Hernando-Desoto room and then go to the buses. Your event badge will have your bus number listed to make it easy for you. There are 6 buses so we have tow bus routes. One route goes to the North part of the city, then to the Memphis Invest, GP and Premier Property Management offices and then finishes off touring the South part of the city. The other route goes the opposite direction by heading South first and finishing in the North. There will be refreshments at the offices when both bus groups meet up before heading back out again.
The buses will return to the Peabody between 12:30 PM and 1:00 PM where we will say good-bye after giving away a couple of special prizes from the weekend!
We are super excited to see everyone in 7 days...