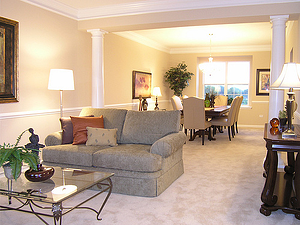 If you're trying to sell a property, it's a no-brainer that you want it to look good. It's a given that the property should be clean and well kept. But making a property attractive to potential buyers goes beyond that: You want them to see how it can look--what the potential of the space is. Selling real estate is all about helping a potential buyer see a property in its' best light and you want them to remember it when they see other potential properties to buy. This is where professional home staging comes in. A home stager's job is to draw attention to the things about a property that make it special and to show it in the best possible light.
But how far is too far? Where is the line between showing a property in its best light and being downright deceptive? In today's real estate buying environment, many buyers are using the internet and viewing potential properties to purchase online before going to see them in person. Available technology now makes it possible to Photoshop out major flaws in a house -- buckled hardwood, cracked tile, etc. -- and present a misleading view of the property. There is virtual staging software available that is capable of completely misrepresenting a property's current condition or look. Making the sky look super bright and sunny or the grass looks green in winter is one thing. Photoshopping in grass when there is dirt and ditches is quite another!
When it comes to ethically staging a home, keep these points from your friendly Memphis real estate company in mind:
Decorate, Don't Deceive
You have every right to transform the property into its best possible incarnation. Making sure that it's clean, it's decorated tastefully according to your target audience, and its strong points are spotlighted is not only acceptable -- it's a must.
But under no circumstances should you try to hide major structural flaws or defects. It's both unfair to potential buyers and harmful to your reputation. Keep in mind that any attempts on your part to "put lipstick on the pig" are going to be discovered eventually, and you're going to lose credibility. Home stagers are obligated to their clients to show the property in its best possible light and to themselves to do so in an ethical manner. The successful ones can balance these two responsibilities without compromising either.
To be sure, what could be worse to your reputation is deciding to not fix a flaw or damage and use staging techniques to hide it. You should absolutely fix it right in the first place and make sure the property is something that you can be proud of when it is completed. That type of reputation will surely get you further in the real estate world.
Practice Full Disclosure
This one's pretty simple: Just be honest. If you decide to use some sort of image correction or virtual staging software to show the potential of a property, make it clear that the images have been altered, and include untouched photos of the property's current condition. Showing the property as it is, along with what it has the potential to be, gives you the kind of credibility you want.
I love this idea because it gives you the ability to show what a property can look like according to a buyer's personal taste. Whether it be different colors, more landscaping, green grass or even different finishes in a property, having the ability to show a potential buyer different choices or finishes is a great way to sell a property. Having both pictures helps you keep credibility and will help you sell the property faster.
What are your thoughts on home stage ethics? Please share them with us in the comments!