With the first half of 2013 completed, Premier Property Management has grown into one of the largest rental property management companies in Memphis. With more and more property management franchise companies popping up across the country, we thought it would be a good idea to begin documenting certain performance numbers. We did this in hopes of setting a trend that other companies would follow. It would make it much easier for investors to make management company decisions. We'll see if that ever takes place!
Memphis Property Management Company, Premier Property Management, Releases First Half of 2013 Numbers
As you can see from the below graph, Premier Property Management has grown 274 properties in the first six months of 2013 and 150 investors. Of the property growth, 257 were sold to investors and the remaining properties were properties where other investors asked Premier Property Management to manage their properties.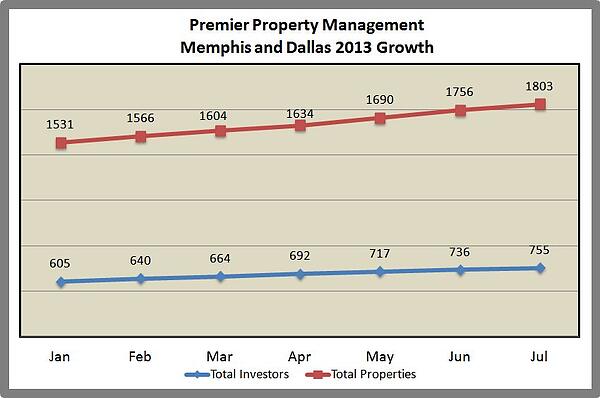 We get asked many questions about rental property management ranging from how we set up our business to how we conduct the business to how in the world did we manage to build out the systems and infrastructure. Most are simply stunned by the numbers and the methods that we use to get them. Some even specifically ask if we can work with property managers in other cities where they own properties. Nothing would make us happier than to help with your portfolio in other cities, but the fact is, we run our Memphis and Dallas property management companies differently than traditional property management companies. Some of the things that business background tells us to focus on include:
How many properties are we leasing in a month and how many of them are leased above our current portfolio average rent in that zip code?
How many properties were leased on a multi-year contract?
How many multi-year contracts included a second year rental increase?
Some of those numbers are presented in the next graph: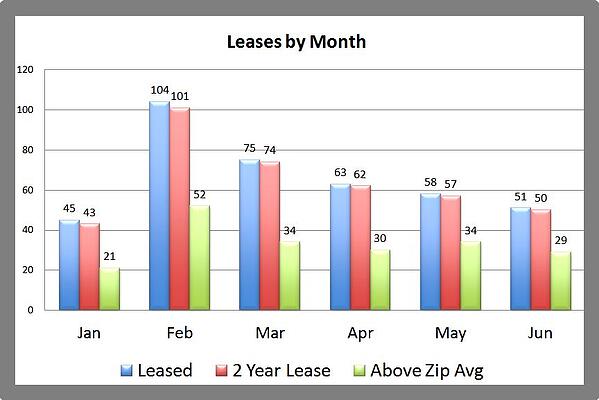 I think the biggest strength Premier Property Management has over other Memphis property management companies is our business style approach to management and decision making. We were told early in the process of forming our company that our style and ideas would not work in the property management business. We have quickly turned those statements on their heads.
Our business approach as lead us to develop a customer-service heavy approach to dealing with tenants and that has led to many processes designed to keep tenants happy and stable. A stable tenant leads to a stable investment property and that stability leads to a better experience for the owner of that property. To us it seems perfectly logical. To others it is very counter to what they have become used to offering their tenants and clients. Needless to say it may have ruffled some feathers!
Either way, it is that approach that helps us to maintain very low vacancy rates and extremely quick rental time frames. Of course, there are always properties where is takes way too long to rent and there are always properties that go vacant way too soon in a contract. Because of those scenarios, we never stop learning and trying to improve.
Here is a chart of our vacancy rates in 2013: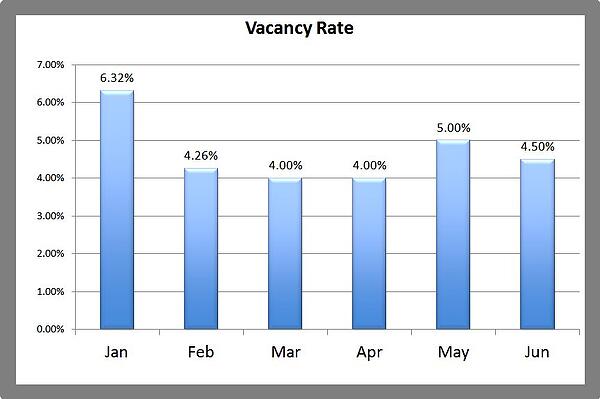 Lastly, this is a chart that helps us to know if we are doing a good job or not. We track the number of leases that come due in a month and how many leases we are able to resign for another term. It is an important barometer of the rental market and more importantly or our success at providing quality housing. Here is the latest chart on move-outs and re-leases: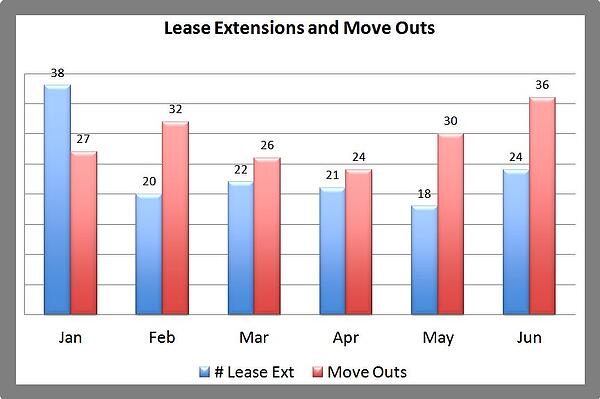 Would you like more information on Premier Property Management or Memphis Invest?